Wellbeing, health and safety
In May 2022, we started reviewing our wellbeing, health and safety strategy to make sure it reflects our values and fosters diversity, equity, inclusion and te ao Māori.
On this page
An online wellbeing hub, Te Puna Ora, offers our people practical information on managing wellbeing, as well as access to support services and other resources. We conducted 24 webinars to help leaders understand their own wellbeing needs, as well as those of their team members. During the year, we also provided training to 102 wellbeing, health and safety representatives, 98 floor wardens and 58 first aiders.
MBIE is part of the ACC Accredited Employers Programme. In September 2021, ACC evaluated our performance as secondary ("consolidation of good practice") during its annual Accredited Employer Programme audit. The audit identified the need for us to be more consistent in our relationships with other businesses.
Flexible working arrangements
To manage the disruption of COVID-19, we developed flexible working policies and practices so our people could work remotely during different COVID-19 alert levels.
In June 2022, we began designating different workspaces and zones to individuals at our offices in Stout Street, Wellington, and Victoria Street, Auckland. This change was based on the work of a cross-agency group on flexible working practices led by Te Kawa Mataaho (Public Service Commission).
Employee engagement
We work with our people to increase their participation in wellbeing, health and safety-related matters. We have 3 committees that meet quarterly to carry out this work, one each for field, customer-facing and office staff. A separate work group was also in operation, focusing on the activities of MIQ.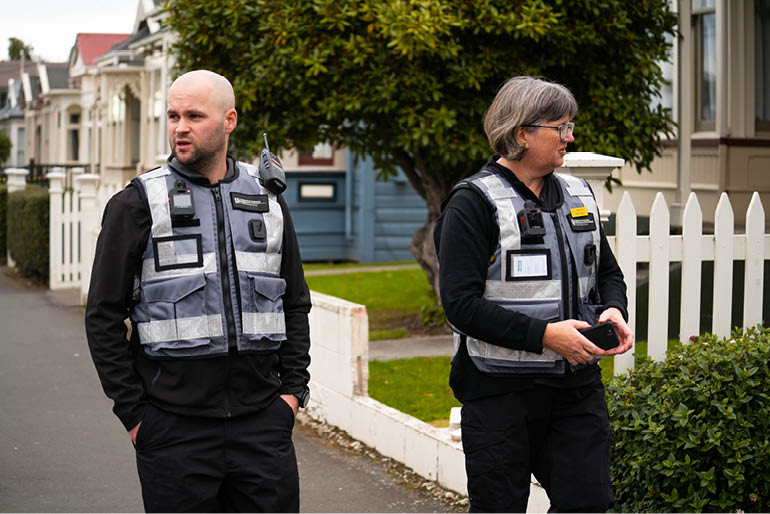 We also offer learning modules about safety and wellbeing to boost engagement, particularly at induction. During the year, 96% of people completed the staff safety and wellbeing module, 96% completed the security module, and 86% of leaders completed the leaders' safety and wellbeing module.
In November 2021, we consulted with our people before introducing our vaccination policy on access to our offices. The policy was introduced in January 2022, although, following further consultation from May 2022, we no longer require vaccine passes for entry to our worksites. Other important controls remain in place, to prevent the spread of COVID-19.
Mental health
The continued disruptions caused by COVID-19 resulted in consistent numbers of people reporting mental health pressures and difficulties; 307 compared with 337 the year before. To counter this trend, we concentrated on providing coping skills to people in business groups most affected by COVID-19.
We also arranged 67 various mental health workshops, attended by approximately 900 people with an average of 13.5 people per workshop. These workshops aim to increase knowledge about mental health and mental illness, increase confidence in talking to colleagues about these topics, and increase people's ability to promote mental health in the workplace. We also extended the number of counsellors and psychologists available to people because of higher demand for such support. This has resulted in a wider choice of providers and shorter waiting times. Finally, we have been working to make sure a diverse range of counsellors and psychologists is available.
Health monitoring
As part of the Accredited Employer Programme, we partner with a third-party administrator to manage claims handed over from ACC.
During the year, MBIE had 55 work-related ACC claims and 49 non-work-related ACC claims, both managed by a third-party administrator. Of these work-related claims, 10 involved lost time, with the average number of days being 20.5. The average number of sick leave days used remained consistent, at 6.2 days per year. No injuries, illnesses or incidents required notification to WorkSafe New Zealand.
In partnership with Manatū Hauora (Ministry of Health), we consulted on and delivered robust pre-employment and health monitoring processes for our border workers at ports and MIQ facilities regarding COVID-19 vaccination and testing requirements.
Emergency management
Over the year, MBIE's Emergency Management and Business Continuity (EMBC) team supported responses to a number of national events, including significant severe weather events and flooding, as well as internal MBIE events, ranging from ICT disruptions, to burst water mains.
The Enterprise Incident Management Team (eIMT), coordinated by the EMBC team, managed the COVID-19 Delta and Omicron responses, from August 2021 to April 2022. This was eIMT's longest continuous response, with a fatigue-management process implemented to maintain readiness.
The EMBC team also successfully designed and delivered an all-of-government strategic readiness exercise for the Women's Cricket World Cup, to support MBIE's Major Events team.
Managing critical health and safety risks
During 2021/22, MBIE's Health, Safety and Security Operations team continued supporting MBIE and the all-of-government COVID-19 response by supporting MIQ to manage its health, safety and security responsibilities through the development of a variety of safe systems of work. This included sourcing uniforms and technical solutions, in the way of radios and body-worn cameras for the MIQ security workforce, as well as a fleet of pool vehicles.
A review of MBIE's current critical risks was also carried out during the year to:
Confirm whether the existing risks were under control
Confirm whether further work was needed to make sure the risks were under control
Identify new and emerging risks.
The review determined that MBIE's current critical risks have been managed (overall) to as low as reasonably practicable. The review identified 3 new and emerging risks, which have now been added to the register, and work is well under way to develop safe systems of work to manage these new risks.
The Health, Safety and Security Operations team was also responsible for carrying out a suitable and sufficient risk assessment that would help MBIE's Senior Leadership Team determine the content of the new Vaccination Policy for MBIE.
To ensure continued improvement of MBIE's governance of health and safety, the team supported the Senior Leadership Team to restructure its safety governance format to help mature MBIE's governance of health and safety.
Wellbeing, health, safety and security events
| Type | 2021/22 |
| --- | --- |
| Total number of wellbeing, health, safety and security events | 2072 |
| Wellbeing events | 335 |
| Early reported pain and discomfort/harm | 716 |
| Near miss | 168 |
| Violence and aggression | 722 |
| Other events | 131 |
| Events resulting in injury | 154 |
| Critical risk events | 209 |
| Work-related ACC claims (managed by our third-party administrator) | 55 |
| Non-work-related ACC claims (managed by our third-party administrator) | 49 |
| Incidents requiring notification to WorkSafe New Zealand under the Health and Safety at Work Act 2015 | 0 |