Regulatory systems
We are responsible for stewardship of 16 regulatory systems covering about 140 statutes.
On this page
A regulatory system comprises the rules (eg statutes and regulations), institutions, and practices which combine to achieve a given set of behaviours or outcomes.
Our 16 regulatory systems
Employment relations and standards
Innovation, science and economic development
Trade, international and standards
How we manage and assess our 16 regulatory systems
Across these regulatory systems, we carry out a number of common regulatory functions that are essential for a regulatory system to operate effectively:
policy advice
operational policy/service design
service delivery
compliance and enforcement
monitoring and evaluation
advice/information/education
standard setting
dispute resolution.
For some systems, some functions may not be relevant or are carried out by another agency. Figure 1 below shows which agency is responsible for each regulatory function across our regulatory systems.
Figure 1 - Who carries out each regulatory function across our regulatory systems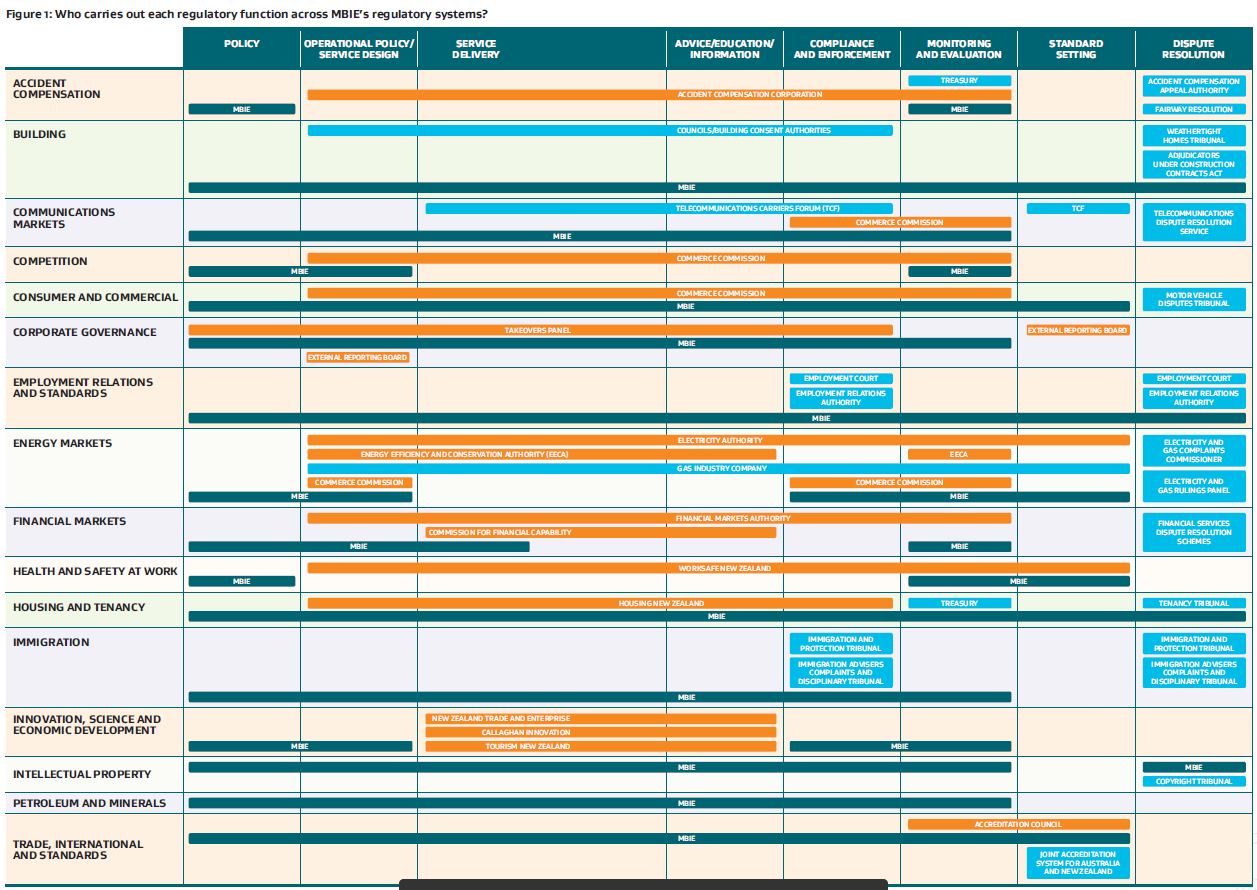 Working with other government agencies
We also have an interest in regulatory systems that other government agencies have stewardship responsibilities for. This is because these other regulatory systems can impact on the outcomes of MBIE's regulatory systems, such as resource management and planning. We apply regulatory stewardship principles and approaches when dealing with other agencies.
Best regulatory practice by 2022
We are focusing on ensuring our regulatory systems are performing to a high standard. We have a goal of reaching best practice in all of our regulatory systems by 2022.
We have developed an initial set of standards to define what best practice means and to start measuring our progress. In implementing this approach we also:
develop regulatory systems amendment bills, which provide a regular process for the maintenance and continuous improvement of legislation administered by MBIE
undertake assessment processes for our regulatory systems, and look across assessments to identify any broader issues
set expectations for the performance of regulatory systems, under the working description of a regulatory system statement of intent/charter
reinforce shared ownership for regulatory systems among relevant agencies
ensure that each regulatory system is treated as a living system, where there is good knowledge of how the system is intended to perform and is performing.
We want to hear from you
As we keep track of issues with our regulatory systems we want to hear from you about any challenges you have in the areas of business, housing, employment and science.
For instance, you may know about an unnecessary cost associated with reporting to government or an unexpected impact from a statutory provision.