Energy strategies for New Zealand
The government's energy strategies set the policy direction and priorities for the New Zealand energy sector and focus on transitioning to a net zero carbon emissions by 2050, while building a more productive, sustainable and inclusive economy.
On this page
New Zealand Energy Strategy
The Government is developing a New Zealand Energy Strategy to support the transition to a low carbon economy, address strategic challenges in the energy sector, and signal pathways away from fossil fuels.
Gas Transition Plan
The Government is working to develop a plan that will help to guide the fossil gas sector to reduce emissions, in line with our legislated targets, emissions budgets and Aotearoa New Zealand's international commitments.
New Zealand Energy Efficiency and Conservation Strategy
The current New Zealand Energy Efficiency and Conservation Strategy 2017-2022 (NZEECS) sets the overarching policy direction for government support and intervention for promoting energy efficiency, energy conservation and the use of renewable sources of energy.
Its goal is for New Zealand to have an energy-productive and low-emissions economy.
The current NZEECS:
outlines government policies, objectives and targets for 2017-2022
guides the work programme of the Energy Efficiency and Conservation Authority (EECA)
encourages businesses, individuals, households, community institutions and public sector agencies to take actions to help unlock our renewable energy and energy efficiency potential, to the benefit of all New Zealanders
Its priority areas are:
renewable and efficient use of process heat
efficient and low-emissions transport
innovative and efficient use of electricity
NZEECS 2017-2022 - Unlocking our energy productivity and renewable potential [PDF, 816 KB]
This strategy is set to expire in mid-2022.
Developing a new NZEECS
In December 2021, the Energy and Resources Minister decided a new 5-year energy efficiency and conservation strategy is to be developed. This will replace the existing strategy, rather than rolling it over for another 5 years.
The new strategy will better align with the Government's climate change and energy system priorities. It is intended that the new NZEECS will complement, and integrate with, the broader Government-led national energy strategy.
The public will have an opportunity to have their say on the development of the new NZEECS. Sign up to the Energy and Resource Markets news to be notified when the consultation opens, or keep an eye on this webpage for more information.
Renewable energy strategy work programme
The Government's vision is for an affordable, secure, and sustainable energy system that provides for New Zealanders' wellbeing in a low emissions world.
The renewable energy strategy work programme focuses on 3 main outcomes:
An inclusive and consumer-focused energy system
A system that encourages increased investment in low emissions technologies, and
An innovative and modern energy system that creates new opportunities for business and consumers.
It includes the following workstreams: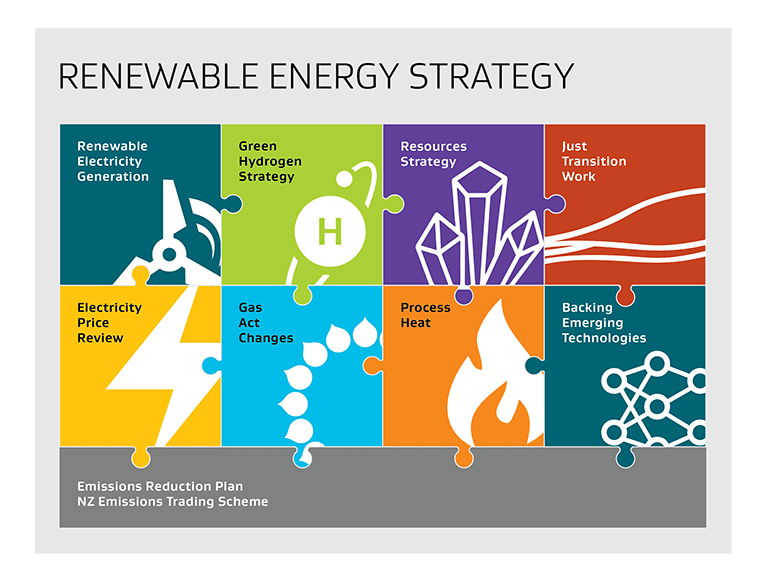 Explanation of puzzle graphic
Renewable electricity generation
In 2019, MBIE released a discussion paper 'Accelerating Renewable Energy and Energy Efficiency' that sought feedback on a range of options to accelerate the use and supply of renewable energy and energy efficiency technologies.
Accelerating Renewable Energy and Energy Efficiency consultation
Green hydrogen strategy
New Zealand's hydrogen strategy consists of 2 parts; the hydrogen vision published in 2019 and a hydrogen roadmap which is under development.
Resources strategy
Articulating the Government's long-term vision for the petroleum and minerals sector.
A Mineral and Petroleum Resource Strategy
Just transition work
Working with communities to transition New Zealand to a low-emissions economy.
Electricity Price Review
Ensuring the electricity market is delivering fair and affordable prices.
Gas Act changes
Amendments to the Gas Act 1992 in 2021 ensure the Act is fit-for-purpose for regulating the disclosure of security of supply risks, and that penalties are robust.
Process heat
Encouraging changes in industrial energy use.
Government Investment in Decarbonising Industry(external link) — EECA
National direction on greenhouse gas
Backing emerging technologies
MBIE's Advanced Energy Technology platform is aimed at developing world-leading capability in advanced energy research, and enabling New Zealand to contribute to, and benefit from, opportunities in international technology markets. MBIE has also funded the national new energy development centre Ara Ake.
Advanced Energy Technology platform
Ara Ake(external link) — Ara Ake website
Energy and Resource Markets news
Sign up to the Energy and Resource Markets news to receive updates on MBIE's energy-related work and be alerted to upcoming public consultations.
Last updated: 12 August 2022