Outcome 5: A dynamic business environment fostering innovation and international connections
We need a business environment that is dynamic, where businesses are able to respond to new opportunities and resources are allocated to their most productive use. Investment and connections are crucial. We also need to innovate sustainably and be able to quickly adopt new economic thinking.
On this page
As highlighted in the Year in Review, key efforts to increase innovation and productivity, focused on: a wide-ranging discussion on the future of Aotearoa New Zealand's science system; digital technologies; and the role we have in international space activity.
Other MBIE efforts to boost innovation and productivity encompass the expansion of ultra-fast broadband, funding of key research initiatives, including te ao Māori perspectives, Māori interests in radio spectrum, and preparing for future pandemics.
In this digital era it is important for people and businesses to have good connectivity. Through efforts under the Ultra-Fast Broadband programme, over 1.8 million homes and businesses now have access to ultra-fast broadband (UFB), with uptake sitting at 70% across the UFB network. Once the UFB programme is completed at the end of this year 87% of New Zealanders will be able to access UFB. We also saw progress in improving connectivity in rural and remote areas, such as Haast, the country's most remote West Coast town, which was connected to ultra-fast broadband in April 2022.
MBIE is responsible for the Endeavour Fund, the country's largest contestable research fund. Of the over 500 applications received for the 2021 round, 69 were approved for funding, with over $244 million allocated. These were selected by the Science Board, an independent statutory board, following review by independent experts from Aotearoa New Zealand and overseas. Successful proposals included projects to develop new infant formula ingredients that better mimic breast milk; exploring new pest control management solutions with low environmental impact; technology to wirelessly power vehicles; and gaining a better understanding of wildfires, which are increasing due to climate change.
It is essential that te ao Māori worldviews are integrated into our research pathways. The Manaaki Whenua Landcare Research project, Te Weu o te Kaitiaki Indigenous Regeneration Pathways is a great example of this. With a $15.95 million contract value over five years, it uses whakapapa frameworks to re-imagine biocultural solutions to restore ecological systems, reconnect people to place, and deliver sustainable economic growth for communities.
In February 2022, we supported Government efforts to conclude a long-term agreement recognising Māori interests in radio spectrum, which will also accelerate Māori participation in the telecommunications sector. This agreement has positive implications for digital enterprises, health care, rural economies and connectivity, education, broadcasting and the revitalisation of Te Reo Māori.
In September 2021, we launched the Infectious Diseases Research Platform, to boost the national COVID-19 response and our preparedness for other pandemics.
Facilitated by the University of Otago and the Institute of Environmental Sciences and Research, this initiative will receive $36 million over three years to conduct research to support Aotearoa to be in a stronger position to manage a COVID-19 resurgence and any future pandemics.
We even play a prominent role regulating space activity in Aotearoa, and developed advice and policy for the historic launch of the NASA CAPSTONE lunar mission in June 2022. The pathfinding satellite was launched on 28 June by Rocket Lab from the Māhia Peninsula. It will test the orbit for a planned Moon-orbiting outpost to support NASA's Artemis programme, which aims to land the first woman and person of colour on the moon, and to progress towards human exploration of Mars.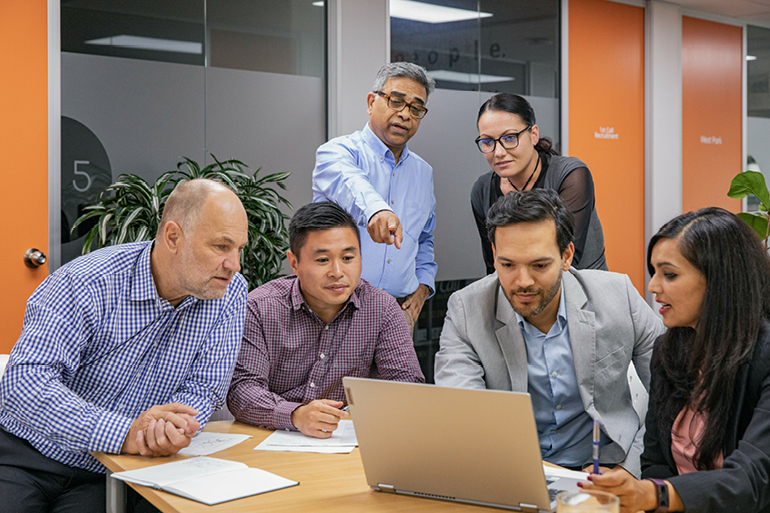 STORY: Advanced unmanned aircraft trials
As part of our work to increase research and attract foreign investment, we continued to support the testing, development and market validation of advanced unmanned aircraft through our Airspace Integration Trials programme.
This programme enables aviation companies to test their technology in safe environments with approval from the Civil Aviation Authority. Aviation technology, particularly for drones, offers considerable financial and technological benefits for the country, in addition to having application in various other sectors.
Our clear skies, low-population density, diverse geography (including that it is surrounded by sea), along with a government and regulatory regime that allows innovation, makes it the ideal place for testing.
In 2021/22, we facilitated the scoping and design of eight trials by four companies, as well as managing relationships between industry partners, stakeholders and government agencies.
The next phase of the programme will see more industry partners begin trials here, increased collaboration within the sector, and testing of the supporting technologies required to enable unmanned aircraft to operate safely and seamlessly alongside other aircraft.
The emerging drone sector has the potential to transform how people, goods, and services are delivered. Autonomous and remotely piloted aircraft offer the potential to support emergency response and improve productivity and safety across the country's primary industries.
The development of advanced aviation technologies also has the potential to advance our global profile as a leader in decarbonisation.
To unlock these benefits, several technical challenges need to be overcome. Investment in the development, testing and certification of emerging technologies will be vital to overcome these challenges and achieve the Government's vision of integration.
How we measure outcome five
Performance measure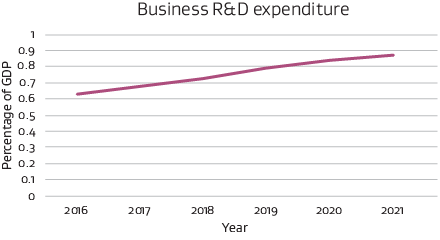 5.1 Increase business research and development expenditure
Indicator
Business expenditure on research and development as a percentage of GDP
Commentary
Business expenditure on research and development as a percentage of GDP was 0.87% in 2021, increasing steadily from 0.63% in 2016. The dollar value of this expenditure is around $2 billion.
Performance measure
Indicator
Trend
Commentary
5.2 Increasing the proportion of businesses exporting
Percentage of firms exporting
Current


Desired

The percentage of firms exporting was 21.5% in the year to August 2021*, continuing a falling trend from 25.6% in the year to August 2019. This value is now the lowest it has been since 2015.
5.3 Increase in firms collaborating internationally for innovation
Percentage of firms collaborating internationally for innovation
Current


Desired

The percentage of firms collaborating internationally for innovation in 2021* was 3.4%, lower than 4.3% in 2019 and the lowest it has been since data collection began in 2007.
5.4 Increase in firms reporting innovative activity
Firm innovation rate
Current


Desired

In the year to August 2021, the total innovation rate was 46%. This rate has been steady since 2017. This indicator is a measure of the proportion of businesses that innovate. Innovation is broadly defined to include the development or introduction of any new or significantly improved products, processes, and methods.
5.5 Increase business dynamism
Average five-year growth in employment in new businesses
Current


Desired

The average five-year employment growth rate for the period 2015-2020* was 29.7%, somewhat higher than the growth rate of 27.5% for the period 2014-2019. This value fell from 2007 until 2012 and it has been steadily increasing since 2013.
5.6 Increase capital intensity
Net capital stock per capita
Current


Desired

Net capital stock per capita was $144,796 in the year to March 2021*, increasing 1.7% on the previous year. This value has been increasing steadily since 1998. The five-year compound annual growth rate was 1.1% for the period 2016-2021.

This measure is an indicator of New Zealanders' wealth.
5.7 Increase productive capital investment
Proportion of net capital stock that is not residential
Current


Desired

The proportion of net capital stock that is not residential buildings remained at the high level of 56.4% in the year to March 2021*, which is about the same as it was the year before (56.6%). This indicator has been rising steadily since 1998.

This measure is an indicator of productive capital investment.
5.8 Increase early stage capital investment
Capital investment in early stage companies[15]
Current


Desired

The capital investment in early stage companies was $257.5 million in 2021*, an increase of 63% from $157.6 million in 2020. 2021 was the first year of this investment topping $200m.
5.9 Improve quality of foreign direct investment (FDI)
Potential direct economic impact (pDEI) multiplier: ratio of pDEI to FDI
Current


Desired

The pDEI multiplier was 4.0 in the year to June 2022, an increase of 53% from 2.6 in the year to June 2021. This value has been fluctuating between 2.6 and 4.0 since 2018.

The pDEI multiplier, measured by the ratio of pDEI to FDI, is a proxy of economic impact to dollar of FDI attracted (FDI quality). It is used by NZTE to estimate the potential benefits to Aotearoa New Zealand from the investment deals that it facilitates.
5.10 Maintain position in the World Bank Ease of Doing Business Survey
Ease of doing business ranking
Current


Desired

There is no update for this measure in 2021/22 as the World Bank Group is formulating a new approach to assessing the business and investment climate in economies worldwide following the discontinuation of the Doing Business project.

In 2019/20 we reported that Aotearoa New Zealand ranked top in the World Bank Ease of Doing Business Survey in 2020 for the fourth consecutive year.

The Ease of Doing Business Survey assesses the regulations of 190 different nations for the ease with which business is done.
* At the time of writing, this was the most recent period for which data is available.
[15] The methodology for this indicator has been refined since the MBIE Statement of Intent 2018–2022. The refined version directly uses the start-up investment estimated by PwC's Startup Investment magazine as the proxy for capital investment in early stage companies.