He kupu takamaua nā te Tumu Whakarae | Chief Executive's foreword
E tino harikoa ana au ki te tāpae i te Pūrongo Ā-Tau 2021/2022 a Hīkina Whakatutuki.

It gives me great pleasure to present the Ministry of Business, Innovation and Employment's (MBIE) 2021/22 Annual Report.
On this page
Chief Executive's foreword
Tēnā koutou katoa,
Hīkina Whakatutuki – the Ministry of Business, Innovation and Employment (MBIE) remains driven by our purpose to Grow Aotearoa New Zealand for All.
Our strategic intentions are set out in our overarching strategy Te Ara Amiorangi – Our Path, Our Direction and over the last year we have continued to make strong progress in delivering on this. We have continued to deliver a range of core services, from ensuring labour standards, to supporting the science system, to setting building standards, to enabling better procurement despite also facing a series of major national and international challenges. From the Omicron variants of COVID-19, to the outbreak of war and violence in Afghanistan and Ukraine, to the effects of climate change, managing the response to these issues has been complex. Our people have once again risen to the challenge and I remain incredibly grateful for the work they have done to deliver for New Zealand.
During the year there was a strong focus on navigating the impacts of global events. The conflict in Afghanistan required us to work with a range of partner agencies to help ensure individuals and families could safely resettle in New Zealand. In response to COVID-19 we continued to support families and businesses, not least through our Managed Isolation and Quarantine (MIQ) facilities, and then, as the year ended, to wind down this network. MIQ played an essential role in keeping Aotearoa New Zealand safe from COVID-19 through a rapidly evolving and uncertain time and I want to once again thank our people and those from across our partner agencies, including iwi, businesses, and non-governmental organisations for their service and support.
MBIE also worked to help firms to harness innovation and productivity. A wide ranging and collaborative kōrero (discussion) began about both the future of the research, science and innovation system and the transformation of the digital technologies industry in this country.
We also continued to invest in our regions and industry sectors, to lift their potential and resilience; to help secure the skills and labour we need, for example, through the 2021 Resident Visa, helping to keep skilled and already settled migrant workers; and initiatives such as designing an income insurance scheme, which aims to better protect workers and the economy through difficult times.
Working with other key agencies, MBIE continued to tackle the challenges posed by climate change. We played a leading role in the development of the Emissions Reduction Plan (ERP) and the draft National Adaptation Plan (NAP). These pieces of work, and our wider climate change work programme, contribute towards the Government's commitment of reducing emissions and working with communities to help them adjust to the effects of a more extreme climate.
Recognising the importance of effective and enduring relationships between Māori and the Crown, we launched a strategy to build our te ao Māori cultural capabilities and awareness, Whāinga Amorangi. This strategy will help us deliver on our partnership responsibilities under Te Tiriti o Waitangi (the Treaty of Waitangi).
This Annual Report touches on the breadth of the work our people undertake and the efforts they make to grow an inclusive, sustainable and prosperous Aotearoa New Zealand for today and for future generations.
I want to acknowledge the extraordinary work of our MBIE people and the contribution they have made to our journey over the past decade, since MBIE first opened its doors. The commitment they have shown has been remarkable.

Carolyn Tremain
Te Hēkeretari, Te Tumu Whakarae mō Hīkina Whakatutuki
Secretary for Business, Innovation, & Employment and Chief Executive
He kupu takamua nā te Tumu Whakarae
Tēnā koutou katoa,
E ārahina tonutia ana a Hīkina Whakatutuki (MBIE) e tō mātou whāinga matua kia Whakapakaritia a Aotearoa mō te Katoa.
E hora nei ā mātou whāinga matua i te rautaki whānui o Te Ara Amiorangi, ā, i tēnei tau ka ngana tonu mātou ki te whakatutuki. Kei te haere tonu ā mātou mahi i te huhua o ngā ratonga whai kiko – mai i ngā paerewa mahi ki ngā mahi tautoko i te pūnaha pūtaiao; mai i te whakapūmautanga o ngā tikanga hanganga, ki te tautoko kia pai ake ngā whiwhinga – me te aha, i runga anō i te whakatūtaki i ētahi wero nui ā-motu, ā, huri noa i te ao. Mai i te Omikorona, ki te pakarutanga mai o ngā pakanga ki Afghanistan me Ukraine, ā, tae noa ki ngā pānga mai o te āhuarangi, he uaua ngā whakahaerenga rapu whakautu ki ēnei take. Kua hikina ake anō te wero e ā mātou kaimahi, ā, e whakahī ana au i ngā mahi i tutuki i a rātou mō Aotearoa nei.
Nā ngā pakanga i Afghanistan i mahi tahi ai mātou me te huhua noa o ngā kōtuinga kia pai ai tā te tangata kotahi me ngā whānau ki te hūnuku mai anō ki Aotearoa. Ko ā mātou whakautu ki te KOWHEORI-19 i tautoko tonu mātou i ngā whānau me ngā pakihi, ahakoa mā roto noa mai i ā mātou Kaupapa Whakahaere Nōhanga Taratahi (MIQ), me te aha, nō te pito tōmuri o te tau mutu ai tēnei kaupapa. He hirahira ngā MIQ kia noho haumaru ai a Aotearoa i roto i ngā whakararu mai o te wā o te KOWHEORI-19, nō konei au tuku ai i aku mihi nui ki te hunga puta noa i te rāngai tūmatanui, ngā Iwi Māori, te rāngai pakihi me ngā pākihi kore Kāwanatanga mō ā rātou āwhinatanga, tautoko hoki.
I āwhina hoki a MBIE i ngā umanga kia noho hāngai ki te auaha me ngā ritenga mahi whai hua. I hua mai te whānui o ngā whakawhitinga kōrero e pā ana ki te rangahau hei ngā rā ki tua, te pūnaha pūtaiao, auaha hoki, me ngā hurihuringa o te ao hangarau matihiko ki tēnei whenua.
I tuku haumitanga tonu mātou ki ngā rohe me ngā rāngai o te ao mahi ki te hiki i te pūmanawa me te titikaha; he hāpai ake ki te whakaū i ngā pūkenga me te kāhui mahi e whāia ana, hei tauira, mā roto i te 2021 Pane Uruwhenua Kainoho – he hāpai kianoho tangata whenua ai ngā kaimahi manene, ā, kia pūmau te noho mai; tae atu ki ngā kaupapa pēnei i ngā mahi waihanga kaupapa inihua pūtea e whai nei kia pai ake te manaaki i ngā kaimahi me te ao ōhanga i roto i ngā uauatanga o te wā.
I ngā mahinga ngātahi me ētahi atu tari kāwanatanga, i te kaupare tonu a MBIE i ngā wero i puta i ngā take āhuarangi. Ko mātou ngā kaiarataki matua i ngā mahi waihanga i te Emissions Reduction Plan (ERP), arā, te Mahere Whakaheke Tukunga me te National Adaptation Plan (NAP), arā, te Mahere Urutaunga ā-Motu. Ka hāngai ēnei mahi, me ngā hōtaka āhuarangi whānui, ki ngā pūratonga a te Kāwanatanga ki te whakaheke i ngā tukunga, me te hāpai hoki i ngā hapori ki te whakarerekē i ngā tūāhua o ngā karawhiunga nui o te āhuarangi.
Nā tō mātou mārama ki te hirahira o ngā tūhononga mauroa i waenganui i a ngāi Māori me te Karauna, i whakamānutia he rautaki whakapakari i ō mātou mōhiotanga me ō mātou māramatanga ki te ao Māori, e kīia nei, ko Whāinga Amorangi. Mā tēnei rautaki e taea ai mātou te whakatutuki i ā mātou haepapa kōtuinga i raro i Te Tiriti o Waitangi.
Ka pā te Pūrongo ā-Tau ki te whānui o ngā mahi i kōkiritia e ā mātou kaimahi, me ā rātou mahi kia tipu ake te tāpiritanga, te toitūtanga me te tōnuitanga ki te Aotearoa o ēnei rā, ā, mō ngā whakatipuranga kei te heke mai.
E hiahia ana au te tuku mihi ki te mīharo o ngā mahi a ngā kaimahi ki MBIE me ā rātou takohatanga ki tēnei haerenga i te tekau tau kua huri, mai anō i te wā i whakatuwheratia tuatahitia ngā kuaha o MBIE. Hau tupua ana te ngākau nui kua whakaaturia mai e rātou.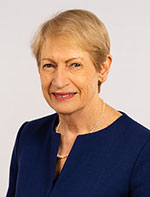 Carolyn Tremain
Te Hēkeretari, Te Tumu Whakarae mō Hīkina Whakatutuki