Outcome 3: Informed consumers and businesses interacting with confidence
Allowing businesses to operate effectively while protecting consumers from harm.
On this page
MBIE's efforts to ensure consumers and firms are informed and can interact with confidence span a wide range of areas including cyber incidents, dispute resolution, consumer protection, product recalls, electricity pricing, grocery prices, and supporting people with disabilities to know their rights.
Malicious cyber activity is a major risk to consumers and businesses. In 2021/22, CERT NZ, our national Computer Emergency Response Team, received 10,360 reports of cyber incidents, with phishing attacks, malware, and scams and fraud making up most reported incidents. In late 2021, CERT NZ's incident response team led the response to Log4J, a major software vulnerability that presented a threat to organisations and governments around the world, and Flubot, the largest SMS text scam to reach our shores. CERT NZ is linked into a worldwide network of computer emergency response teams, which can be used to help mitigate threats and respond to incidents. This includes the Pacific where CERT NZ's Pacific programme has expanded.
While most services across the economy work well, there is sometimes a need to resolve disputes between parties. MBIE established an online portal for people seeking decisions concerning building disputes, which became operational in April 2022. It replaces a slower and less efficient paper-based system. Results so far are positive, indicating the portal makes the application process easier for customers to submit supporting documentation and provide a complete application, reducing the administrative burden for both customers and the team. Refreshed website text also helps customers better understand their dispute resolution options before applying for a determination, which is just one of the resolution options available.
Consumer Protection delivered multiple consumer awareness campaigns to empower consumers with knowledge on fraud/scams, holiday purchasing and consumer rights generally in relation to the Consumer Guarantees Act. The content, tools and guidance provided on a wide range of consumer issues attracted over 850,000 visits to the Consumer Protection website in 2021/22. We also developed projects to improve outcomes for consumers around acquiring a vehicle, an essential item for many and a significant household outlay. For example, in partnership with the Manukau Urban Māori Authority, supported by the Ākina Foundation, we co-funded a pilot scheme to support eligible households in Auckland to lease cars on affordable terms.
Another way we help consumers is through product safety recalls. During 2021/22, we published 80 voluntary consumer product recalls and identified 15 high-risk consumer products. We also launched the www. productsafety.govt.nz website in May 2022, to make sure consumers and businesses have accurate information about product safety requirements and potentially unsafe products that can cause harm or injuries.
To ensure affordable, reliable and fairly priced electricity, we continued to implement recommendations made by the independent Electricity Price Review in 2019. As part of this, the Energy Hardship Expert Panel and Energy Hardship Reference Group were established to reduce energy hardship and protect consumers. We supported the establishment of the Consumer Advocacy Council to advocate on behalf of small electricity consumers and protect their interests in relation to electricity supply. The council represents the country's approximately 2 million residential and 500,000 small business electricity consumers.
As part of wider efforts to ensure consumers can make informed choices, we provided policy advice on the Government's response to the Commerce Commission's competition study on the retail grocery sector. The Government's response included various measures to improve competition in the sector and help shoppers get a fair deal. We supported the passage of the Commerce (Grocery Sector Covenants) Amendment Act 2022 and completed consultation on how to implement mandatory unit pricing. We also began looking at the costs and benefits of requiring major grocery retailers to divest some of their stores, as well as establishing a mandatory wholesale access regime, a Code of Conduct and dispute resolution mechanism for suppliers and retailers.
In January 2022, due to increasing demand, additional personnel were added to the New Zealand Relay Service. This service, introduced by MBIE in 2021, helps those with speech, hearing and vision disabilities communicate with businesses, friends and whānau over the phone and to be aware of their rights as consumers. Users who are deaf, hard of hearing, speech-impaired or deaf-blind can log onto the service through its website and are helped by a relay assistant to communicate. A dedicated number for most of the services offered by Te Manatū Whakahiato Ora (Ministry of Social Development) was established as part of the Relay Service, which has reduced the call- waiting time by about 72 per cent.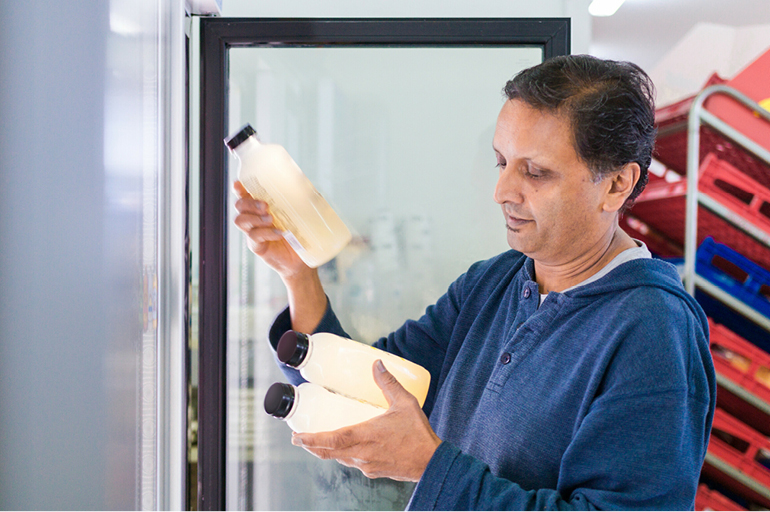 STORY: Service centre supporting New Zealanders
To help keep people and businesses informed and safe, MBIE runs over 50 public phone lines through its service centre infrastructure.
We often support people through complex situations. The changing COVID-19 environment meant many people needed quick access to accurate information and advice, including businesses, landlords and tenants, New Zealanders abroad, and people around the world who wanted to move, study or work.
We opened new phone lines to make sure we could quickly respond to calls and provide information, support and assurance to those in need of our services. Our service centre kaimahi were supported to quickly learn new information as it came to hand, so they could provide the right information.
During the year, we received 1.1 million calls about immigration and managed isolation and quarantine- related matters. We also received over 600,000 calls regarding tenancy, employment, Companies Office and WorkSafe related matters.
Common questions included COVID-19 wage subsidies and vaccines, foreign nationals seeking to migrate here from COVID-19-affected countries, and, during lockdown: rules for businesses, whether tenants could move out, and about New Zealanders seeking to return home.
At times, the number of calls to the service centre surged, for example, the day the Government announced a new visa for migrants already in the country, we received approximately 6,000 calls.
Despite these challenging times, callers report feeling supported and this reflects our significant efforts to make our services accessible so people find it easy to do the right thing.
How we measure outcome three
Performance measure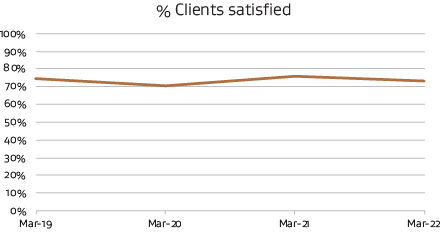 3.1 Increase employment mediation customer satisfaction
Indicator
Percentage of clients satisfied based on their last interaction with the employment mediation services[11]
Commentary
The percentage of clients satisfied with the overall quality of employment mediation services was 73% in the quarter to March 2022, down from 76% in the quarter to March 2021. This result has varied between 70% and 76% since March 2019. During the last 2 years, satisfaction has been affected by Covid-19 and timeliness of being able to offer a face-to-face service.
Performance measure
Indicator
Trend
Commentary
3.2 Increase consumer awareness
Percentage of adult consumers who know at least a moderate amount about their rights as a consumer
Current


Desired

In 2020/21, we reported that the percentage of adult consumers who felt that they knew at least a moderate amount about their rights as consumers was 45% in 2020. This is very similar to 2018 (46%).
3.3 Increase consumer confidence in business
Percentage of adult consumers who agree that in Aotearoa New Zealand you can generally buy products and services and feel confident that businesses will do the right thing and not try to mislead or cheat you
Current


Desired

In 2020/21, we reported that the percentage of consumers who agreed that in Aotearoa New Zealand you can generally buy products and services and feel confident that businesses will do the right thing and not try to mislead or cheat you was 74% in 2020*. This result has remained steady since 2018.
3.4 Improve access to dispute resolution services
Percentage of consumers who agree there is adequate access to services that help to resolve disputes between consumers and business
Current


Desired

In 2020/21, we reported that just under half (48%) of consumers in 2020* agreed that there was adequate access to services that help resolve disputes between consumers and businesses. This is an increase from 2018 (44%).
3.5 Increase tenancy mediation satisfaction
Percentage of tenancy mediations settled[12]
Current


Desired

The percentage of mediations settled was 83% in the year to June 2022, a decrease from 85.26% in June 2021. Since June 2020, there have been impacts from lockdowns on the settlement rates. In particular, the Auckland lockdown period of approximately 100 days impacted on the June 22 result.
3.6 Improve the business experience when dealing with government
Customer Experience Index (CXI)
Current[13]


Desired

The MBIE CXI score was 70 in June 2022, an increase from 60 in June 2021. The all-of-government CXI score was 57 in June 2022, unchanged from June 2021, but a small increase from 52 in June 2019.

The Better for Business (B4B) CXI measures the quantity and quality of overall customer experiences for businesses when dealing with government or complying with government requirements. It ranges from 1 (least positive) to 100 (most positive)
3.7 Improve the experience for applicants applying for visas
The percentage of visa applicants satisfied with their overall experience of applying for a visa
Current


Desired

The percentage of visa applicants satisfied with their overall experience of applying for an Immigration New Zealand visa was 71% in the year to June 2022. This is a decrease compared to June 2021, when the result was 76%. Overall satisfaction with the application experience continues to decline due to processing times not meeting customers, expectation and applicants' inability to track their progress. We expect to be able to make more timely decisions on new visa applications as the border opens and more visa products are processed through the enhanced Immigration Online system. The 5-year average for this measure is 77%.

In 2022, a total of 5,198 respondents completed the survey – a response rate of 41%. The result has a margin of error of ±1.36%. The survey was conducted by GravitasOPG, an independent external agency.
3.8 Reduce burden of government regulations on institutions
Burden of government regulations on institutions
Current


Desired

The burden of government regulation index measures how burdensome it is for companies to comply with public administration requirements (1 = extremely burdensome, 7 = not burdensome at all). Aotearoa's value on this scale was 4.1 in 2021* decreasing from a high of 4.4 in 2019. In 9 out of the last 10 years, the national value has been above 4.0.

In 2021, Aotearoa's global rank was 25, decreasing from 19 in 2019 but increasing from 36 in 2016.
*At the time of writing, this was the most recent period for which data is available.
[11] A total of 513 respondents completed the Employment Mediation Services Client Satisfaction Survey in April 2022 for the mediation services offered in the period January 2022 to March 2022. This reflects a response rate of 11%. This result has a margin of error of ±4%. The survey was conducted internally using SurveyMonkey.
[12] The indicator was changed from previous years (percentage of clients satisfied) because the Tenancy Services Dispute Resolution team at MBIE stopped using quarterly surveys with parties engaged with mediation. The key focus in 21/22 for Tenancy Services Dispute Resolution was reviewing the Dispute Resolution Service model which includes their mediation approach and the way they survey customers. The data source used for the old indicator was also used for an Estimates measure. This was removed and replaced with mediation resolution measure from 21/22 and we have used this data source for the new indicator.
[13] No data was collected in 2020 because of COVID-19 impacts.