Diversity, equity and inclusion
At MBIE, we value our people and strive to reflect, embrace and nurture the communities we serve. Our Inclusion & Diversity strategy, Nō Konei – Belong, focuses on having inclusion at the heart of our mahi, to create a sense of belonging.
On this page
An inclusive culture is essential if we are to attract and retain diversity at MBIE. A diverse workforce ensures multiple perspectives will be included in policy advice and service design, which will help Grow Aotearoa New Zealand for All.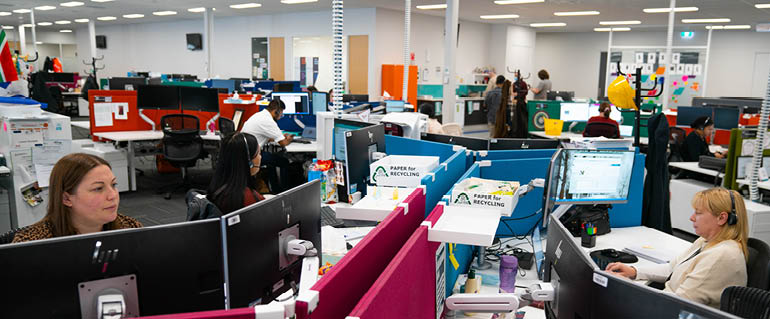 Our workforce and leadership
The representation of different ethnicities across all levels at MBIE has increased since 2020/21, aside from the New Zealand European and Unknown categories. In tiers 2-3 leaders, there was a 0.9% increase in the proportion of employees who identify as NZ Māori, a 2.3% increase in the proportion who identified as Pacific Peoples, and a 6.8% increase in the proportion of Wāhine/Female. Across all levels of MBIE, the representation of different gender groups remains within a 1% variation of the 2020/21 numbers. Asian ethnicity is under-represented in tier 2-3 leaders (1.2%) compared to all levels for wider MBIE (20.7%).
To understand the experiences of diverse population groups within MBIE, we have used human-centred design principles through our People Experience hub to engage with our Tangata Whenua, Pasefika, Asian and Rainbow communities. This has supported us to identify actions we can take to work towards a more inclusive and equitable MBIE.
Ethnicity of our workforce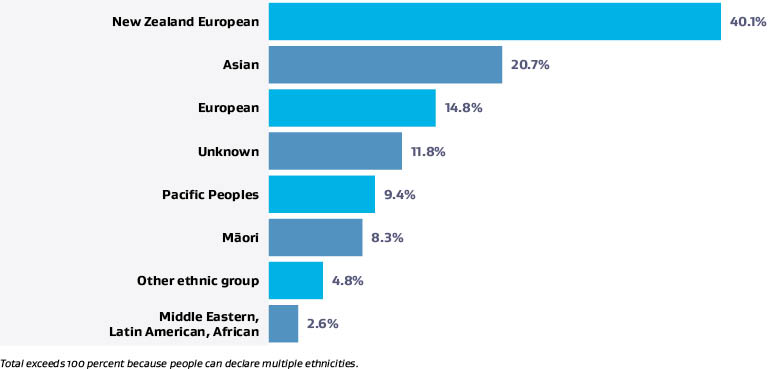 Text version of ethnicity of our workforce
Age and gender of our workforce
Age
Female
Wāhine
Male
Tāne
Another gender
He ira kē anō
Undisclosed
Total
Under 20
0.1
0.1
0.0
0.0
0.2
20–29
12.7
7.1
0.0
0.7
20.6
30–39
18.0
11.1
0.0
0.4
29.5
40–49
13.9
9.1
0.0
0.2
23.3
50–59
10.1
7.5
0.0
0.1
17.7
60+
3.4
3.6
0.0
0.1
7.0
Unknown
1.1
0.6
0.0
0.0
1.8
Total
59.3%
39.1%
0%
1.5%
100%
Ethnicity of our leadership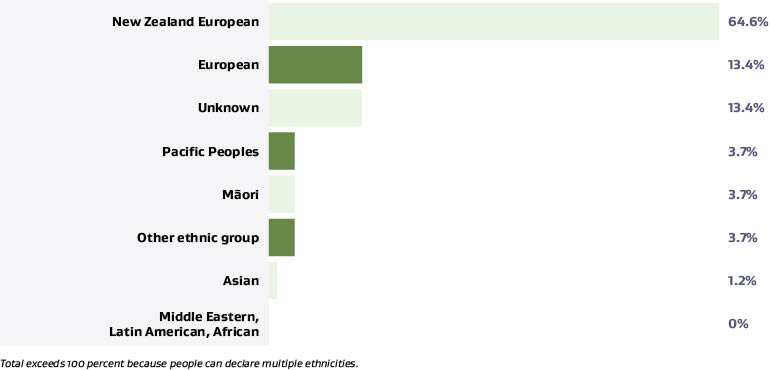 Text version of ethnicity of our leadership
Age and gender of our leadership
Age
Female
Wāhine
Male
Tāne
Another gender
He ira kē anō
Undisclosed
Total
Under 20
0.0
0.0
0.0
0.0
0.0
20–29
0.0
0.0
0.0
0.0
0.0
30–39
7.3
1.2
0.0
0.0
8.5
40–49
30.5
11.0
0.0
1.2
42.7
50–59
14.6
22.0
0.0
0.0
36.6
60+
2.4
6.1
0.0
0.0
8.5
Unknown
1.2
2.4
0.0
0.0
3.7
Total
56.1
42.7
0.0
1.2
100.00
People with disabilities
A very low proportion of employees have declared that they have a disability. Better data on disability in the workforce is a priority for MBIE to help identify and meet the needs of people with disabilities in the workforce.
Diversity, equity and inclusion work programme
MBIE's diversity, equity and inclusion (D,E&I) work programme is shaped by Papa Pounamu and the 5 priority commitments described below within the public service's wider work programme.
Te āheinga ā-ahurea – Cultural competence
Te urupare I te mariu – Addressing bias
Hautūtanga ngākau tuwhera – Inclusive leadership
Te whakawhanaungatanga – Building relationships
Ngā tūhononga e kōkiritia ana e ngā kaimahi – Employee-led networks
Our People Experience hub, along with other engagement with our people, have informed our focus areas in D,E&I. At MBIE, this work sees a bottom up employee led networks and a top down (SLT and leadership commitment) approach. Building from the learnings from our People Experience Hub, key initiatives started in the last year include a review of our recruitment and career progression processes to ensure our diverse communities have equitable outcomes. Our D,E&I work programme continues to involve a suite of learning programmes, some of which are specifically designed for our People Leaders.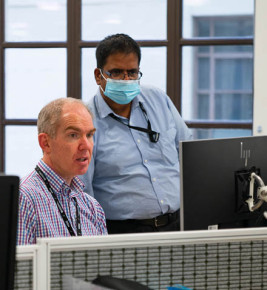 We continue to promote learning programmes focused on building cultural competence and understanding of racial equity and bias. We also developed the Nō Konei - Belong learning programme in-house with our people which centres on MBIE's diverse voices and introduces wider topics and perspectives on D,E&I.
Feedback from our people has drawn value from the Mana Aki, Wall Walk, and Courageous Conversation About Race: Beyond Diversity™ learning programmes. In the D,E&I learning evaluation reports published in May 2022, quantitative data shows highly positive responses to the bias workshop focused on equity. 85% of respondents generally agreed or strongly agreed that the course will have a positive impact on their mahi and add value to the work MBIE does for all New Zealanders.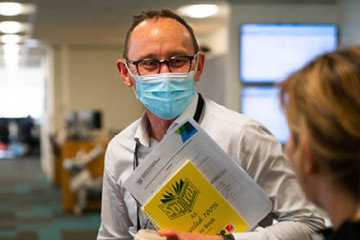 Our people of diversity have experienced these learnings in a way that is validating and honouring of their experiences at MBIE and more broadly. Our people have also indicated that they would like more inclusion and diversity content that is relevant to them and the work they do at MBIE. Overall, these learning programmes have improved MBIE people's capability to interact with people from different cultural backgrounds to their own and to talk about race with others.
Insights from MBIE's People Leadership Engagement Survey and Te Taunaki Public Service Census indicate that the majority of our people feel accepted and valued, and consider MBIE a safe place to work, however, we have a way to go for some groups.
Commitment to the Accessibility Charter
We are committed to the Accessibility Charter and continue to ensure our public information is accessible. We conduct accessibility assessments of our websites to make sure they comply with New Zealand Government Web Accessibility Standards.
In terms of our workforce, our commitment to the Charter is part of our inclusion and diversity strategy. MBIE is committed to reasonably accommodating the needs of people with disabilities and supporting their health and well-being. This is underpinned by our well-being, health and safety policy and standards.
Kia Toipoto: Closing gender, Māori, Pasefika and ethnic pay gaps
Women, who make up 59% of our workforce, were paid 11.8% lower than men (on average) as at 30 June 2022. This is an improvement from June 2021, when the gap was 13.2%. In June 2016, it stood at 20.2%. Over the past year, 483 corrections were made to the pay of employees to close unexplained gaps in the same or like-for-like roles. This was a significant initiative in our Gender Pay Action Plan. In late 2021, MBIE worked in partnership with the Public Service Association and sought input from several of MBIE's employee led networks on a recalibrated gender pay and ethnic pay action plan. The plan includes a greater focus on ethnic pay gaps and changes that make sure gains made are sustainable.
Tools to support pay decisions, such as recruitment guidelines, pay restraint guidelines and a gender pay calculator, have been introduced to help us make more informed decisions around pay and gender pay implications. Educating People Leaders is an important part of increasing people's understanding of how bias can affect the gender pay gap. Together, these tools aim to make sure the benefits gained by the initiatives and corrections are sustained. New data collection opportunities available in our payroll system mean we can collect better data on ethnicity for even greater visibility of ethnic pay issues and causal factors. Work is under way to refresh the Gender and Ethnic Pay Action Plan from which further initiatives will be developed.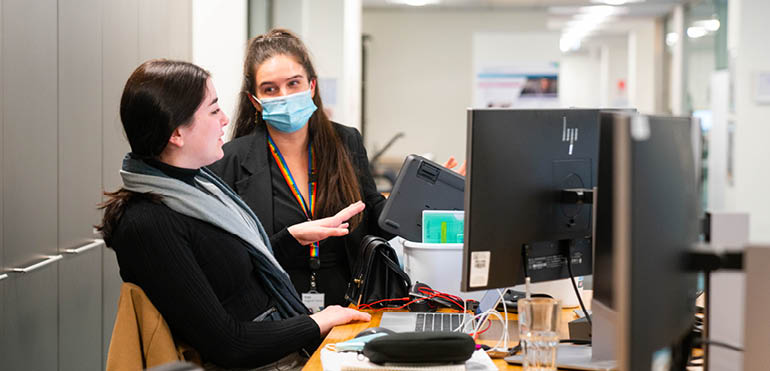 Skills pledge
MBIE signed up to the Government's Skills Pledge, which commits MBIE to doubling investment in re-skilling and training hours by 2025. This investment includes introducing various face-to-face sessions and eLearning modules. During the year, 63,895 formal learning sessions were completed, comprised of 10,287 places on face-to-face or virtual workshops and 53,608 eLearning modules completions. This equates to 106,892 formal learning hours. Altogether, this is an increase of 56% in learning hours from when MBIE committed to the Skills Pledge in 2020, and 20.2% more than last year. This shows our commitment to our value Pae Kahurangi (building our future) by investing in our people and organisational capability. Along with this, 33,695 engagements in formal learning sessions occurred in the MIQ group. This equates to around 16,848 formal learning hours, contributing to the up-skilling of people involved in MIQ across the public and private sectors.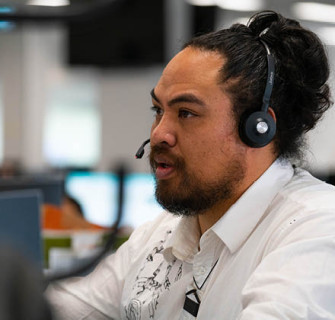 The COVID-19 pandemic has affected delivery of in-person learning events, although these have mostly been redesigned as virtual or online learning. People's availability and capacity to engage in learning has been affected by COVID-19, both through wellness and well-being issues as well as high workload volumes. To meet its Skills Pledge commitment by 2025, MBIE requires a 44% increase in learning hours for its people by 30 June 2025. This will be challenging for MBIE. But, work is under way to make sure MBIE uses its entire organisation-wide learning and development funding (central and group budgets) so it gets the most value from its investment in learning and development to lift capability and meet its Skills Pledge commitment.
Panel pledge
We continue to be committed to the Panel Pledge, signed by MBIE's Secretary, Carolyn Tremain, in 2019, to actively encourage diverse voices when considering requests to participate on panels or at any speaking engagements.
Commitment to Equal Employment Opportunities
The above work programmes across Diversity, Equity, and Inclusion, Māori-Crown relations, and Our People outline MBIE's compliance with our commitment to identifying and eliminating all aspects of policies, procedures, and other institutional barriers that cause or perpetuate, or tend to cause or perpetuate, inequality with respect to the employment of a person or group
of persons.