Outcome 1: Prosperous and adaptable people, sectors and regions
We oversaw a diverse mix of initiatives to help our people, sectors and regions thrive and adapt to changing national and global environments.
On this page
MBIE works across various sectors with regional networks and bodies, and manages several funds that contribute to important initiatives that help our people, sectors and regions thrive.
The Regional Strategic Partnership Fund of $200 million, is one of a portfolio of funds administered by Kānoa - Regional Economic Development and Investment Unit (RDU). This fund aims to grow regional economies by recognising each region's individual strengths and to work with them in partnership to develop regionally specific projects. In February 2022, the first investment from the fund was announced, a $2 million loan and equity stake in Geo40 Limited, to help scale-up its lithium recovery technology at Ohaaki near Taupō. Geo40 Limited already exports silica, recovered from the Ohaaki site. The company's silica extraction technology was also supported by government with a $15 million loan and equity funding from the Provincial Growth Fund in 2019.
Hosting major international events is a great opportunity to profile our country on the international stage. MBIE manages funds for such events, for example, contributing $2.75 million towards the 2022 International Cricket Council Women's Cricket World Cup, which successfully took place across Aotearoa in March and April 2022. Matches were held in Auckland, Tauranga, Hamilton, Wellington, Christchurch and Dunedin, generating benefits across the country. The fund is also contributing to the FIFA Women's World Cup 2023, which will be co-hosted by New Zealand and Australia.
We continued supporting the communities most affected by the loss of international visitors due to COVID-19, as well as administering support through recovery packages, such as the $200 million Tourism Communities: Support, Recovery and Re-set Plan. The plan targets five communities that have high dependence on international tourism in their local economies: Queenstown Lakes, Southland (focusing on Te Anau and Fiordland), Kaikōura, Mackenzie District and Westland (focusing on Fox Glacier and Franz Josef). The plan includes three business initiatives available in all five communities, enabling businesses to receive and implement advice on a range of issues, including employee mental health and wellness.
We developed and implemented the Events Transition Support Payment Scheme, to give assurance to event organisers to host events, and support for regional tourism organisations to develop destination management plans. Also, for the first time, the Tourism Infrastructure Fund supported infrastructure to enable the delivery and management of Matariki events, and seven Matariki linked projects have been awarded a share of $2.29 million in funding. A further $600 million from the Provincial Growth Fund, plus funding from the Regional Investment Opportunities Contingency, was focused on investing in smaller community initiatives to help address the effects of COVID-19 on businesses.
The funds we administer often have a strong focus on local and community interests and employment, including the importance of marae and community housing. For example, in February 2022, renovations to Puketawa Marae in Northland were completed by local companies, with 22 people ultimately employed in the work. Significantly, this was Kānoa - RDU's 500th project to be completed and one involving close cooperation with Te Puni Kōkiri. Between the Provincial Growth Fund and the COVID-19 Response, Worker Redeployment Package, over 340 marae from across the country have been able to undertake renovations. As part of the COVID-19 Response and Recovery Fund, we also contributed $1.9 million towards construction of six housing units for kaumātua at Te Rau Aroha marae in Bluff, which were opened in April 2022. The units have helped Te Rūnaka o Awarua fulfil a long-held wish to have affordable intergenerational housing.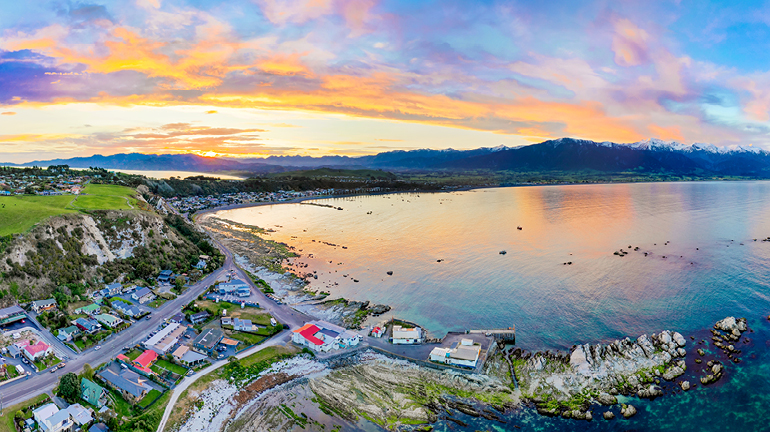 The Provincial Growth Fund, established in 2018, with original funding of $3 billion, is also administered through Kānoa – RDU. Investments made through this fund range from smaller regional economic development projects to sector and industry development and larger infrastructure projects, with the aim of unlocking opportunities for growth in the regions. By the end of June 2022, the fund had invested in over 1,359 projects across the country since its establishment.
The Provincial Growth Fund is diverse in scope and reach. For example, it provides funding for the preservation and development of historic sites of national importance, such as $2.3 million for the reconstruction of the Rangiriri Pā trench complex in Waikato. Completed in April 2022, it is one of the most culturally significant sites of the 1860s New Zealand Wars. Similarly, a loan of $7.5 million helped with the construction of the Ōpuke Thermal Pools and Spa complex in Methven, which was opened in November 2021 and will help to improve the tourism offering for visitors.
Two reports commissioned this year confirmed the Provincial Growth Fund's effectiveness. One, by Allen + Clarke, examined the extent of the fund's benefits to regional communities, Māori and the Government. It classified the fund's various elements as either 'consolidating' or 'effective.' The second, a BERL report commissioned by Gisborne District Council, found the fund had given a strong boost to employment and growth in the region's traditional sectors, such as forestry and farming, and had encouraged the establishment and growth of non-traditional industries, such as medical research and engineering technologies. According to the report, the funding will generate around 1,500 full-time equivalent jobs in the local economy, which is equivalent to about 6.6 per cent of current total employment in the Gisborne region. MBIE is also working on a range of industry transformation plans, aimed to ensure our regions and sectors can adapt and thrive with global and local shifts. As highlighted under the Year in Review, MBIE worked in partnership with industry to develop the draft Digital Technologies Industry Transformation Plan 2022–2032. Along with tourism and digital technologies, MBIE also leads Industry Transformation Plans for advanced manufacturing and construction and supports other agencies across the agritech, food and beverage, forestry and wood processing, and fisheries sectors.
STORY: Supporting economic and community development in Ōpōtiki
Ōpōtiki is the northern gateway to the East Cape. Located at the mouths of the Waioeka and Ōtara rivers, it boasts a spectacular surf beach and a multicultural town.
Although established as a township for agriculture, manufacturing and wood processing, over time, the loss of key employers has seen this once bustling community experience high levels of unemployment and youth crime. Ōpōtiki residents, community leaders, councils, iwi and industry partners, however, have remained proud and determined to see their region thrive.
Through funds managed by Kānoa – RDU, we explore and invest in opportunities to revitalise regional economies and communities. In the case of Ōpōtiki significant investments in the aquaculture sector are being made, including:
$95.3 million for the Ōpōtiki Harbour development, designed to provide access for larger boats, creating an entrance that is navigable in all conditions. This project supports the development of aquaculture in the region and New Zealand's aquaculture goal to be a $1 billion industry.
$27.4 million towards an expanded mussel processing factory which has employed 94 new jobs during the first phase of operation with an additional 150 jobs (across farming operations, processing operations and administration) anticipated once fully operational in 2025. This project builds resilience for the New Zealand aquaculture industry and supports Māori aspirations for aquaculture in the Eastern Bay of Plenty region.
$8.8 million for new marine and industrial infrastructure, accelerating the first stage of a marina to provide safe workspace and mooring for mussel boats.
Government support following the outbreak of COVID-19 also provided redeployment opportunities for local people and improvements for the community. This includes upgrading community assets (parks, playgrounds, green spaces and the CBD); significant investment in a new library, with a digital hub; and renovations of three local marae.
These investments have been made to support and complement wider efforts of the community. Improving opportunities for rangatahi has been a focus of Te Whakatohea, Whakaatu Whanaunga Trust, Ōpōtiki District Council and Ōpōtiki College, they have worked together to provide 'work readiness programmes, leadership programmes and one on one mentoring. An 'Iwi lead' construction course on the college grounds is focused on building the skills gap in the trades across the region. Youth unemployment has decreased in Ōpōtiki, with many being employed on the investment projects related to the harbour development and mussel processing factory. A local supermarket manager commented on 'how full' the trolleys of local people had become.
These investments have been all about growing the skills, workforce, infrastructure, and economic potential of Ōpōtiki. Te Rūnanga o Te Whakatōhea have been pivotal in providing strong leadership, along with the Ōpōtiki District Council.
How we measure outcome one
Performance measure
1.1 Decrease income inequality
Indicator
Percentile ratio (P80:20) of household income after housing costs for all households.[1]
Commentary
In the year to June 2021, income for the top 20% of households was 2.9 times greater than that of the lowest 20% (after adjusting for housing costs). The five-year average value of the ratio was 2.99. While this five-year average has fallen slightly in the last few years, it has been stable since 2007. This ratio is a measure of household income inequality. P80:20 is the ratio of the incomes of the top 20% of households to the bottom 20% of households.
Performance measure
Indicator
Trend [2]
Commentary
1.2 Increase household incomes
Total real household median weekly income from all sources, by region
Current


Desired

Total real household median income (from all sources, based on 2012 prices) was $1,653 per week in the year to June 2022. This is a decrease of $2 compared to 2021, after a fall in 2020 affected by COVID-19. Over the past four years real median incomes have grown on average 0.8% per year.

Regions with the highest annual growth rates in total real household median income (from all sources, based on 2012 prices) were Taranaki 15.2%, Wellington 6.4%, Gisborne 4.4%, Northland 0.7% in the year to June 2022. All of the other regions had negative growth rates in the year to June 2022, with Southland having the biggest decline (-4.8%).
1.3 Increase labour productivity
Labour productivity growth
Current


Desired

Labour productivity growth was 0.7% in the year to March 2021, a decrease from 0.9% in the year to March 2020. The five-year (2016-2021) compound annual growth rate was 0.6%, a decrease from 0.8% in the previous period (2015-2020).
[1] For 2020 and 2021, the five-year average has been calculated from the five most recent data points. This is because there is no data currently available for 2019.
[2] Throughout the tables in this section, the current trend is reported as 'steady' where there is a change in the numerical value but the change is not significant.