Face to face interpreting service
MBIE has established a new national model for agencies to access face to face interpreting services more effectively and efficiently across New Zealand.
On this page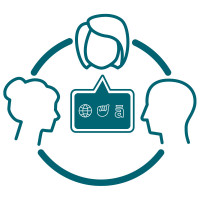 In October 2021, MBIE launched a new service for government agencies to access face to face interpreting services.
A panel of professional language service providers have been appointed to offer face to face interpreting services in a range of languages, including community languages, te reo Māori and New Zealand Sign Language, throughout the country. The providers offer a range of interpreters and languages to meet the needs of people throughout the country.
The aim of interpreting services is to ensure that everyone in New Zealand has equal access to government agencies and their services regardless of their level of English proficiency.
Professional interpreters allow communication between government agencies and culturally and linguistically diverse people. Professional interpreters abide by high ethical standards and may specialise in certain areas, such as health or legal services.
We want to make it easier for culturally and linguistically diverse people to participate in New Zealand society. One way we can do that is to ensure that government agencies can access interpreting services of an appropriate standard, when required.
Who can join
The Panel Agreement for face to face interpreting is available to agencies within the public sector, including Public Service departments, non-Public Service departments (such as the New Zealand Police), Crown Entities, State-owned enterprises and local authorities.
In general, if an agency has previously signed-up to an All of Government or Syndicated contract (including Telephone and Video Interpreting) then it is eligible to join the OSA as a Participating Agency.
Participation in face to face interpreting services panel and telephone and video interpreting services is voluntary, through an Open Syndicated Contract.
For more information about eligibility visit the NZGP website(external link)
For eligibility assessment contact New Zealand Government Procurement(external link)
How to join
Complete the Confidentiality Deed

[DOCX, 114 KB]

, sign it, and return it to LAS@mbie.govt.nz.
MBIE will then send information (including a Price Book) to help you decide whether you should join the agreement, and a Participating Agency Agreement (PAA) to populate and send back to LAS@mbie.govt.nz. Only one PAA is required, which gives access to all the providers on the panel.
Pricing information
Pricing information is only available to eligible government agencies. You will need to complete a Confidentiality Deed:
Confidentiality Deed [DOCX, 114 KB]
Send the completed Confidentiality Deed to LAS@mbie.govt.nz and you will be sent a Price Book covering all providers.
How to choose a provider
If you have a one-off or ad hoc requirement for face to face interpreting services, then you can choose any provider from the panel and contact them directly to request a booking. Using the information on this website and the Price Book. Choose from the panel a provider that can support the language groups and locations you need, and give you the best value for money.
If you need interpreting services on a more frequent basis, we recommend selecting one or more 'go to' providers based on their ability to meet your needs (languages, locations, areas of speciality, price and any other needs specific to your agency). Select a shortlist using the information on this website and the Price Book. Then contact them, give them some information about your agencies' needs (including typical volume of demand), and ask them to tell you what they can do for you.
The easiest way to find a provider (or a shortlist of providers) is to start by deciding which language group you need and from there you can search by location.
Find a provider by language group
Government agencies that need a large volume of translation services may find our draft Transition Plan useful as a basis for preparing their own plan.

Draft Transition Plan [DOCX, 41 KB]
The provider's role
Panel providers have signed an agreement with MBIE to provide face to face interpreting services. Providers have agreed to standardised terms, conditions, service levels and pricing. Terms outside the agreement cannot be negotiated for individual government agencies (except for service levels, where providers and individual government agencies can agree to higher service levels). Any changes to pricing need to be agreed by MBIE and the provider in a contract variation. Any contract variations would apply equally to all participating government agencies.
When you make a booking request, providers can accept or reject it. There are standard service levels for response times and fulfilment rates. If a provider rejects a booking, you can go to another provider on the panel.
You should expect that providers may contact you from time to time to promote their services. If you don't want to be contacted about that, then tell the relevant provider, who should respect your wishes.
Agency's role
Participating agencies can use whichever panel provider they choose. You should always treat providers fairly, by giving them as much notice as possible of requests and decisions. Give advice of any change with as much notice as possible.
Providers have established relationships with individual interpreters. These relationships are central to the provider's business. Once an individual interpreter has been introduced to you by a provider, your commercial relationship should be through that provider.
It is not acceptable for participating government agencies to seek to form a commercial relationship with an individual interpreter outside of their relationship with their chosen provider. Interpreters may choose to change from one provider to another, or work concurrently for more than one provider; that is a matter for the interpreter and the providers, and government agencies should not be involved in this.
Last updated: 09 March 2022