Sustainability
MBIE's sustainability framework supports both the Government's commitment to having a carbon-neutral public sector by 2025 and broader cultural, economic, environmental and social outcomes for the country.
On this page
The Carbon Neutral Government Programme commitment requires public sector organisations to set gross greenhouse gas emissions reduction targets for 2025 and 2030 that are consistent with limiting the global average temperature increase to 1.5 degrees Celsius above pre-industrial levels.
Our transition to a low-emissions economy
According to the latest report from the Intergovernmental Panel on Climate Change, to meet this goal, global emissions will have to fall by almost 50 per cent from 2019 levels in the next decade. Reducing our emissions and improving operational efficiency is a priority objective in supporting the transition to a low-emissions economy.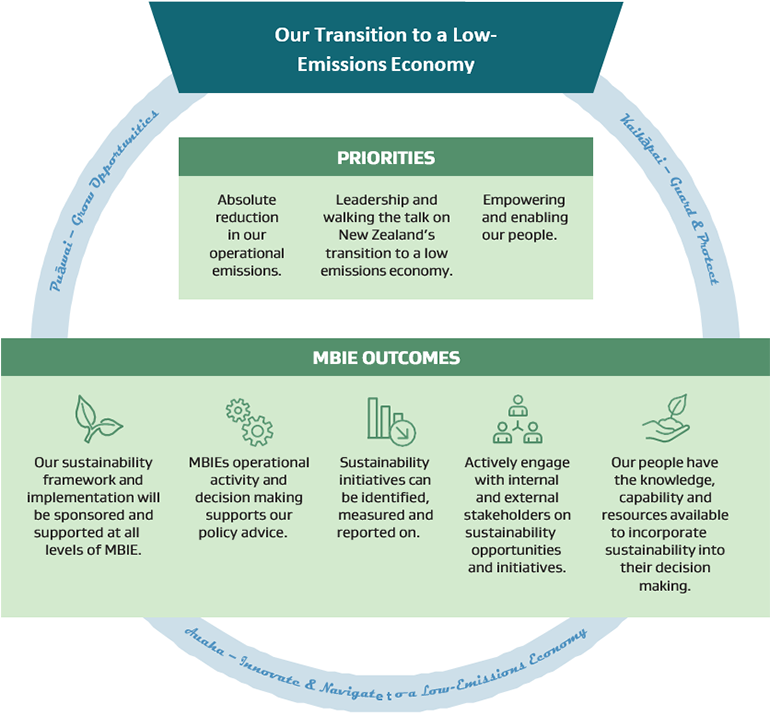 Text version of image: Our transition to a low emission economy
Our science-aligned emissions reduction targets are:
2025 target: reduce gross emissions (all categories) by 25 per cent, compared with base year 2018/19.
2030 target: reduce gross emissions (all categories) by 46 per cent, compared with 2018/19.
Sustainability framework
During the year, we developed extra emissions reduction targets for staff business travel, fleet emissions, building efficiency and landfill waste, to support the gross emissions reduction targets.
Climate change mitigation
GHG emissions measurement and reporting
Emissions reduction: Our business travel
Emissions reduction: Our buildings
Emissions reduction: Our fleet
Emissions reduction: Our waste
Emissions reduction: Our team
Transitioning to a low emissions economy
Climate change and our operations
Supporting the transition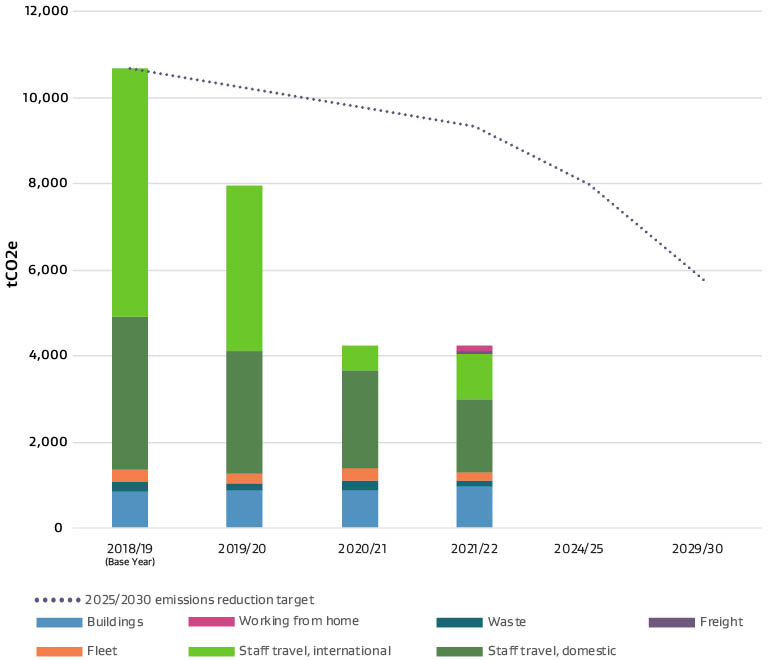 Data table for Our emissions graph
In 2021/22, our total (gross) emissions for the year were 4,238.72 tonnes of carbon dioxide equivalent (t CO2e), which is the same as the previous year and 60% less than our 2018/19 base year.
Most of our emissions come from employee travel (mainly air travel) and energy use across our offices. As for last year, the biggest factors in the decrease against our base year were less international and domestic travel by staff as an ongoing result of COVID-19. We expect travel-associated emissions will increase again in future years but are focused on managing travel demand to achieve our emissions reduction targets.
Emissions from landfilled waste fell by 41%, compared with the previous year, as a result of updated emissions factors for recovery of landfill gases. The increase in building emissions reflects both higher occupancy of the Mangere Refugee Centre, compared with last year, and the inclusion of additional site reporting data for gas consumption.
Reporting for this year includes additional emissions sources (emissions associated with our people working from home and freight movements) as required by the Carbon Neutral Government Programme.
We are a Toitū carbonreduce organisation, which means we are measuring, managing and reducing our emissions according to ISO 14064-1:2018 and Toitū requirements. A copy of our Toitū carbonreduce certification disclosure can be viewed on the Toitū website.
Ministry of Business, Innovation and Employemnt(external link) – Toitū
Reducing our emissions
Our emissions reduction plan identifies specific projects to decarbonise some activities and improve efficiency.
Align staff travel budgets and procedures with emissions reduction targets (reduce domestic and international air travel emissions by 35% by 2025).
Improve energy efficiency of our office buildings through continuous commissioning, including LED lighting upgrades and systems monitoring.
Property consolidation and activity-based working projects reduce operational energy emissions and realise opportunities for increased resilience and community benefits.
Improve the operational efficiency of our fleet and transition 100% of light vehicles to electric or plug-in hybrid vehicles by 2025.
Improve waste and recycling collection across our sites to increase diversion of organic waste from landfill and reduce landfill waste.
We are committed to ongoing improvements in our emissions reporting and the identification and delivery of emissions reduction initiatives across our business. This is a priority for 2022/23. Our internal staff sustainability network, Kete Taiao, has an increasing membership with over 200 members, and 28 people completed a sustainability learning course to build capability in incorporating sustainability into decision making.