Te arotake i te tau nei | Our year in review
MBIE is a large ministry with broad responsibilities that touch on the daily lives of New Zealanders in many ways.
On this page
Hīkina Whakatutuki is our te reo Māori name – 'hīkina' meaning uplift and 'whakatutuki' meaning to move forward, to make successful. Everything we do at MBIE is about Growing Aotearoa New Zealand for All. We grow opportunities (Puāwai), act as a guardian and protect (Kaihāpai), and innovate and navigate towards a better future (Auaha).
We are leaders of economic strategy. We invest in businesses and regional growth, as well as science and technology. We are forward looking, identifying and responding to opportunities and risks. We are responsible for a range of systems that help our economy to function well.
To highlight the range and breadth of our responsibilities, this section canvasses a selection of themes and initiatives across 2021/22: from our work supporting economic development and transformation across the country, to responsibilities for key parts of the Government's COVID-19 response, to efforts to mitigate and respond to climate change. Additional initiatives are covered in the Outcome section of this report.
Economic Development and Transformation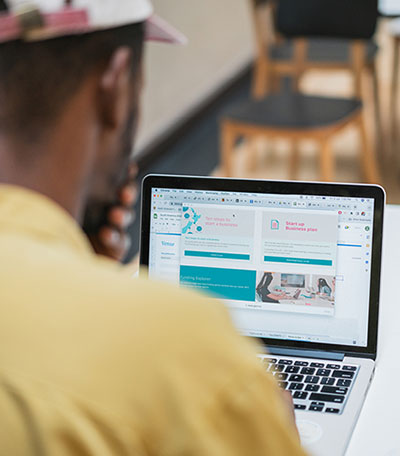 Maintaining a robust economic system and preparing for the future are central to our work. This was no different in the 2021/22 financial year, where we advanced a wide range of initiatives, across multiple fronts, to support wider economic development and transformation goals. These include: helping businesses operate in the digital era; generating better outcomes through government procurement; investment that supports vibrant regions and communities; helping industries transform; growing international market access; and assisting people and businesses to understand their rights and navigate issues that often have important life and financial implications.
Operating in a digital era
It is important that small businesses adapt to working in a digital era. The Digital Boost programme, launched in December 2020, focuses on supporting small business owners, urban and rural, to realise the benefits of digitising their business, including making greater use of digital tools and adopting digital processes.
In 2021/22, Digital Boost focused on lifting access to the platform. This included the launch of the Digital Boost Checkable tool, an AI diagnostic tool that provides businesses with actionable insights to improve their web presence. A Te Reo Māori version of Digital Boost was also launched and language subtitles in Hindi, Simplified Chinese, Tongan and Samoan were introduced increasing diversity options.
As of 30 June 2022, there were nearly 48,000 unique users signed up to the Digital Boost platform. An evaluation report for 2021/22, indicated that 39% of those who engage weekly with the platform report improved revenue. Furthermore, 79% of users said they would recommend Digital Boost to other businesses.
MBIE also runs business.govt.nz, a website that makes it easier for small businesses in New Zealand to understand and comply with government requirements and build their management capability. Business.govt.nz has also been supporting businesses towards a sustainable future with the Climate Action Toolbox. The toolbox shows businesses how to measure and reduce emissions, and create an action plan. The newest tool in the toolbox is the Carbon Calculator, launched in June 2022, by Minister Nash in his capacity as
Government Procurement
The New Zealand Government spends over $50 billion each year on goods and services that are essential to the well-being of our country and its people. Economic and environmental pressures and the impact of Covid-19 have highlighted the importance of a procurement system that is responsive, transparent and that can withstand disruptions.
In November 2021, Cabinet approved a set of strategic procurement priority areas and a programme of work led by MBIE. Key elements of this work programme include improving procurement data and its transparency; incentivising collaboration and creating a culture of working together as "one government"; and driving better performance through a range of business-friendly practice improvements.
This programme of work is part of efforts to support wider outcomes, including enabling more Māori businesses to engage in government procurement and supporting the Carbon Neutral Government Programme through optimising agencies' fleet sizes, transitioning to electric vehicles, and low-carbon construction.
Investment
Across 2021/22, MBIE managed a range of funds to support New Zealand businesses and communities, as well as opening up new opportunities.
The Regional Strategic Partnership Fund of $200 million aims to grow regional economies. The fund builds on each region's strengths and works with them in partnership to develop regionally specific projects. In February 2022, the first investment from the fund was announced, a $2 million loan and equity stake in Geo40 Limited, to help scale-up its lithium recovery technology at Ohaaki near Taupō.
In some cases, investment is a key tool to respond to events, such as COVID-19. The $200 million Tourism Communities: Support, Recovery and Re-set Plan, for example, targets communities that have high dependence on international tourism in their local economies, including Queenstown Lakes and Kaikōura. This initiative also supports employee mental health and wellness.
There is also an international dimension, with support to host global events, such as the Women's Cricket World Cup held in early 2022, as well as contributions to the FIFA Women's World Cup 2023, to be co-hosted by New Zealand and Australia.
The funds administered by MBIE, provide flexibility of investment to support individual businesses, sectors and infrastructure projects, as well as community-focused initiatives, such as the preservation of historic sites and marae. Further details on funds can be found in Outcome 1.
Transformation
Technology, particularly digital technology, is playing an increasing role in the economic activity and lives of people across the globe. We worked in partnership with industry to develop the draft Digital Technologies Industry Transformation Plan (ITP) 2022–2032, released for public consultation in February 2022. This plan proposes various initiatives, including developing new ways of fostering tech related skills and talent, and supporting export-oriented sub-sectors, such as software services and interactive media.
MBIE is working on a range of other Industry Transformation Plans, to help our regions and sectors adapt and thrive through global and local shifts, including plans for tourism, advanced manufacturing and construction. Also, the Southland Just Transition Work Plan, launched in February 2022, aims to help the region build its economic, environmental and social resilience beyond the planned closure of the aluminium smelter in December 2024.
Ensuring our research, science and innovation system is connected, adaptable and resilient is also a focus. In October 2021, the Te Ara Paerangi – Future Pathways Green Paper was launched, marking the start of a wide ranging and collaborative kōrero (discussion) about the future of this area. Major themes included broad support for greater prominence of Te Tiriti o Waitangi in research, science and innovation policies and structures, and an interest in moving to research priorities that focus on national challenges and opportunities.
International trade agreements
We work with agencies, such as New Zealand Trade and Enterprise and the Ministry of Foreign Affairs and Trade, to lift international trade. The recently concluded agreements with the European Union and United Kingdom, for example, are modern, high quality agreements that ensure we have favourable access to these markets; a key feature in light of increased global competition. Such agreements typically reflect considerable effort over a number of years, by multiple government agencies.
Keeping people and businesses informed and safe
Ensuring people and businesses understand their rights and obligations, be it about consumer protection, insolvency or dispute resolution, is a core responsibility.
In addition to information now available on-line or in printed form, MBIE also runs over 50 public phone lines through its service centre infrastructure, with over 1.7 million calls received during 2021/22. These covered a range of issues, including immigration, managed isolation and quarantine, tenancy, employment and WorkSafe matters. This mechanism helps people and businesses navigate issues that often have important life and financial implications. In January 2022, due to increasing demand, additional personnel were added to the New Zealand Relay Service, which helps those with speech, hearing and vision disabilities.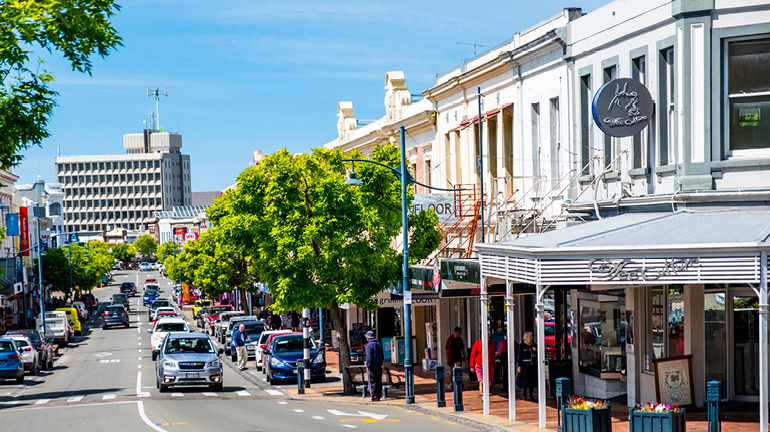 Delivering critical services
COVID-19
As New Zealand and the rest of the world felt the effect of COVID-19, MBIE continued to play an integral leadership role in supporting the Government's pandemic response.
A major focus has been on supporting New Zealanders and businesses to reduce the effect of economic disruption and supply chain issues, maintain employment levels and livelihoods, and support a staged reopening of the borders. This work has required multiple adjustments to the assistance and services we provide to people and business navigating the challenge of COVID-19.
Supporting businesses
Recognising the critical importance of ongoing commercial activity to the country's national wellbeing, MBIE worked to ensure businesses could continue operating while borders were closed. This included leveraging the existing Business Connect platform, to activate a business travel register used by businesses when movement restrictions, primarily for Auckland, were in place. More than 100,000 workers, from over 17,000 businesses, were allowed to cross regional boundaries to carry out permitted activities under the health order.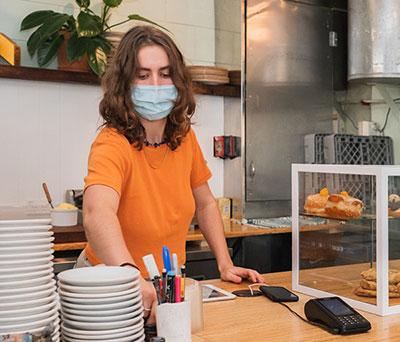 Activate Tāmaki Makaurau, a $60 million support package, launched in October 2021, was established to support Auckland businesses impacted by Covid-19.
Administered by Tātaki Auckland Unlimited in partnership with the region's business support network, more than 12,000 Auckland businesses accessed one-to-one business advice and implementation support.
Mental health and wellbeing support, as a result of the impact of Covid-19, was also offered through the First Steps programme led by the Auckland Business Chamber. Since November 2021, there were 54,000 visitors to the website and 44,000 resources downloaded.
We provided timely guidance to business owners and their staff about how to check customers' and visitors' My Vaccine Passes and how to operate under the COVID-19 traffic light system. We developed policy and guidance material on workplace vaccination mandates and workplace vaccination requirements, along with developing a vaccination assessment tool.
Securing migrants with the skills we need and reopening the border
The COVID-19 pandemic and border closures disrupted normal migration patterns and created significant challenges for businesses across the nation. To help employers keep settled, skilled and scarce migrant workers who are essential to the economy, the Government introduced a one-off residence visa in September 2021 for migrants, many of whom were already on temporary work visas. Immigration New Zealand received more than 100,000 applications for the 2021 Resident Visa and, by the end of June 2022, had approved over 31,000, granting residency to more than 63,000 people under this pathway.
MBIE also led policy and implementation work on the Immigration Rebalance programme, a series of significant changes ahead of the border reopening. The Rebalance includes a new Green List with streamlined residence pathways, making it easier to attract and hire high-skilled migrants, and Sector Agreements, to transition select sectors away from their reliance on lower-skilled migrant workers.
Delivering managed isolation and quarantine services
The introduction of managed isolation and quarantine (MIQ) services was critical to limiting exposure to and spread of COVID-19, creating time and space for New Zealand to better prepare. Delivering these services, scaling them up, enhancing them as issues emerged, and scaling them down again, was one of the more challenging aspects of the pandemic. In early 2022, as the situation evolved, the Government announced its intention to decrease the number of MIQ facilities and, in May, decided the last four would close by August 2022.
The standing up and delivery of MIQ services required strong collaboration and constructive engagement across the public and private sectors, and with a number of iwi partner organisations. There were Defence Force personnel, doctors and nurses from our public health system, Police and aviation security workers, as well as hotel employees, tradespeople, and private security.
Overall, these services supported the return of almost 230,000 returnees and cared for nearly 5,000 community cases –at its height, involving 32 facilities.
A focus remains on completion of the Readiness Plan and development of the business case for a national quarantine capability, should we ever face a similar health threat in the future.
Responding to humanitarian crises
The humanitarian crisis in Afghanistan, following the Taliban's takeover of power, prompted a multi-agency response to support an evacuation, mainly of those people who had been employed to support New Zealand's efforts in Afghanistan, plus their immediate family. The Government's intention was to make sure those who were evacuated, can live here permanently and have access to housing support, funded health services and education.
The scale of the humanitarian response makes it one of the largest undertaken, as a country, in recent decades.
Involvement spanned the New Zealand Defence Force, Ministry of Foreign Affairs and Trade, New Zealand Police, and MBIE, amongst others – with our role being to support the immigration and resettlement aspects.
As a result, 1,700 Afghan nationals were approved for visas by the end of June 2022, with many supported to evacuate the country.
In late August 2021, the first group of Immigration New Zealand people left for Dubai, in the United Arab Emirates. The team conducted the initial screening and processed arrivals from Kabul, after which evacuees left on flights bound for Aotearoa New Zealand.
Following a stay in MIQ, visa-holders and their families were helped to settle into their new country, a process that involved evaluating their health, educational, housing and community needs, working closely with the Ministry of Social Development.
The logistics of evacuating a large number of people at such short notice were extremely challenging. The Delta variant of COVID-19 was widespread at the time and this added a further complication to an already difficult operation.
The whole operation involved a rapid, integrated response across a range of agencies and stands as another example of collaborative effort across government to provide critical services when they are needed most.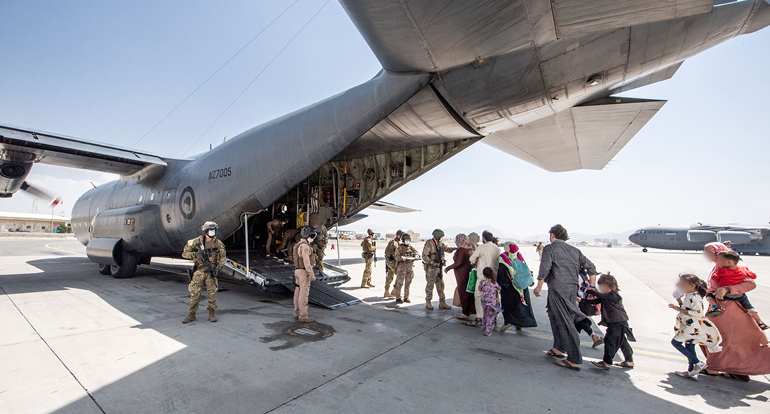 Tackling climate change
The Government is committed to Aotearoa New Zealand becoming a world leader in climate change action.
Working with other key agencies, MBIE is developing policies and solutions – helping the country do its part to address a global challenge.
Reducing emissions, adapting to a changing climate
Understanding where and how we can cut emissions is a key step and we played a central role in developing the first Emissions Reduction Plan for Aotearoa New Zealand, released by the Government in May 2022.
The plan contains a framework of policies, strategies and actions to transition to a low-emissions, climate resilient and high wage economy. We led and contributed to chapters of the 14plan relating to: energy and industry; building and construction; research, science, innovation and technology; the circular and bioeconomy; and equitable transition. From this work, we are now leading or co-leading the development of many of the underpinning strategies and key actions essential for meeting emissions budgets and targets.
We also provided input to the Government's National Adaptation Plan. It details what the country needs to do to adapt to and minimise the physical effects of climate change. Working closely with other agencies, our efforts are intended to ensure buildings are safe and habitable, including during periods of extreme weather when power and other utilities may be down, and to lift national resilience to the economic and financial effects of a changing climate.
Providing a renewable back-up for dry years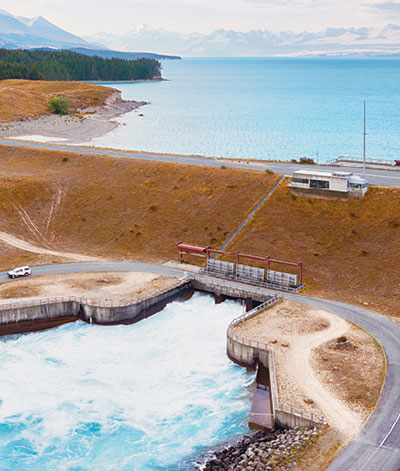 As we adapt to the realities of a changing climate, MBIE is investigating solutions to the 'dry year problem'. This eventuates when existing hydro-power catchments do not receive enough rainfall or snowmelt, and existing wind and solar cannot make up the remaining demand, resulting in fossil fuels to be burned.
Through the NZ Battery Project we are investigating solutions to boost the electricity system's capacity to store energy. One option is a pumped hydro scheme at Lake Onslow, Central Otago. Our work not only covers the engineering and geotechnical feasibility of such a scheme, but also weighs up the environmental, cultural, social and commercial considerations. Working with mana whenua, as well as landowners and local communities, to understand the impacts should the scheme go ahead, is a key focus. Other alternatives being explored include hydrogen generation and bioenergy fuels.
Changing how we build
The Building for Climate Change programme aims to reduce greenhouse gas emissions in the construction sector, an important source of emissions. During the year, MBIE developed a new methodology for assessing carbon emissions embodied in new and existing buildings, which can be used at any stage of the design and construction of a building.
We also led the annual process of updating the Building Code, to make sure it keeps pace with modern construction methods.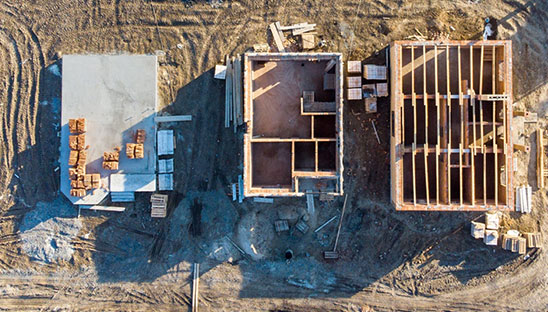 Changes announced in November 2021, mainly concerned with energy efficiency, were among the most significant to the code in more than a decade and should result in warmer, healthier buildings. The revised code details specific minimum insulation requirements for different areas of the country. It also increases window insulation levels nation-wide and doubles the minimum requirements for roof insulation for all new homes and buildings. These new energy efficiency requirements aim to reduce the amount of energy needed to heat new homes by up to 40 per cent.
Creating climate resilient businesses
It is important that our economic sector is also preparing for climate change. To help address this issue, MBIE supported development of the Financial Sector (Climate- related Disclosures and Other Matters) Amendment Act 2021. The Act requires around 200 large financial institutions to spell out the effect of climate change on their business and explain how they will manage climate- related risks and opportunities. These institutions will be required to make disclosures starting in 2023. The aim is to make sure the effects of climate change are routinely considered in business, investment, lending and insurance underwriting decisions.