Our organisational strategy
Since 2020, our organisational strategy, Te Ara Amiorangi, has informed the way we work.
On this page
Te Ara refers to a pathway and Amiorangi to a celestial navigation point used by ancestors. Together, they capture our aspirations for the strategy as a tool that helps us successfully navigate for the future and grow Aotearoa New Zealand for all.
Our outcomes, which are the foundation of Te Ara Amiorangi, detail our contribution to making Aotearoa New Zealand a better place. They form the framework for this annual report. Our collective focus areas highlight MBIE's collective priorities. They guide our thinking, efforts and intentions on what matters, and encourage a more purposeful and collective approach. Our capability priorities identify the environments, skills and resources we need to improve or develop to build and strengthen MBIE, so we can carry out our focus areas and deliver our intended outcomes.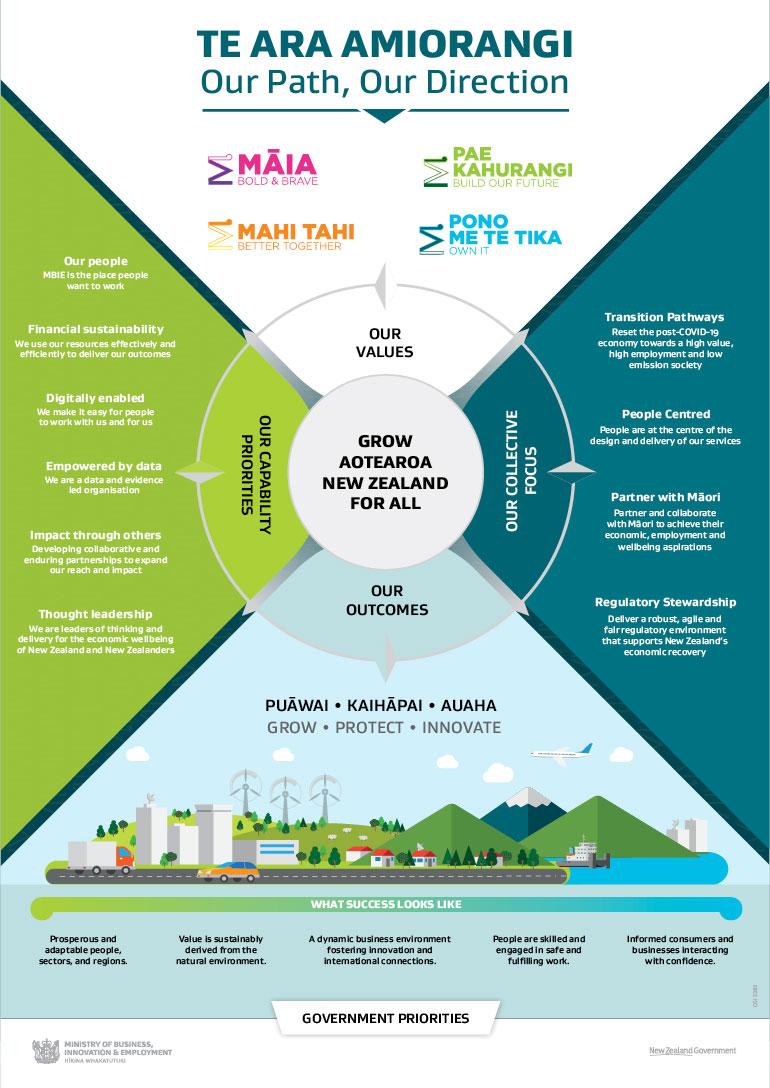 Text version of image Te Ara Amiorangi
Te Ara Amiorangi – Our Path, Our Direction
Grow New Zealand for all
Our values
Māia – bold and brave
Mahi tahi – better together
Pae kahurangi – Build our future
Pono me te tika – Own it
Our capability priorities
Our people
MBIE is the place people want to work
Financial stability
We use our resources effectively and efficiently to deliver our outcomes
Digitally enabled
We make it easy for people to work with us and for us
Empowered by data
We are a data and evidence led organisation
Impact through others
Developing collaborative and enduring partnerships to expand our reach and impact
Thought leadership
We are leaders of thinking and delivery for the economic wellbeing of New Zealand and New Zealanders
Our collective focus
Transition Pathways
Reset the post-COVID-19 economy towards a high value, high employment and low emission society
People Centred
People are at the centre of the design and delivery of our services
Partner with Māori
Partner and collaborate with Māori to achieve their economic, employment and wellbeing aspirations
Regulatory Stewardship
Deliver a robust, agile and fair regulatory environment that supports New Zealand's economic recovery
Our outcomes
Puāwai – Kaihāpai – Auaha
Grow – Protect – Innovate
What success looks like | Government Priorities
Prosperous and adaptable people, sectors, and regions.
Value is sustainably derived from the natural environment.
A dynamic business environment fostering innovation and international connections.
People are skilled and engaged in safe and fulfilling work.
Informed consumers and businesses interacting with confidence.