Regional workforce outlook
This is an update on the region's labour supply and demand for our RWP key focus sectors. Unless otherwise stated, the data is sourced from Infometrics - Industry data for the West Coast region.
On this page
Accommodation and food services
In 2022, approximately 1,500 people were employed across the region in accommodation and food services. This workforce is forecast to grow by around 350 people by 2028.
Total tourism expenditure on the West Coast increased by 37.7% in the year to March 2023, compared to a year earlier. This compares with an increase of 30.5% in New Zealand. Total tourism expenditure was approximately $208m during the year to March 2023, up from $151m a year ago[1]. Although more people are visiting the region, numbers have not returned to pre-pandemic levels. Many businesses are still unable to find the additional staff required to meet demand, including skilled workers such as chefs and managers.
Regionally there is a strong reliance on migrants and seasonal workers, particularly at peak times. This results in a low employee retention rate, with skilled labour hard to recruit.
The Better Work Action Plan, a component of the Tourism Industry Transformation Plan, and Te Tai o Poutini Destination Management Plan contain actions to address some of these challenges and improve recruitment and staff retention.
Destination Management Plan(external link) — Te Tai Poutini | West Coast New Zealand
Employment by skill level 2022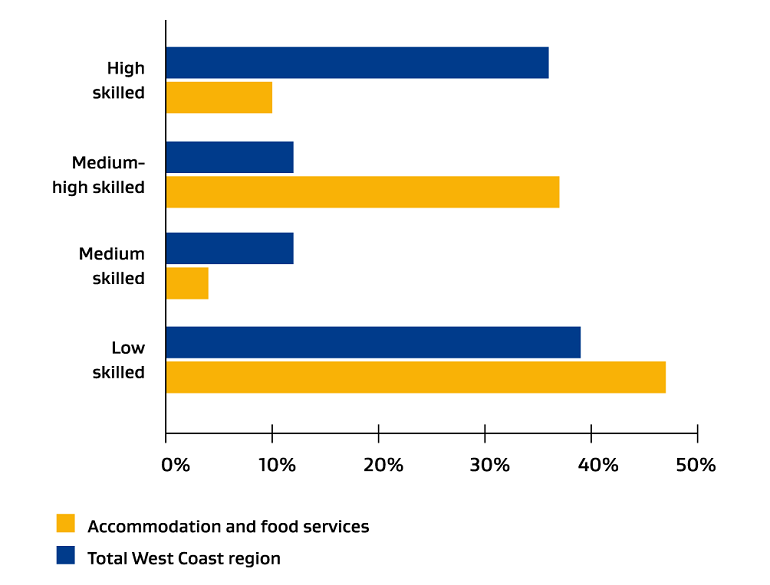 View chart data: Employment by skill level 20222

Construction
There are around 1,700 filled jobs in the construction industry with approximately 25% of these self-employed. Within the region a number of significant projects are either underway or planned for the period 2023 to 2031 including a number of state highway upgrades, bridge safety improvements, the Greymouth to Westport cycleway and the Te Pounamu Pathway project. Civil construction contractors are currently experiencing delays in work locally, with technical roles often the most challenging to recruit, such as cable jointers, line mechanics and water treatment operators.
Residential construction remains steady. Although Waihanga Ara Rau WDC are projecting significant growth and there are some large construction projects planned, we do not anticipate that staff demand will grow in the region as much as currently forecast.
Construction filled jobs 2022
| Occupation | Employed | % of total |
| --- | --- | --- |
| Technicians and trades workers | 522 | 30.00% |
| Managers | 427 | 24.50% |
| Labourers | 245 | 14.10% |
| Machinery operators and drivers | 223 | 12.80% |
| Clerical and administrative workers | 153 | 8.80% |
| Professionals | 126 | 7.30% |
| Sales workers | 25 | 1.40% |
| Community, personal service workers | 18 | 1.00% |
| Total employment | 1,739 | 100% |
Manufacturing
Within this sector we are experiencing demand across the region for workers including middle management and people leaders. Food manufacturing companies have reported difficulties in attracting staff due to the lack of accommodation in the region, high wage expectations, and staff wanting flexible working conditions.
Approximately 90 new jobs are expected to be created between 2025 and 2028 (inclusive), with the greatest number expected in dairy product manufacturing (40% of forecast new jobs) and furniture manufacturing (33% of forecast new jobs).
In-house training is common across the manufacturing industry as training needs are often specific to bespoke machinery used by the business. Larger businesses are integrating digital technologies to improve productivity with training often provided by the companies that provide the machinery.
Total forecast job openings 2028 (new and replacement) – top 5 industries
| Industry - ANZSIC L3 role | Total job openings | Total employed |
| --- | --- | --- |
| Dairy Product Manufacturing | 33 | 559 |
| Furniture Manufacturing | 15 | 103 |
| Meat and Meat Product Manufacturing | 13 | 259 |
| Log Sawmilling and Timber Dressing | 12 | 184 |
| Bakery Product Manufacturing | 8 | 81 |
Health care and social assistance
Approximately 1,800 people are employed across the region in the health care and social assistance industry including hospitals. Close to 300 of these positions are in the aged care residential services industry.
As at June 2023 there was in excess of 30 vacancies within Te Whatu Ora Te Tai Poutini[2], with a shortage of experienced, more senior staff across the region. Private health providers also have significant vacancies, as does much of allied health – physiotherapy, social work, occupational therapy, and laboratory services.
Māori and Pacific workforces are in great shortage, compromising access to healthcare in the region for these population groups.
Work is currently underway via a 3 year West Coast pilot programme Takiwā Poutini to improve health and wellbeing outcomes, particularly focused on Māori, Pacific peoples and people who experience disability.
Projects(external link) — Takiwā Poutini
Job openings — Health care and social assistance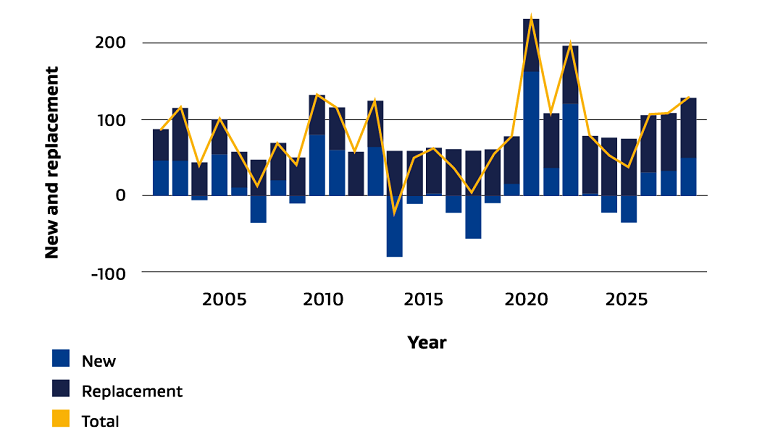 View chart data: Job openings – Health and aocial assistance
Extractive industries
There are around 600 filled jobs in the mining sector[3]. We expect demand for skilled workers in the extractive industry to increase in the short term. The underground gold related workforce is forecast to increase by approximately 60 people from 2024 and remain steady to 2026.
There has been a considerable surge in the projected workforce requirements for the mineral sands sector to support the demand for critical minerals. The industry is predicting the need for an additional 140 employees in the period 2024 to 2026. The workforce requirements for all other coal and aggregates is expected to remain steady.
Attrition of approximately 20% is projected as a result of retiring workers and employee movements. A total of 85% of all roles are likely to be operational requiring nationally recognised qualifications.
Projected workforce[4]
Industry
2021
2022
2023
2024
2025
2026
Coal
336
327
327
327
327
327
Coal Underground
40
40
40
Alluvial Gold
160
160
160
160
160
160
Quarries Gravel and aggregate
65
65
65
65
65
65
Limestone
16
16
16
16
16
16
Underground Gold
40
50
60
120
150
160
Mineral Sands
20
60
150
250
344
Reefton Exploration
20
20
40
40
40
40
Totals
637
658
728
918
1048
1152
Projected attrition
20%
20%
20%
20%
New employees required
216
374
340
334