Why we need a plan - Ngā take me whai mahere
On this page
Tē tōia, tē haumatia.
Nothing can be achieved without a plan, a workforce, and a way of doing things.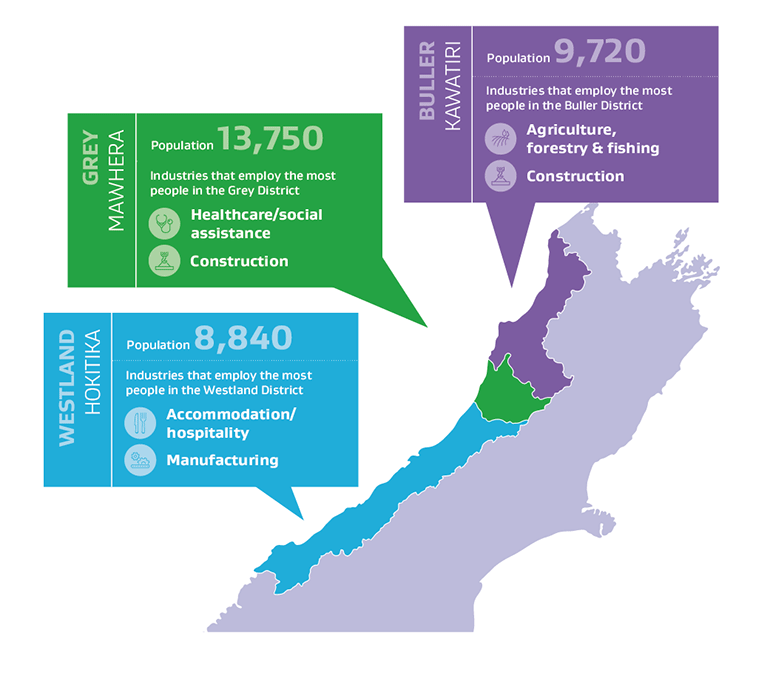 Our available workforce
Total population: 32,300
Working age population: 77.7%
Total labour force: 66.6%
Not in labour force: 33.5%
Persons employed in labour force: 62.3%
Persons unemployed in labout force: 6.5%
Migrant workers: 6%
Migrant workers are predominately employed in residential care services (16%) and accommodation (15.8%), according to MBIE migrant employment data, and are mostly here on essential skills and skilled migrant visas.
Labour market statistics: December 2021 quarter(external link) — Stats NZ
Total underutilisation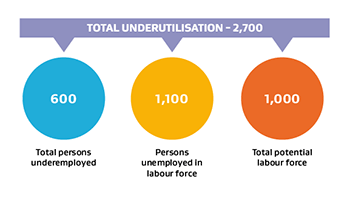 There are a number of people in our workforce that are currently underemployed and underutilised that can help us meet our current and forecast labour demands.
We know that certain groups are overrepresented in these figures, and have generally poorer labour market outcomes, including income, mobility, and educational or training access and achievement.
Qualifications
Te Tai Poutini has a high number of people who have little or no qualifications, many of whom are experienced people with skills that are not officially recognised by national qualifications.
27.1% have no qualifications compared to 17% nationally
11.3% have NZ Qualifications Framework level 7 (Bachelor's degree or higher) compared to 23.3% nationally
Research has shown that early education, training, and employment experiences have long lasting effects on wages later in life, adult employment, and life satisfaction. The successful transition from school to further education, work or training is a critical component of our future labour market.
Job vacancies
We currently have a high number of job vacancies that are difficult to fill. Between 2020 and 2035, the number of jobs in the region is expected to grow by about 3,500 new (filled) jobs (Infometrics Employment projections). This is in addition to replacement job openings where we will require more workers as people retire or leave the region.
Sectors forecast to have the largest growth in job numbers:
Construction
Accommodation and food services
Health care and social assistance
Manufacturing
Age structure
Te Tai Poutini West Coast currently has a relatively small population. It has been relatively static and is forecast to decline by 2028 (Infometrics Employment Projections).
Compared to the rest of Aotearoa our age structure is significantly older — 22% of our population are aged over 65 years compared to the national average of 16%.