Executive summary - He whakarāpopototanga
He aha te mea nui o te ao? He tangata, he tangata, he tangata. People are the most important taonga (treasure) in our region; a culturally connected, strong and resilient people across all aspects of life.
On this page
We have worked with the region to develop a Regional Workforce Plan (RWP) that will support our taiohi (youth), kaimahi (workers), and employers to access the skills and training they need for success. This RWP highlights what we have heard as we continue to understand the need and availability of training around Maunga Taranaki (Mount Taranaki).
Taranaki has a thriving economy with many contributing sectors. This iteration of the RWP centres on the Food, Fibre & Whenua and Energy Sectors. In this and each subsequent iteration we will ensure that a crosscutting focus on taiohi, wellbeing, transferable skills and technology is also included.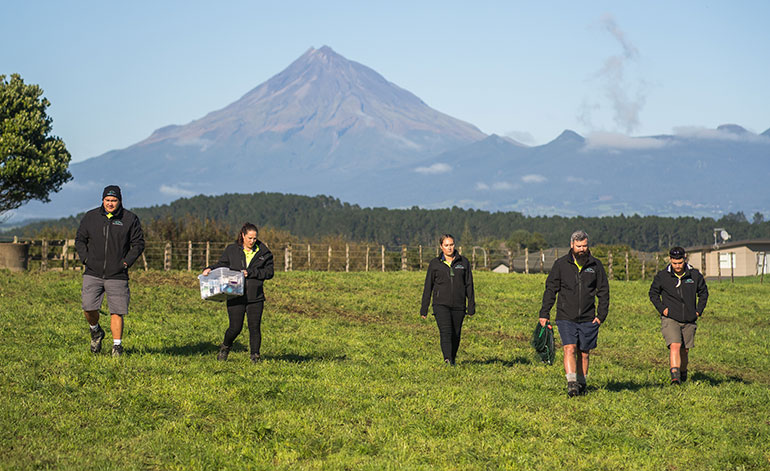 Our journey to this RWP has involved wide stakeholder engagement, commitment to honouring Te Tiriti o Waitangi (The Treaty of Waitangi) and continual input and guidance from our members. Our membership includes:
Business representatives to reflect the views from the 'demand' side of the labour market
Worker representatives to reflect the 'supply' side of the labour market
A representative from Venture Taranaki (Taranaki's Regional Economic Development Agency)
Iwi/Māori representatives
Community representatives
The Regional Public Service Commissioner
Find out more about our members
Our Taranaki community is at the heart of this document. Our Action Points in this RWP aim to build on what Taranaki does best – supporting each other to achieve success. Our Recommendations speak to the role the Regional Skills Leadership Group plays in the Reform of Vocational Education. This RWP also identifies areas for investment to ensure that taiohi and kaimahi can thrive in our region.
Reform of Vocational Education(external link) — Tertiary Education Commission
Last updated: 04 July 2022