Sector spotlight - Te rāngai hei arotahinga: Tupu Rawa
Through the Tupu Rawa programme with Parininihi ki Waitōtara (PKW), 4 Kaitiaki (cadets) have embarked on a journey of kaitiakitanga (environmental conservation and stewardship) with a mātauranga Māori lens.
On this page
These taiohi Māori Kaitiaki, all of whom whakapapa to Taranaki, are learning new skills that are reconnecting them with their whenua, guided by the support of Josephine Sullivan, Te Rau Whakaueue (Kaitiaki Supervisor).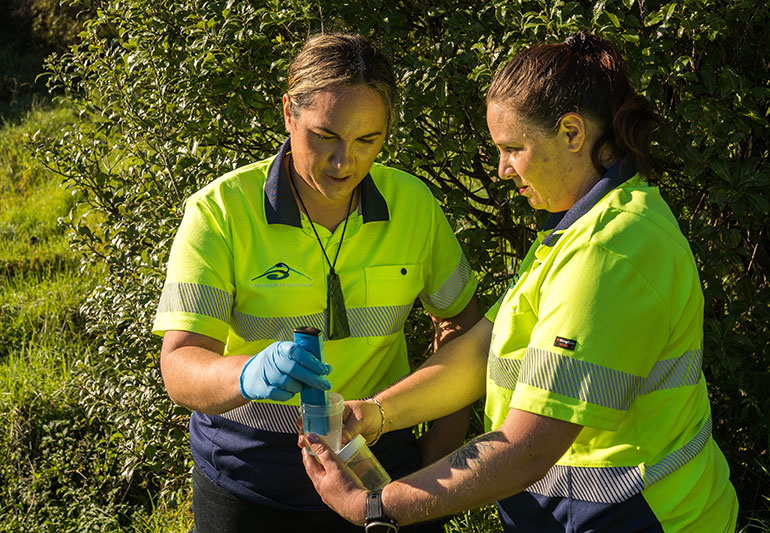 Tupu Rawa started in August 2021 and will run for 3 years with funding received from the Department of Conservation. Some of the skills the Kaitiaki have been learning involve water and cultural health monitoring, fencing, riparian planting, pest control and understanding biodiversity/ environmental science.
"I see it this way," says Jessica Matehuirua White, 1 of the Kaitiaki, "I have been granted a pathway to work for my own people and exercise my inherited responsibility as a tangata Māori to protect and advocate for Te Taiao me Nga Herenga o Te Wao nui a Tane, which has ignited the mauri within me and my whānau."
In coaching the Kaitiaki, Josephine, who has a PhD in Zoology, has been enjoying combining her passion for science with mātauranga Māori.
"I don't see why they have to be different", she reflects. "The Kaitiaki have this awesome opportunity to not only embrace the science side, but also be on the ground and learning the tikanga – it's not textbook. This is what I was missing for so many years."
Puna Wano-Bryant, Te Rautitikura (General Manager Shareholder Engagement – PKW) is conscious that this is an opportunity to endow taiohi Māori with in-demand transferable skills related to the whenua. Currently, there is no formal training even at a micro-level to recognise all the knowledge and skills that the Kaitiaki will come away from the programme with. Puna acknowledged that it would be preferable to have a Conservation Certificate that reflects mātauranga Māori content and practices available, however, the Kaitiaki's hands-on learning is still supplemented with academic readings and office days to enhance their skill sets.
"We want to make sure that if, for example, Taranaki Regional Council snap them up in the next 3 years they are able to do the mahi – return the data, write up the reports."
This level of knowledge will be formidably entwined with passion.
"The people that are part of the Tupu Rawa programme are in love with where they come from. We're all committed to the continuing the sustainability of that space," says Tonga Karena, Te Rau Whakaihoiho (Kaitiakitanga Strategy Manager).
This sentiment is clearly supported by the Kaitiaki themselves, with Luka Kamaria affirming, "The opportunity of having such a meaningful job for the oranga (health) of our environment is a huge privilege as young Māori. Reconnection with our land and our culture is a huge indication of all the hard work our tūpuna (ancestors) carried out for us, and we are fortunate to be reaping the rewards."
Ultimately, the Tupu Rawa programme speaks of the success of partnership and what is possible when upskilling and enabling people is a priority.
"Partnerships are being driven by a new phase in this post-settlement context," says Tonga. "Private business working with people and the government helping – this creates seamless pathways for our whānau to get educated."
Last updated: 04 July 2022