Hauora and wellbeing in construction
On this page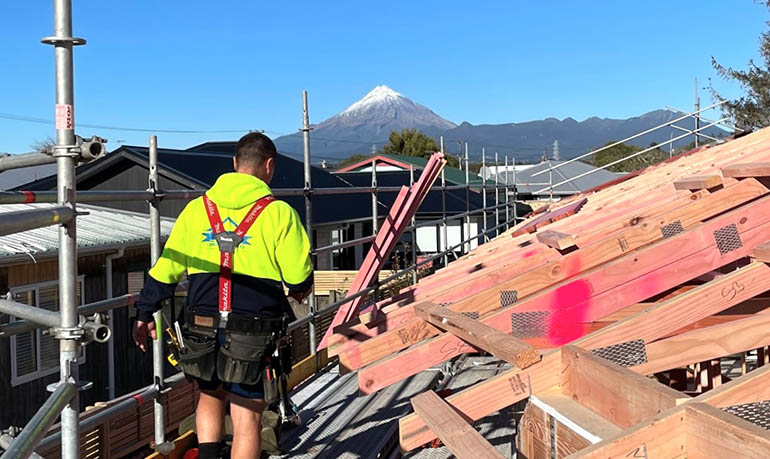 What we've heard
The physical, mental and spiritual health of our people is non-negotiable. When our people thrive, whānau, communities, enterprise and our region thrive. Construction kaimahi spend a large proportion of their weeks on job sites, often in stressful environments. We recognise the importance of supporting and nurturing the holistic wellbeing of kaimahi, as when our people are well, they can take advantage of opportunities and have better outcomes for themselves, their whānau and their communities. With the construction sector nationally loosing almost one person a week to suicide, focusing on the hauora and wellbeing in this sector was an obvious choice for us.
Organisations such as Building Wellness Taranaki have been established in the region to provide support, leadership and advocacy for the hauora and wellbeing of kaimahi. Rather than duplicate existing programmes, we seek to use their influence and coordination efforts to increase the uptake and widen the breadth of offerings throughout the rohe (region). A holistic stance to hauora and wellbeing needs to be taken, rather than just the wellbeing of the kaimahi between 7am-5pm. We cannot easily divide one aspect of a person's life from another – we can't (and shouldn't) tackle wellbeing at work without also thinking about wellbeing at home, and vice versa.
We have a large pipeline of mahi expected in the region, from Project Maunga (Taranaki Base Hospital Redevelopment) to offshore wind opportunities. Ensuring the prioritisation of the wellbeing of our kaimahi is vital to being able to complete these works and have our people returning to their whānau and communities each day. Through our focused engagements around supporting hauora and wellbeing in the Construction sector, what we heard was:
While many businesses are happy to fund formal qualifications for those who ask, there is a heavy impetus on the worker to do this in their own time and without a lot of business' support. Coupling this with the large technological transformation in the sector, digital literacy concerns are more prevalent, particularly for older kaimahi.

The precarious or vulnerable younger workers are coming through with more complex issues than previous generations. For example, some younger workers are coming through lacking strong role models and communication skills, such as managing conflict and leadership.

Many new business owners would benefit from business mentorship and support to learn how to plan, budget, forecast costs and navigate changing prices due to inflation. This would ensure that they do not overextend themselves and take on more work than they have the time or resources to manage. In situations where this does happen it raises many mental health concerns related to the undue stress and pressure about falling behind and not meeting goals and deadlines.

Mental health and wellbeing issues in the workplace are increasingly affecting our kaimahi. Increased access to services that support and increase individual capability are needed to enhance wellbeing; businesses are increasingly looking to a develop wellbeing models and to implement modules for mental health practices.
Actions
The Taranaki RSLG will:
Work with Building Wellness Taranaki Trust (BWT) to increase the uptake of the Buddies and Leading Wellbeing programmes, so that 164 buddies (around five percent of BWT members in the construction workforce) have participated in a Building Wellness Workplace-focused training. Completion of this action will require joint industry support including, but not limited to, memberships, funding contributions, programme promotion and strategic partnership creation.

Work with Waihanga Ara Rau, WITT Te Pūkenga, Vertical Horizons and other related local stakeholders to help connect providers, industry representatives and subject matter experts to create more culturally responsive delivery models for apprenticeship programmes that take into account the physical, mental, spiritual and cultural health and wellbeing of the ākonga (learners).