Sector spotlight – Te rāngai hei arotahi: Mōkai Pātea Services, Taihape, Rangitīkei
Mōkai Pātea Services provide their community with holistic support in areas such as mental health, budgeting, and child protection.
On this page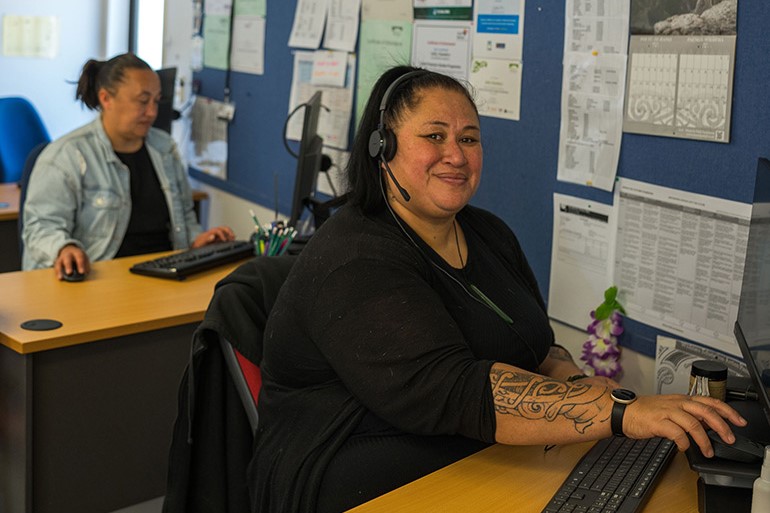 "When you step over the threshold, everything changes."
This statement from Merania, Iwi Communications Officer, refers not only to the provision of staff training at Mōkai Pātea Services, but the level of support offered to the community.
Mōkai Pātea Services is the mandated development vehicle for whānau/hapū and marae groups of the four iwi who hold mana whenua over the Mōkai Pātea rohe, which services Taihape, Waiouru and Mangaweka. They provide their community with holistic support in areas such as mental health, budgeting, and child protection through the 15 kaimahi in their kaiāwhina-only workforce. Ultimately, autonomy and self-determination are the outcomes sought for whānau and hapū based upon the customary values and beliefs of their respective Tupuna.
"We definitely have an ongoing relationship with clients," says Sally, Whānau Ora Iwi Navigator, when reflecting upon the high quality of support Mōkai Pātea Services offers. "We keep them [clients] in the service for a minimum of three months and they each have their own care plan."
Mōkai Pātea Services kaimahi deliver an exceptional level of support due to how they themselves are supported to upskill as kaiāwhina. As Deanna, another Whānau Ora Navigator, stated, "I have never had this level of support in my mahi and professional development before and it has blown me away. I feel valued. I have worked in a few places and never struck this before."
Kaimahi are offered an assortment of training opportunities which they are strongly encouraged to take up, such as doing a National Certificate in Hauora (Māori Health) (Level 4) through Tipu Ora. The reality that upskilled kaimahi may move on and spread their wings is not only encouraged but applauded by management. Speaking with the kaimahi, it is evident that these training opportunities have ignited their confidence and solidified the team cohesion within the organisation. However, the training is often only offered outside of the Rangitīkei District and even the Manawatū-Whanganui region. The consequent travel and time away from home can be a barrier to the uptake of these opportunities.
"Some of the kaimahi have young children at home. One had to go to Auckland. If we did have that [local training available] we would absolutely use it," says Ngawini, Best Practice Operations Manager.
Despite limited local accessibility to training, Mōkai Pātea Services has equipped their kaiāwhina workforce with the skills and knowledge needed to best mahi within and for their communities. The appreciation and sense of worth shines through all kaimahi, and the results Mōkai Pātea Services achieve speak for themselves.