Sector spotlight – Te rāngai hei arotahi: Taumarunui High School Trades Academy, Taumarunui, Ruapehu
Taumarunui High School Trades Academy engages tauira (students) in mahi that interests them and sets them up for success
On this page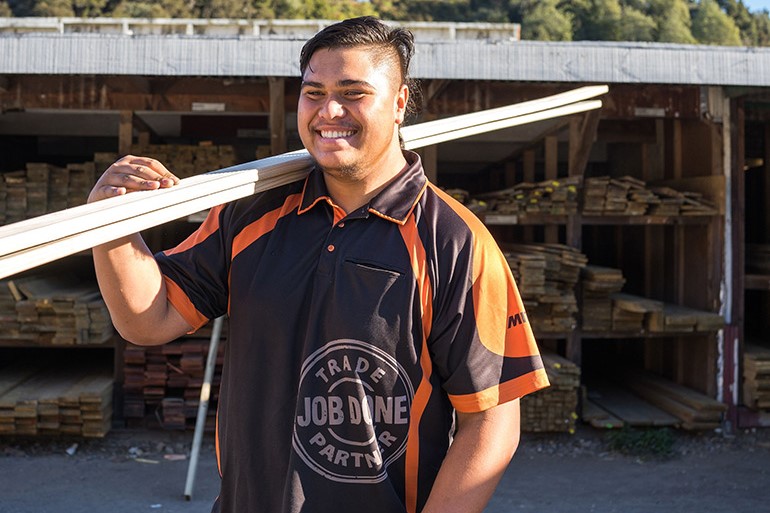 Having the opportunity to experience practical mahi in their local community endows tauira with much more than just 'hard skills'.
The Trades Academy at Taumarunui High School provides this opportunity. As one of 24 Trades Academies nationally, it proudly offers tauira the ability to earn a New Zealand Certificate and a Vocational Pathway Award in Primary Industries (Agriculture), Construction & Infrastructure (Construction) and Service Industries (Hospitality and Hairdressing).
Tizzy and Kim Wheeler, the owners of Taumarunui Mitre10 have been taking on students from the programme for years.
"To give students an opportunity to try and learn something they're interested about before they leave school is amazing – no textbook can teach them that," says Tizzy.
Participating tauira undertake at least one day a week in their chosen pathway. In 2021 over 80% of the students who completed the Taumarunui High School Trades Academy were successfully transitioned into education, employment or an apprenticeship. In addition to their time outside the classroom, students are supported to gain their driver's licence, develop their CVs, and gain Health & Safety and First Aid qualifications.
Dennis took part in the Trades Academy programme and worked for Tizzy and Kim at Taumarunui Mitre10. After the school year he was employed permanently and has since been promoted within Mitre10 to work with high value clients and order stock. Other tauira who have completed their work experience through Taumarunui Mitre 10 have been enabled to step into building apprenticeships and other employment opportunities.
"The Trades Academy allows students to get on a path and get the skills to do whatever they want to do," says Kim.