Sector overview
On this page
Defining the digital technologies sector
What is in scope?
Due to the cross-cutting and dynamic nature of the tech sector, well-established boundaries around the digital technologies sector do not exist. As shown below, digital technologies are part of the New Zealand 'Tech sector', a broader grouping of ICT industries that includes telecommunications and certain manufactured products.
ICT
Manufactured tech
C242 Communication equipment manufacturing
eg. Tait Communications
C242 Computer & electrical equipment manufacturing eg. ERoad, Dynamic Controls
C242 Other electronics manufacturing
eg. Rakon
C243 Electric cable & wire manufacturing
eg. General Cable Superconductors
C241 Other scientific equip. manufacturing
eg. AD Instruments, AuCom, Atrak
Telecommunications
J580 Telecommunications services
eg. Spark, One, Chorus, 2Degrees
F349 Telecommunication goods wholesaling
eg. Atlas Gentech
J591 Internet service providers
eg. Inspire.net, Now
J580 Other telecommunications services
eg. CallPlus, Kordia
Other
F349 Wholesaling of ICT goods
eg. Duo, Ingram Micro
Digital technologies
J592 Data processing, web hosting & storage services eg. Revera, Paymark
M700 Computer System Design
IT Service businesses
eg. Datacom, Spark Digital, CodeHQ
Software as a Product businesses
eg. Orion Health, Vista Group, Gentrack
Software as a Service businesses
eg. Xero, Vend, Pushpay
J542 Software publishing (Interactive Media)
eg. Rocketwerkz, PikPok
---
High tech manufactoring
Manufactured tech
C241 Medical equipment manufacturing
eg F&P Healthcare
C239 Aerospace manufacturing
eg. Pacific Aerospace
C245 C246 C249 Machinery manufacturing
eg. Glidepath, Scott Technology, Compac
C243 Electrical equipment manufacturing
eg. Wellington Drive
---
Biotechnology
Manufactured tech
C184 Pharmaceutical & medical manuf.
eg. Douglas Pharmaceuticals, Argenta
C181 Basic Chemical and Chemical Product Manufacturing
eg. LanzaTech, Zelam, Nuplex
M129 Technology research activities
eg. Mint Innovation
C189 Other Manufacturing nec
eg. Revolution Fibres
What is outside of scope?
This is not a plan for the diffusion of digital technologies across the economy. Other ITPs (e.g. for Tourism, Advanced Manufacturing and Agritech) and other initiatives (such as Digital Boost) have work focused on digital adoption. For example, the Construction Sector Accord (also an ITP) has initiatives to support greater online capability in construction. More information on other work programmes supporting the sector can be found in Appendix 1.
Appendix 1: other work programmes supporting the sector
However, having a strong domestic digital technologies sector will offer important spill-over benefits to other industries, including through the provision of productivity-enhancing business solutions and the growth of digital skills capabilities of the workforce. For example, supporting the growth of globally successful SaaS companies from New Zealand will enable other businesses to take advantage of these solutions, to boost their efficiency and customer focus.
Sector Overview
Background of the sector
It is estimated that the digital technologies sector contributed $7 billion towards New Zealand's Gross Domestic Product (GDP) in 2021.[1] The sector has grown at an annual growth rate of 10.4% since 2016, this compares with the wider economy that has grown at an annual rate of 5.1% over the same period.
Digital technology exports have limited reliance on natural resources and typically do not need physical transportation. This can lead to more sustainable growth opportunities. Additionally, the digital technologies sector also supports other sectors to be more productive, and more broadly, supports New Zealand's transition to a high wage, lower emissions economy.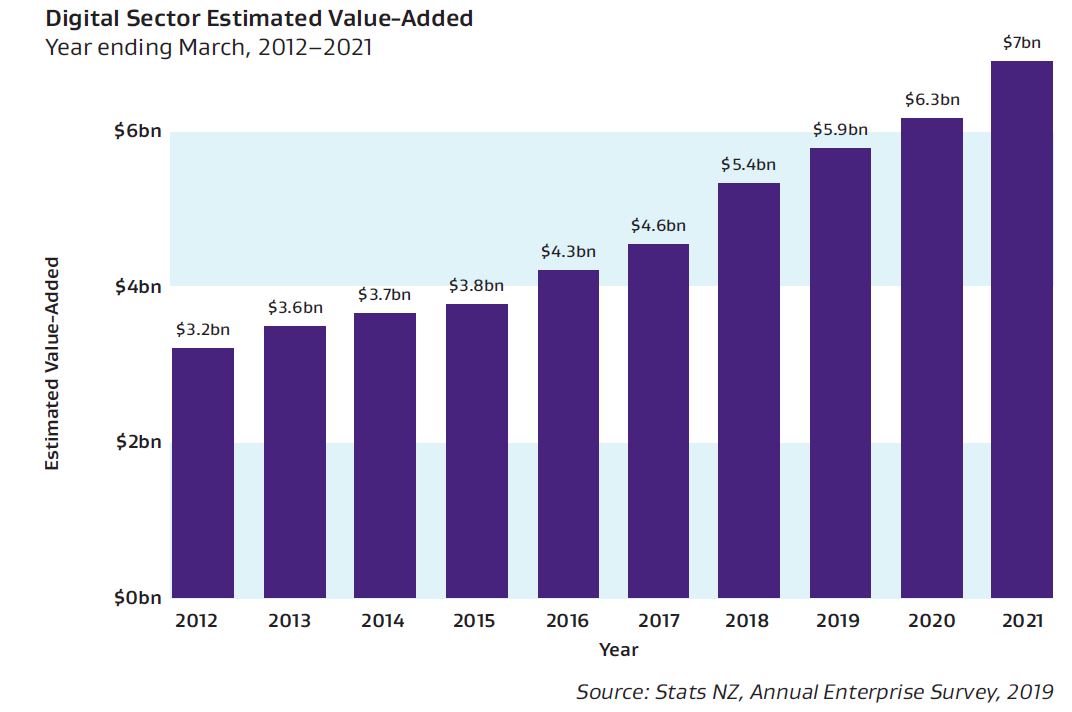 Text description of graph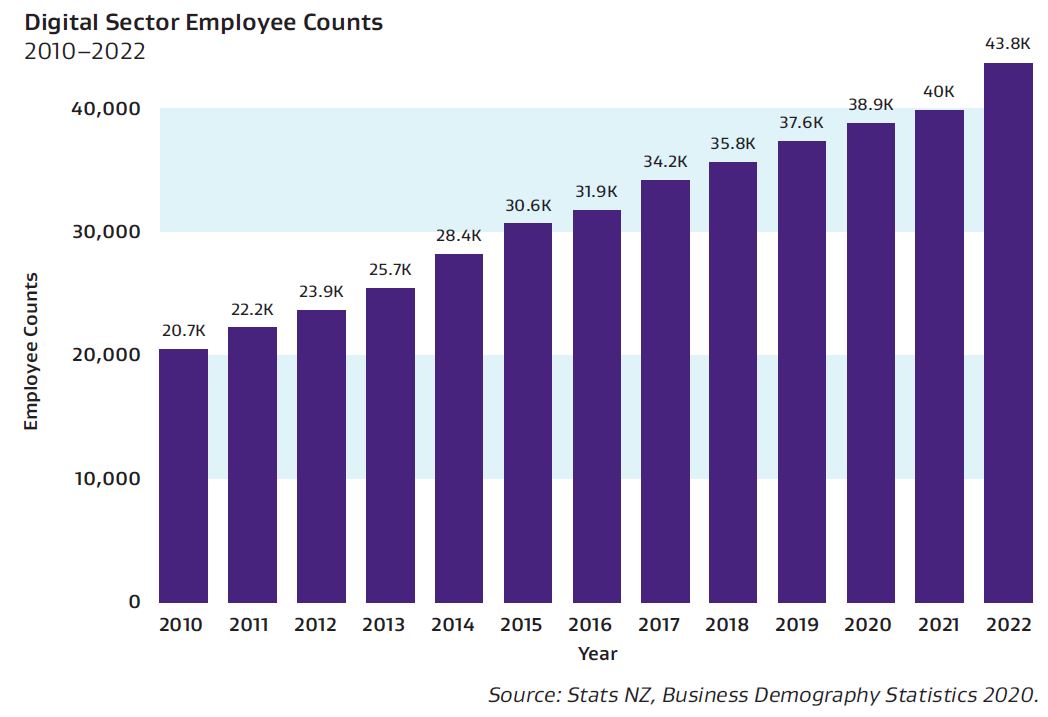 Text description of graph
The sector employs 43,750 people, with the majority in urban cities of Auckland, Wellington, and Christchurch.[2] The future workforce will likely be more regionally spread with the increasing use of remote working arrangements. With less reliance on physical resources compared to other industries, growth in the digital technologies industry could offer opportunities for regional economic development.
As observed overseas, digital technologies are a key enabler in economic transformation. As economies become more digitally enabled, it will be increasingly important that we build the expertise within New Zealand to create solutions that work for us both as a country and as an exporter to the world. Our digital technologies sector plays an important part in the diversification of our economy and as a driver of future sustainable economic growth and resilience.
The rising demand for talent within the sector represents an important opportunity for the growth of high-value jobs. The sector has the potential to create opportunities for New Zealanders from a wide variety of backgrounds to advance a rewarding and future-focused career, and to become creators of digital technologies, products and services. From developing a new video game or helping protect the public from cyber security threats, or by improving health services or climate adaptation through new digital solutions, the sector offers a diverse range of roles and career pathways.
To realise growth potential, the sector needs people with the right skills and experience. While digital capability is a common thread, what the sector needs is a mix of technical abilities (at various levels) as well as creative and "soft skills" and experience, such as business development, user experience, project management, and sales and marketing.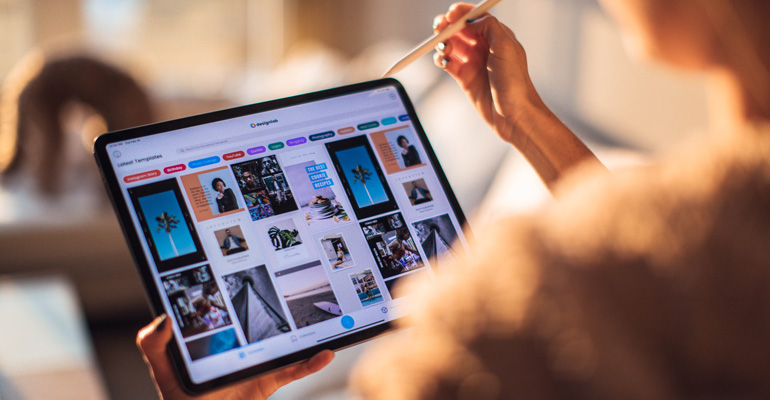 Challenges to sector growth
Like many industries, firms in the digital technologies sector are finding it difficult to hire the skilled people they need to thrive and grow. Tight labour markets abroad result in employers looking for candidates far afield including in New Zealand. Our sense is that this phenomenon is putting upward pressure on wages in the New Zealand digital technologies sector (contributing to the higher than average earnings compared with other New Zealand sectors). It is also exacerbating local skills shortages and constraining the growth of local digital technology firms.
The shortfall in skilled professionals also carries potential implications for New Zealand's cyber security and resilience. Enhancing the skills pipeline for the digital technologies sector will help address this, alongside bespoke actions targeted to the cyber security workforce.
Another persistent challenge for the industry is the notion that "people outside of tech do not think about tech" in the context of potential future workforce and support for digital technology businesses.
The growth of the future workforce will be influenced by students and workers in other industries, and also by people who advise them (e.g. parents, teachers, friends, and contacts). People outside the sector may not explore or recommend avenues in digital technologies if they or those influential to them have outdated views or misperceptions about the types of workers who go into tech jobs. Another deterrent could be they cannot see themselves represented there due to the lack of diversity currently in the sector.
As it relates to government, digital technology firms and their representatives observe that government may not understand their world as well as New Zealand's more traditional sectors. It is important to recognise that government plays a key role within the sector, both as a procurer of digital technology goods and services, and as an employer of the tech workforce. While the collaboration around this ITP is working to deepen channels of communication and collaboration between the digital technologies sector and government, there is still work ahead to spread the message within government about locally produced digital technologies; why they are important (not only to the digital technologies sector, but all sectors); and how the government can better support them.
Footnotes
[1] This figure has been adjusted from $7.4 billion as previously reported to better reflect the industry definition as set out in this ITP. Estimated contribution to GDP is based on Stats NZ's approximation of the sector's gross output less intermediate consumption derived from Annual Enterprise Survey data. [Back to text]
[2] Stats NZ Business demography statistics February 2022. [Back to text]