Outcome Four: Value is sustainably derived from the natural environment
New Zealand's natural environment is important to our sense of identity and has great cultural and recreational significance. It also supports much economic activity. Some of our biggest contributors to export growth, such as tourism and the primary sector, rely heavily on using the natural environment.
On this page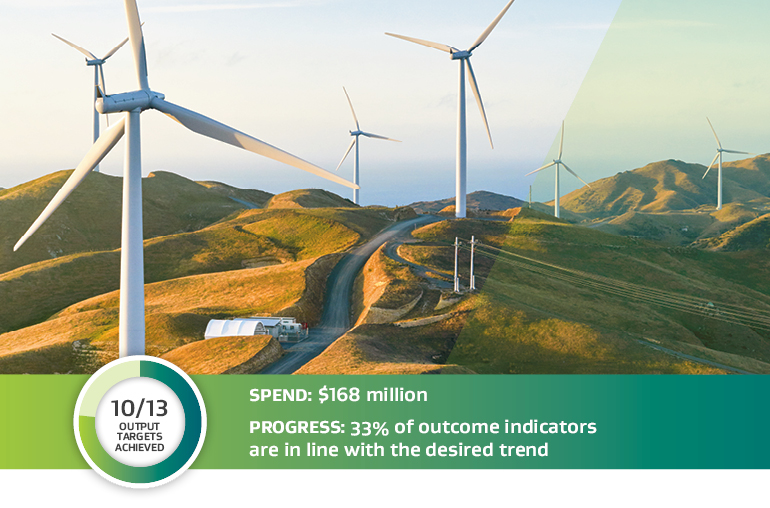 Text version of outcome four – progress
As well, natural resources dominate energy production, with most of our electricity coming from renewable sources. Using our natural resources more productively and sustainably is critical to achieving growth in the economy that benefits all New Zealanders.
MBIE's role is to support New Zealand's transition to a low-carbon economy while managing the impact on the future of work and workers.
We are responsible for seeing that businesses and residents have access to secure, affordable and environmentally responsible energy, and we oversee the responsible development of New Zealand's petroleum and mineral resources.
It is also our job to work with scientists and innovators to develop technologies that will more efficiently manage natural resources, such as precision agriculture and water monitoring.
At the same time, we want to explore opportunities in the tourism sector that are sustainable and protect New Zealand's natural environment.
Scientists armed to fight kauri dieback and myrtle rust
Scientists have been armed with research funds to fight two diseases threatening some of Aotearoa's iconic native species – kauri dieback and myrtle rust. Kauri dieback threatens kauri with extinction, while myrtle rust infects species such as pōhutukawa, mānuka, rātā and kānuka.
In November 2018, the Government invested $13.75 million over three years to find a way to stop the diseases spreading. A further $20.75 million was announced in Budget 2019 for strategic research to fight kauri dieback. The research will focus on breeding resistant species and improving our understanding of the diseases and plant resistance to myrtle rust and kauri dieback.
New Zealand's Biological Heritage National Science Challenge will oversee the research, working collaboratively with scientists, Māori and stakeholders including the Department of Conservation and the Ministry for Primary Industries. Research will be aligned with priorities identified in the kauri dieback and myrtle rust science plans developed by Strategic Science Advisory Groups.

Antarctic experts to study climate impact
New Zealand's world-leading Antarctic researchers are gearing up to start critical research this year on the impact of Antarctica on the global climate system.
The work is driven by the need to better understand Antarctica's impact on the global earth system, and how this might change in a warming, +2°C world.
The Antarctic Science Platform, an MBIE-funded initiative, has four priority areas. It aims to increase our understanding of:
the stability of the West Antarctic Ice Sheet
changes in the Antarctic atmosphere and the Southern Ocean
threats to ecosystem dynamics in the Ross Sea
connections between terrestrial and near-shore Antarctic environments, including sea ice.
MBIE has contracted Antarctica New Zealand to host the Platform. The investment of $49 million is over seven years through the Strategic Science Investment Fund.

Public can track government fleet emissions
A new website tool will let everyone check how well government agencies are doing in switching their vehicle fleets to low emissions.
In February, the chief executives of 136 agencies signed up to target the purchase of replacement vehicles with CO2 emission profiles 20 per cent below their fleet average.
A dashboard containing the average CO2 emissions for each government agency's fleet of light vehicles was released in April and is hosted on the New Zealand Government Procurement (NZGP) website. The Government's target is that by 2025/26, with few exceptions, light vehicles entering the government fleet should be emissions-free.
The dashboard, developed by NZGP with the New Zealand Transport Agency, is part of the Broader Outcomes programme to prioritise areas where the annual procurement spend can help achieve broader social, economic and environmental outcomes.
Expert panel advises on fairer power prices
Electricity prices rising faster than inflation have put pressure on household budgets. The Electricity Price Review panel has reported to the Government on how to provide affordable power to all consumers – especially households, small businesses, and people struggling to pay for power.
The independent panel commissioned by the Minister of Energy and Resources made 32 recommendations in its report in May. MBIE managed the review process.
The recommendations are designed to strengthen the voice of consumers; reduce hardship; increase retail competition; reinforce wholesale market competition; improve transmission and distribution; improve the regulatory system; and help New Zealand prepare for a low-carbon economy.
Mine plans database will keep tabs
A national catalogue of mine plans has been set up to improve health and safety and the supervision of mining activities. Mine plans map the layout of underground and opencast mines.
The NZ Mine Plans database has been assembled over three years by WorkSafe and MBIE on recommendations from the Pike River Royal Commission. It holds 5,543 plans (at 30 June 2019).
We have strengthened standards for when mine plans are submitted, a repository for all current plans and a catalogue of historical plans, and better access to important information for government agencies, local authorities, mine operators and the public.
The plans allow better consideration of such things as environmental factors and resource optimisation when assessing compliance or permit applications.
The database is available online on MBIE's New Zealand Petroleum and Minerals website.

Case study – Working into the future
Our aim
We aim to be ready for changes to the way we work with the arrival of automation, artificial intelligence, globalisation and a transition to a low-emissions economy.
Our role
Our role is to identify what impact these changes will have on workers and on New Zealand, and to plan the way forward with communities, businesses, councils, Māori and households. The Future of Work Tripartite Forum, involving MBIE, BusinessNZ and the Council of Trade Unions, provides advice on a number of initiatives, including the Just Transitions programme.
The outcomes
The purpose of the Forum is to support the work of government, business, workers and others to meet the challenges and seize the opportunities in a rapidly changing world of work. The tripartite nature of the Forum means it works differently from traditional approaches to policy development. It was designed to reflect the concept that business, workers and government will create better solutions for economic and social challenges if they work together in partnership, through processes of cooperation, consultation, negotiation and compromise.
What this means for New Zealanders
Just Transitions is one of the main themes of the Forum's work programme. A changing economy is a natural thing and a long-term process, and a just transition means making sure everyone can participate in whatever the future of work will look like. We are looking out over a 20- to 30-year period to prepare for shifts in technology, urbanisation, globalisation and demographics, as well as climate change. It is vitally important for central and local government, business and workers to collaborate to achieve a fair transition so that no one gets left behind. A Just Transition Summit in Taranaki in May 2019 brought together more than 500 people to kick-start this conversation.
What we're working towards
| Performance measure | Indicator | Current trend | Desired trend | Commentary |
| --- | --- | --- | --- | --- |
| Reduce net greenhouse gas emissions (using levers that MBIE has available) | Net greenhouse gas emissions | Increase | Decrease | New Zealand net greenhouse gas emissions (including land use, land-use change and the forestry sector) were 56,895 kilotons (kt) carbon dioxide equivalent (CO2-e) in 2017. This is the second highest recorded level, next only to 57,443 kt CO2-e in 2013. |
| Increase sustainability of New Zealand's energy system | Percentage of total primary energy supply (TPES) coming from renewables | Steady | Increase | In 2017, the percentage of TPES from renewable energy sources (including hydro, wind, geothermal, solar, woody biomass, biogas and liquid biofuels) was 40%, the same as in 2015 and 2016. |
| Increase efficiency of New Zealand's energy system | Energy intensity (based on mega joules per dollar of GDP in real 2009/10 prices) | Decrease | Decrease | Energy intensity in the year to March 2017 was 2.45 mega joules used per dollar of GDP (in real 2009/10 prices). This figure continues a long downward trend. |
Performance of our services and functions

Text version of outcome four – output
How much we spent
Actual 2017/18
$000
Our expenditure summary
Actual 2018/19
$000
Supplementary Estimates 2018/19
$000
Main Estimates 2018/19
$000
27,044
Departmental expenses
26,183
28,513
27,844
117,526
Non-departmental expenses
139,817
148,970
133,242
–
Departmental capital
–
–
–
1,740
Non-departmental capital
1,747
2,000
2,000
146,310
Total expenditure for outcome
167,747
179,483
163,086