Outcome Three: Informed consumers and businesses interacting with confidence
The Government promotes fair and thriving markets by setting rules and defining rights that allow businesses to operate effectively and protect people from harm.
On this page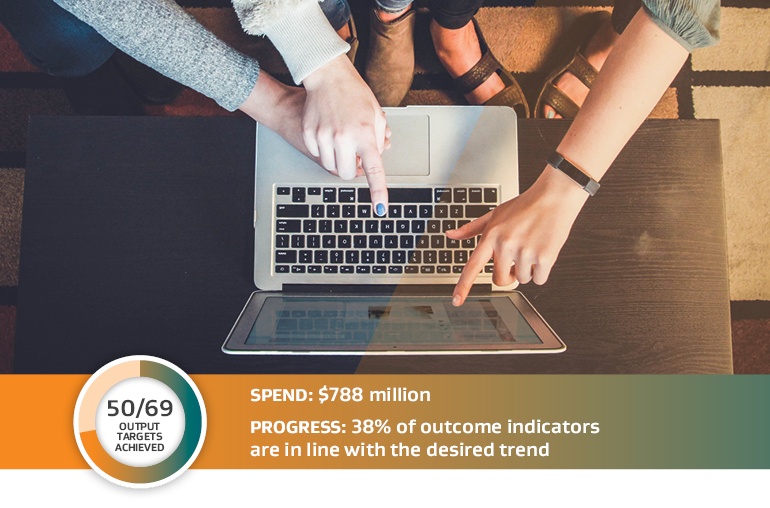 Text version of outcome three – progress
This gives people confidence to purchase goods and services, employ people or be an employee, be a landlord or tenant, or run a business. Confidence is essential to economic growth and for safe and heathy communities. It also delivers broader benefits such as civic engagement and trust in institutions.
To feel confident, people and businesses need to know their rights and responsibilities and that mechanisms are in place to protect them, including ways to resolve disputes. It is also important that buyers have accurate information about the goods and services they purchase.
MBIE supports consumers, tenants, landlords, workers and businesses by providing information and services. We help to set and enforce market rules and regulations across a range of areas, including the building and construction market and telecommunications sector.
The Construction Skills Strategy
It's important that sectors like construction have the right people with the right skills where they are needed, thriving in their work. The Construction Skills Strategy is about government and industry working together to grow the capacity and capability of the construction workforce. To support the Strategy, the Construction Skills Action Plan established six initiatives with the goal of supporting an additional 4,000 people into construction careers.
MBIE is responsible for three of the six initiatives in the Action Plan – Leveraging Government Procurement, Establishing Additional Jobs and Skills Hubs and Immigration Settings. We're working closely with the Tertiary Education Commission and the Ministry of Social Development to support the remaining three initiatives, and deliver the construction workforce we need for the 21st century. The next Action Plan is now being developed and will focus on lifting capability across the sector.
Check a trade mark in a few clicks
The new Trade Mark Check online tool lets people check a trade mark from their phone, tablet or laptop.
This world-first logo and word mark search service has been developed by the Intellectual Property Office of New Zealand (IPONZ). With Trade Mark Check, businesses can search word marks and images or even roughly drawn logo ideas using the IPONZ search engine and database. The tool identifies features in your logo and trade mark words that are phonetically similar.
Trade Mark Check is an advance on ONECheck, already available from Business.govt.nz. ONECheck allows start-up businesses to check on business names. Trade Mark Check drills down to provide a valuable answer on the uniqueness of a trade mark idea – word or logo.
For the past two years, IPONZ has been rated number one in the world for online service by World Trademark Review.

Law changes target predatory lenders
Predatory lenders and truck shops will face tighter controls following Government changes to the Credit Contracts and Consumer Finance Act 2003 (CCCFA).
An MBIE review of the CCCFA in 2018 found excessive credit costs, continued irresponsible lending, irresponsible mobile truck-shop behaviour, unreasonable fees, and harmful debt-collection behaviour.
The law changes include a cap on high-cost loans to stop debt spirals, clearer responsible lending requirements, tougher penalties for breaking the law, and more accountability for mobile traders. The changes, now before Parliament, will support child poverty reduction initiatives.
MBIE teams worked on the review with lenders, consumers, the Commerce Commission, the Citizens Advice Bureau, Community Legal Centres, FinCap, the New Zealand Bankers Association and the Financial Services Federation.
Subtitled videos a hit with ethnic groups
A video campaign that aimed to encourage insulation of rental properties by 1 July 2019 had enormous interest from landlords and tenants who don't speak English as a first language.
The Tenancy Services video advertisement was subtitled into 15 languages, with each version linked to translated information on the Tenancy Services website. Of the more than 40,000 people who visited the insulation pages on tenancy.govt.nz, a third used the translated pages. Overall, the ad was viewed more than 1.6 million times in two months.
Minority ethnic groups are represented disproportionately among tenants. Based on the identified need, Tenancy Services plans to continue translating videos to add to their many other translated resources available at tenancy.govt.nz.

Sustainable and inclusive government spend
Government spends approximately $41 billion on goods and services from our suppliers. This significant spend gives us the ability to set the standards of behaviour and business practices that the Government wants to support and promote across New Zealand to ensure sustainable and inclusive government procurement that delivers for New Zealand and New Zealanders.
In May 2019, we introduced a government-wide Supplier Code of Conduct which sets out the minimum standards of conduct that we expect from suppliers the Public Sector engages with. This includes suppliers providing safe working conditions, treating their workers with respect and conducting their business in an environmentally responsible way.
Our suppliers are an extension of our business and by having them adopt this Code we can help deliver a fairer, more ethical and just society that also advances social and environmental outcomes.

New tool for smart investors
Smart Investor is a new online tool that lets investors search and compare investments such as KiwiSaver, shares, bonds and other types of managed products. Located on the Sorted website, the tool is designed to help KiwiSaver members build their financial capability by allowing them to make informed choices about their investments. Fees are broken down and compared against those of other providers, along with returns. The tool was created by MBIE, the Companies Office, the Financial Markets Authority and the Commission for Financial Capability.
The tool won the Good Design Australia 'Digital Web Design and Development' award for 2019.

Case study – Construction Sector Accord tackles challenges
Our aim
The Construction Sector Accord between government and industry is tackling the challenges facing the sector. These include skills and labour shortages; outdated regulations and uncertainty about flow of work; a lack of coordinated leadership; and a culture of shifting risk rather than managing it.
Our role
MBIE is involved in changes to regulations to support the performance of the sector and improve its role in bringing together government and industry. MBIE is leading specific Accord initiatives to make government procurement practices fair, efficient and predictable, and to create a more visible pipeline on construction work. MBIE also established the Construction Skills Action Plan to lead the collective action and commitment across government agencies to help the sector address its current and future workforce capacity and capability issues.
The outcome
The Accord vision is for a high-performing sector for a better New Zealand to provide safe, secure and rewarding careers for the workforce; a competitive market for industry customers; successful businesses for industry; and a construction sector that supports the wellbeing of New Zealanders.
What this means for New Zealanders
It means safe and healthy homes, and buildings and infrastructure that support the wellbeing of our communities.
Boosting the construction sector's workforce capacity and capability
Lifting the capacity and capability of the construction workforce is a priority for the Government and key to the achievement of the Government's goals for KiwiBuild, health, education, transport and regional development.
What we're working towards
Performance measure
Indicator
Current trend
Desired trend
Commentary
Increase consumer awareness
Percentage of adult consumers that know at least a moderate amount about their rights as a consumer
Decrease

Increase

Less than half (46%) of adult consumers feel they know at least a moderate amount about their rights as consumers. This is lower than in 2016, when 51% of consumers said they knew at least a moderate amount.
Increase consumer confidence in business
Percentage of adult consumers that agree that in New Zealand you can generally buy products and services and feel confident that businesses will do the right thing and not try to mislead or cheat you
Decrease

Increase

In 2018, 74% of consumers agreed that New Zealand businesses will do the right thing and not try to mislead or cheat them. This is slightly lower than 75% in 2016.
Improve access to dispute resolution services
Percentage of consumers that agree there is adequate access to services that help to resolve disputes between consumers and business
Decrease

Increase

In 2018, 44% of consumers agreed that there was adequate access to services that help resolve disputes between consumers and businesses (down from 49% in 2016).
Increase tenancy mediation satisfaction
Percentage of clients satisfied based on their last interaction with the tenancy mediation services
(Note, the methodology for this indicator has been refined since the MBIE Statement of Intent 2018–2022. Satisfaction is defined as a score of 4 and 5 for the Common Measurements Tool (CMT) scale, and the reporting period has been changed from the quarter to June to the year to June.)
Increase

Increase

The percentage of clients satisfied with the overall quality of tenancy mediation services in the year to June 2019 was 76.3%, an increase from 75.6% in the year to June 2018.
Increase employment mediation customer satisfaction
The percentage of clients satisfied based on their last interaction with the employment mediation services
Increase

Increase

The percentage of clients satisfied with the overall quality of employment mediation services in the quarter to March 2019 was 91.6%, 4.1 percentage points higher than in the quarter to March 2018.
Improve the business experience when dealing with government
Customer Experience Index (CXI)
Decrease

Increase

The B4B Customer Experience Index, which measures the quantity and quality of overall customer experiences for businesses when dealing with government or complying with government requirements, decreased to 55 in the 6 months to June 2019, compared to 57 in the 6 months to June 2018.
Improve the experience for applicants applying for visas
The percentage of visa applicants satisfied with their overall experience of applying for a visa
Steady

Increase

In the year to June 2019, 81% of visa applicants were satisfied with their overall experience of applying for an Immigration New Zealand visa. This is the same level of satisfaction as the previous year (ie, year to June 2018).
Reduce burden of government regulations on institutions
Burden of government regulations on institutions
Increase

Increase

The burden of government regulation index measures how burdensome it is for companies to comply with public administration requirements (1 = extremely burdensome, 7 = not burdensome at all). New Zealand scored 4.4 in 2018 (6th in the OECD), compared to its score of 4.3 (7th) in 2017.
Performance of our services and functions
Text version of outcome three – output
How much we spent
Actual 2017/18
$000
Our expenditure summary
Actual 2018/19
$000
Supplementary Estimates 2018/19
$000
Main Estimates 2018/19
$000
216,856
Departmental expenses
232,200
248,492
247,153
208,655
Non-departmental expenses
310,589
225,079
510,330
–
Departmental capital
–
–
–
309,800
Non-departmental capital
245,176
245,341
515,165
735,311
Total expenditure for outcome
787,985
718,912
1,272,648