Our organisation
MBIE is a large ministry entrusted with a big responsibility – to grow New Zealand's economy and to share the benefits with everyone who lives here. MBIE is working towards delivering an integrated approach to both regulation and service delivery, leveraging our size and scope.
On this page
We are leaders, advisors, investors and regulators. We lead economic strategy. We advise on business, sector and regional development. We invest in provincial growth, science and technology and digital communications. We regulate to protect consumers and workers and businesses.
This year we released our Statement of Intent 2018–2022 and released a new Four-Year Plan to reflect changes to our strategic direction and the broader understanding of economic wellbeing.
Our role
MBIE has a diverse range of policy and service delivery responsibilities, with a significant influence on the economic success of New Zealand and the broader economic, social and environmental wellbeing of our people.
We advise the Government on economic development and its economic strategy in partnership with the Treasury. We are forward-looking and help MBIE and the Government to identify and respond to medium- to long-term opportunities and risks to the economy.
MBIE is one of the biggest regulatory departments in New Zealand. About three-quarters of what we do relates to designing and delivering regulatory systems that cover interests ranging from mines to outer space.
The quality of the regulatory environment is important for New Zealand's long-term prosperity and one we can shape, unlike other factors such as our size and distance from markets. MBIE's goal is to set the highest standards for stewardship of regulation – to be a world-leading regulatory steward.
We work across the breadth of government from early identification of issues through to dispute resolution. This complexity is one of our strengths, and we have the opportunity to leverage our size and scope to deliver the best service for New Zealanders. MBIE's functions cover:
Policy delivery – We identify opportunities for policy development and support Ministers to carry out their ministerial functions by implementing policy and strategy to meet the Government's objectives.
Regulation – We are responsible for the ongoing health and performance of 17 regulatory systems and we take an all-of-government leadership role to improve the quality of regulatory practice.
Service delivery – We provide a range of front-line services, including Immigration New Zealand, the Companies Office, the Intellectual Property Office of New Zealand, the Insolvency and Trustee Service, mediation services, consumerprotection.govt.nz, employment.govt.nz, and business.govt.nz. Our internal teams support our frontline people by harnessing data, analytics and insights to improve decision-making, develop organisational capability and ensure we are responsive to change.
Dispute resolution – We house the Government Centre for Dispute Resolution (GCDR). The GCDR provides leadership and stewardship across government to support a systems-based, best practice approach to dispute resolution. MBIE is responsible for around a third of the 56 or more dispute resolution schemes in New Zealand. The GCDR's role includes helping other agencies to review, design and develop their dispute resolution thinking, policies and schemes.
Monitoring – We monitor and oversee 25 Crown entities and a range of statutory and advisory boards.
Stewardship responsibilities – We are required by the State Sector Act 1988 to take a long-term view of the policy issues of interest to MBIE so we can provide free and frank advice to government.
MBIE has a functional leadership role to improve the effectiveness of cross-government procurement and property management. Improvements in the way government departments purchase goods and services and manage property help shape the business environment and bring substantial benefits for business and government. We are always aware that adding cost and complexity to government contracts impacts significantly on business.
Our statutory and operating framework
MBIE administers 14 portfolios across 9 Ministers, previously 15 portfolios until the creation of the Ministry of Housing and Urban Development on 1 October 2018. MBIE's ownership Minister, the Minister for Economic Development, is accountable to Parliament to ensure we carry out our functions properly and efficiently. MBIE's Chief Executive is accountable for the leadership and overall performance of the organisation.

Text version of MBIE's votes and portfolios
The Senior Leadership Team ensures we focus our efforts and resources in the right areas at the right time. It also works to establish systems and processes so MBIE can perform effectively.

Text version of Senior Leadership Team
SLT's governance structure includes a number of subcommittees and advisory boards whose purpose is to support SLT to strategically govern MBIE and support effective and informed decisions.

Text version of Internal Governance Boards
Managing risk
Well-managed risk helps us achieve our objectives and enables quality decision-making. We are committed to developing and embedding risk management in our culture, governance, business planning, reporting and improvement processes and practices.
Our Risk Management Policy, Enterprise Risk Management Framework and Risk Management Guidelines collectively express the way we manage risk.
Managing risk is the responsibility of everyone at MBIE, and our staff are supported in this by our Risk and Compliance team.
MBIE's Senior Leadership Team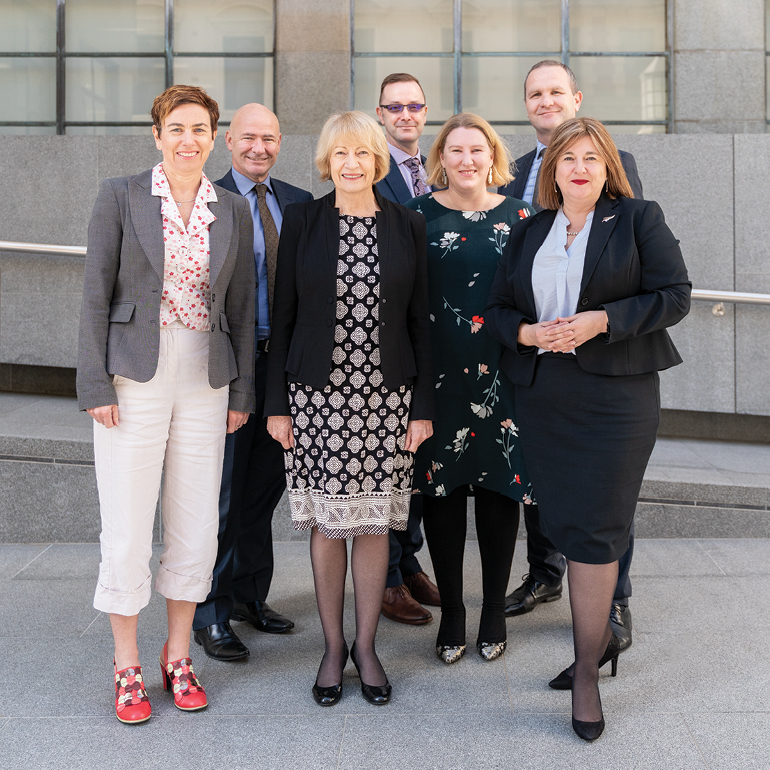 Our culture and values
Every organisation has a culture, or behaviour that shapes the organisation and determines its working environment. This culture shapes how people in the organisation interact with each other.
Making our values explicit is the start of shaping our culture. We are stating what is important to us and defining how we will behave towards each other and with our customers and the partners we work with.
This year MBIE staff defined a new set of values for our organisation that express what we aspire to be and how we will work to serve the people of New Zealand. They are:
Māia – Bold and Brave – We are curious and strive to be innovative, challenge the status quo and explore new ideas.
Pae Kahurangi – Build Our Future – We learn from the past to shape the future and listen to lead the way.
Mahi Tahi – Better Together – We will work more collaboratively, sharing our knowledge, treating each other with respect and connecting with others in the public sector and with our communities.
Pono me te Tika – Own It – We will take responsibility for our decisions and actions and be accountable to ourselves and to the public we serve.

Our workforce
We want to make sure MBIE is a great place to work, and our organisational priorities ensure we keep our people safe and well, make them feel a valued part of the team, and nurture their 'spirit of service'. We are committed to using and developing people's skills.
Wellbeing, health and safety: We want everyone to enjoy work and go home safely every day. Our Ora wellness strategy and training programme addresses bullying and harassment, along with mental health, fatigue, drugs and alcohol misuse, stress and health monitoring. Our Te Puna Ora hub provides a range of supporting materials and access to help.
Inclusion and diversity: There is great value in diversity – it makes us a stronger organisation. We are aiming to create a workplace where diversity is nurtured and celebrated. We seek, utilise and celebrate diverse and inclusive thinking, people and behaviours. We are focusing on five work streams – people, environment, policies, communication and education and monitoring and evaluation. These work streams are laying the foundations needed to achieve sustainable and embedded inclusion and diversity. We encourage staff-led networks and have the following operating:

Ngāi Kahukura – Rainbow Network
Mindfulness at MBIE
Women in Leadership
Te Aumangea – Mental Health Network
Te Aka Matua – Māori Staff Network

MBIE's Gender Pay Action Plan: Following the launch of the Government's five gender pay principles, we've developed a Gender Pay Action Plan with particular focus on:

increasing the number of women in senior roles
no pay gaps in starting salaries
removal of bias from human resources practices
gender pay gaps closed.

We're working in partnership with unions to deliver on the action plan.
Spirit of service: At MBIE we are privileged to help people and New Zealand flourish through the work we do. In June we held a week of events to talk about what the spirit of service means to us and to recognise people who show outstanding spirit of service. Our aim is to recognise and understand how our professionalism and our contributions help us to Grow New Zealand for All. Having a spirit of service means being open to the experiences and needs of our communities.
Growing great talent: To meet our business goals it is crucial that we develop and support our greatest asset – our people. We need people with a range of skills to meet the challenges of our changing environment and to deliver effectively to the communities we serve. To support personal and professional development, MBIE offers:

online learning and development resources through Learn@MBIE
graduate programmes, including a focus on attracting Māori and Pasifika graduates
support for staff and managers to map their career pathways. The public sector-wide Leadership Success Profile is integrated into our recruitment and performance and development processes.