Outcome Five: A dynamic business environment fostering innovation and international connections
New Zealand companies need investment and the right connections to be able to imagine more, produce more and achieve more for New Zealand.
On this page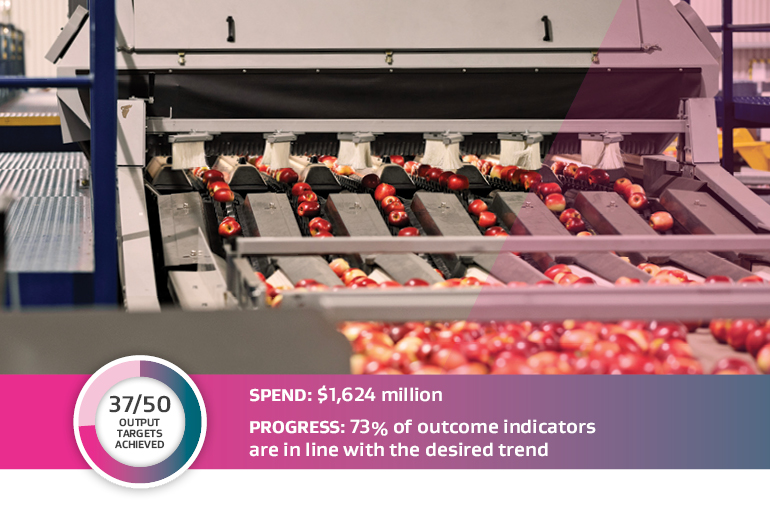 Text version of outcome five – progress
Innovative firms drive competition. They develop new products and services for consumers, and they are important cultivators of international connections. Strong international connections allow New Zealand to tap into skills, capital and value chains that are not able to be nurtured or replicated here.
Our role is to create a business environment that will encourage innovation. To achieve this, we develop initiatives that make it easier for businesses to work with government and help to identify opportunities for improving the performance of the business sector.
We can also influence the business environment through our leading role in government purchasing and procurement, which account for 18 per cent of GDP.
We need more investment in business, and we are working on reducing the barriers. Ensuring safe and stable financial markets will allow firms to secure domestic and overseas capital at reasonable cost. This will then allow them to invest and grow.
Exporters go global with bids for government contracts
New Zealand exporters have direct access to foreign government contracts through free trade agreements negotiated by the Ministry of Foreign Affairs and Trade, with support from New Zealand Government Procurement and Property (NZGPP).
This year NZGPP has been involved in the European Union Free Trade Agreement, Pacific Alliance, Regional Comprehensive Economic Partnership, China Free Trade Agreement upgrade and the Association of Southeast Asian Nations (ASEAN), Australia and New Zealand Free Trade Agreement upgrade.
NZGPP also represents New Zealand in international forums through membership to the OECD and World Trade Organization Agreement on Government Procurement (GPA). GPA membership gives New Zealand businesses the right to bid for government contracts in 47 countries, including the United States, which would not otherwise be directly accessible.
Access to these sizeable government markets across a wide range of goods and services opens the way for greater diversification of New Zealand's economy.
Visas enabling global impact from New Zealand
Immigration New Zealand is bringing entrepreneurs and investors from around the world who are looking to make a positive global impact from New Zealand.
The Global Impact Visa is targeted at highly talented individuals who do not fit traditional visa requirements. Immigration New Zealand works with the Edmund Hillary Fellowship (EHF) to select and arrange entry for the EHF Fellows. Immigration New Zealand approved 45 Global Impact Visas in the year ended 30 June 2019, the same number as in the previous 12 months.
Seventy-nine per cent of the international EHF Fellows are working in fast-growing technology fields such as agritech, digital tech, health tech, high-value nutrition, aerospace, education tech, clean tech, and advanced manufacturing and robotics. They have invested $2.43 million into Kiwi start-ups, and $16.5 million has been raised by Kiwi start-ups with their guidance.
The Fellows include SpaceBase, who are the delivery partners for the New Zealand Aerospace Challenge 2019, powered by Airbus and hosted by ChristchurchNZ. The Challenge focuses on space data and emerging technology for sustainable agriculture, and is a first critical delivery of a Letter of Intent signed between Airbus and MBIE's Innovative Partnerships programme in October 2018.
As well, top environmental scientists and technologists from the Stockholm Resilience Centre are collaborating with local Fellows to implement the Planetary Boundaries Framework, a tool to map New Zealand's performance in areas such as land use, water quality, biodiversity management, and intensive agricultural impact on the environment.
Bike park tourists are boosting businesses
A bike park drawing tourists to a Northland forest was boosted with a $490,000 investment this year from the PGF.
Waitangi Mountain Bike Park is creating business and employment opportunities in the region. PGF funds have helped build a new Trail Hub, with a café, park office, toilets and bike-hire facilities, which is providing better facilities for visitors and positive flow-on effects for businesses.
The bike park has transformed an area of forest into a valuable tourist attraction for domestic and international tourists and is receiving international recognition for its trails.

Innovative partnerships programme attracting global R&D investment in New Zealand
The Government is committed to developing New Zealand as a hub for high-value, knowledge-intensive businesses that create value through innovation and research and development (R&D). MBIE's Innovative Partnerships programme, formally launched in 2018, seeks to attract international individuals and firms to invest, collaborate and conduct R&D in New Zealand.
The team works with globally leading firms and innovators that are pushing the boundaries of technology and assists them in finding their New Zealand opportunity. An example is American space innovator LeoLabs, that as a result of engaging with Innovative Partnerships in September 2018 announced they would build a phased- array radar in New Zealand to track small satellites and space debris – the first of its kind in the Southern Hemisphere. LeoLabs' presence in New Zealand will be hugely beneficial to New Zealand's emerging space industry.
The attraction of innovative and research-focused companies like LeoLabs not only provides significant opportunities for our local talent and industries but will significantly grow the capability of our science and innovation ecosystem.
Better rules for the digital world
Not all regulations are easy to deal with. This makes it hard for businesses and citizens to understand their rights and obligations and how to comply, and to have certainty they got it right.
Better Rules – Better Outcomes is an initiative exploring how to make government regulations work better for people through digital channels. It takes a human-centred approach to the policy and legislative design process and develops regulations in human and machine-consumable versions – also known as 'legislation as code'.
This initiative is being led by MBIE's B4B programme and the Service Innovation Lab within the Department of Internal Affairs.
Also working for Kiwi businesses is the NZBN, which is a digital enabler changing the way New Zealanders do business. A globally unique identifier, it makes doing business faster and easier as it links to core information that businesses are most often asked for, such as trading names and addresses. The NZBN is continuing to make it easier for businesses to connect with each other and with government.
Monthly Regional Tourism Estimates
MBIE has developed Monthly Regional Tourism Estimates (MRTEs), which take a range of administrative data and uses it to track international and domestic tourist spend at a regional level by type of spending and country/region of origin of the visitors. The innovative methodology is world-leading, and MBIE has been asked to speak at international conferences to share the process and how the results are being used.

Case study – Mission Labs is building the best team
Our aim
MBIE's aim is to create a dynamic science system that enriches New Zealand, making a measurable contribution to productivity and wellbeing through excellent science. Through the National Science Challenges, MBIE is supporting collaborative mission-led research tackling New Zealand's biggest science-based issues and opportunities.
Our role
MBIE is investing $106 million over 10 years into the Science for Technological Innovation (SfTI) National Science Challenge to improve New Zealand's ability to use physical sciences and engineering research for economic growth.
The outcome
SfTI's Mission Labs builds collaborative teams to identify 'technology missions' that support the next step change in the economy. Mission Labs is a bold new process that welcomes the early involvement of industry and Māori as partners to identify what research is needed.
SfTI enables researchers to expand their relational skills to co-innovate with industry and Māori. There is a growing cohort of researchers who are developing skills to create high-value, high-impact products and services. SfTI is seeing high Māori and industry engagement with the projects at all stages of the R&D process.
What this means for New Zealanders
SfTI is shifting traditional engineering and physical sciences research from a competitive system towards a more negotiated and co-developed approach to accelerate progress towards a high-tech economy.
The National Science Challenges are changing the way science is done, creating new models and methods for developing collaborative projects and engaging with Māori and stakeholders to benefit all New Zealanders.
What we're working towards
Performance measure
Indicator
Current trend
Desired trend
Commentary
Increasing the proportion of businesses exporting
Percentage of firms exporting
Increase

Increase

The percentage of firms exporting improved to 24.0% in the year to August 2018, up from the recent low of 23.7% in 2017.
Increase in firms collaborating internationally for innovation
Percentage of firms collaborating internationally for innovation
(See note)
Decrease

Increase

The percentage of firms collaborating internationally for innovation in 2017 decreased to 4.2%, from the decade high of 4.7% in 2015. The 2017 measure of 4.2% is the same as the 10-year average from 2007 to 2017.
Increase in firms reporting innovative activity
Firm innovation rate
Decrease

Increase

In the year to August 2017, the total innovation rate, which is the proportion of businesses that innovate, was 47%, down from 49% in the year to August 2015. Innovation includes developing and implementing new products, business processes, and marketing methods.
Increase business research and development expenditure
Business expenditure on research and development as a percentage of GDP
Increase

Increase

Business expenditure on research and development as a percentage of GDP increased from 0.62% in the year to June 2016, to 0.74% in the year to June 2018.
Increase access to ultra-fast broadband
Percentage of households and businesses able to connect to ultra-fast broadband in New Zealand
Increase

Increase

The percentage of households and businesses able to connect to ultra-fast broadband in New Zealand increased to approximately 78% in the quarter to June 2019, up from 70% in the quarter to June 2018.
Increase business dynamism
Average five-year growth in employment in new businesses
(See note)
Increase

Increase

The average five-year employment growth rate for the period 2012–2017 was 27.6%, continuing the upward trend seen since the average rate for the period 2008–2013.
Increase capital intensity
Net capital stock per capita
Increase

Increase

Net capital stock per capita (an indicator of New Zealanders' wealth) increased to $139,474 in the year to March 2018, up 0.9% on the previous year, which is consistent with a five-year compound annual growth rate of 0.9% over the 2013–2018 period.
Increase productive capital investment
Proportion of net capital stock that is not residential
Steady

Increase

The proportion of net capital stock that is not residential buildings (an indicator of productive capital investment) remained at the high level of 56.3% in the year to March 2018, which is the second record high since 1972.
Increase early stage capital investment
Capital investment in early stage companies (Note, the methodology for this indicator has been refined since the MBIE Statement of Intent 2018–2022. The refined version directly uses the start-up investment estimated by PwC's Startup Investment magazine as proxy for capital investment in early stage companies.)
Increase

Increase

The capital investment in early stage companies, estimated by PwC's Startup Investment magazine, was $111.3 million in 2018. This is a 28% increase from $87.0 million in 2017 and is the highest growth rate in the past five years.
Improve quality of foreign direct investment (FDI)
Potential direct economic impact (pDEI) multiplier: ratio of pDEI to FDI
Increase

Increase

The potential direct economic impact (pDEI) multiplier, measured by the ratio of pDEI to FDI (foreign direct investment), was 3.9 in the year to June 2019. This is a 39% increase compared to the ratio value of 2.8 in the year to June 2018.
Maintain position in the World Bank Ease of Doing Business Survey
Ease of doing business ranking
Steady

Steady

New Zealand ranked top in the World Bank Ease of Doing Business survey in 2019 for the fifth consecutive year. The Ease of Doing Business survey assesses the regulations of 190 different nations for the ease with which business is done.
Note, two indicated performance measures under outcome five are not official statistics. These indicators are:
Percentage of firms collaborating internationally for innovation
Average five-year growth in employment in new businesses
The opinions, findings, recommendations and conclusions expressed in this report are those of the author(s), not Statistics NZ.
Access to the anonymised data used for these measures was provided by Statistics NZ in accordance with security and confidentiality provisions of the Statistics Act 1975. Only people authorised by the Statistics Act 1975 are allowed to see data about a particular person, household, business or organisation, and the results in this report have been confidentialised to protect these groups from identification.
Careful consideration has been given to the privacy, security and confidentiality issues associated with using administrative and survey data in the IDI. Further detail can be found in the privacy impact assessment for the Integrated Data Infrastructure available from www.stats.govt.nz.
The results are based in part on tax data supplied by Inland Revenue to Statistics NZ under the Tax Administration Act 1994. This tax data must be used only for statistical purposes, and no individual information may be published or disclosed in any other form, or provided to Inland Revenue for administrative or regulatory purposes.
Any person who has had access to the unit-record data has certified that they have been shown, have read, and have understood section 81 of the Tax Administration Act 1994, which relates to secrecy. Any discussion of data limitations or weaknesses is in the context of using the IDI for statistical purposes, and is not related to the data's ability to support Inland Revenue's core operational requirements.
Performance of our services and functions

Text version of outcome five – output
How much we spent
Actual 2017/18
$000
Our expenditure summary
Actual 2018/19
$000
Supplementary Estimates 2018/19
$000
Main Estimates 2018/19
$000
85,353
Departmental expenses
94,637
106,762
88,599
1,375,918
Non-departmental expenses
1,434,116
1,447,576
1,513,303
71,269
Departmental capital
74,484
79,528
68,728
24,023
Non-departmental capital
21,152
24,169
21,162
1,556,563
Total expenditure for outcome
1,624,389
1,658,035
1,691,792