Protecting and advancing our national security and economic interests
Space plays an important role in protecting New Zealand and New Zealanders, including our national security and economic interests.

On this page
New Zealanders rely on space assets to do everyday tasks, like banking, transporting goods, travelling by air, and talking with each other. As the world becomes more connected and digitised, our reliance on advanced space-based technology to support our daily lives is only going to increase.
Because we rely so heavily on space assets every day, such as GPS, any disruption is likely to be detrimental to our economic interests, in addition to any specific threat to our national security. Space is becoming more congested and contested, which means disruptions could result from threats to space assets (such as from irresponsible space activities that cause debris) or threats from space assets (such as malicious interference with our critical infrastructure).
As our space sector grows, we need to have systems in place to support this industry to reach its full potential while ensuring that New Zealand's national security and economic interests are appropriately protected.
Objectives
To sustainably grow our space sector by having due regard to our national interests we need to:
Use space assets to protect and advance New Zealand's national security and economic interests
Manage the broad range of security risks in space to protect New Zealand's space industry
Collaborate with international space and security partners to pursue New Zealand's national security and economic interests
Use space assets to protect and advance New Zealand's national security and economic interests
Space technologies can help us advance our national security and economic interests, like using satellite imagery to help track illegal fishing, or GPS to support our maritime supply chains. They can also assist New Zealand in responding to wider regional challenges, including the conduct of military operations and humanitarian assistance and disaster relief.
Humanitarian assistance and disaster relief operations
Space-based assets are critical to the functioning of a range of government agencies, including those responsible for national security. For example, enabling the New Zealand Defence Force's core functions by providing communications, weather observations, navigation, and situational awareness.
Satellite communications pass updates and imagery back to New Zealand. Satellite-based navigation systems for aircraft navigation and geolocation of images are taken by on-board cameras to support humanitarian assistance and disaster relief. Satellite-based weather observations also detect volcanic ash clouds, enhancing aircraft and crew safety.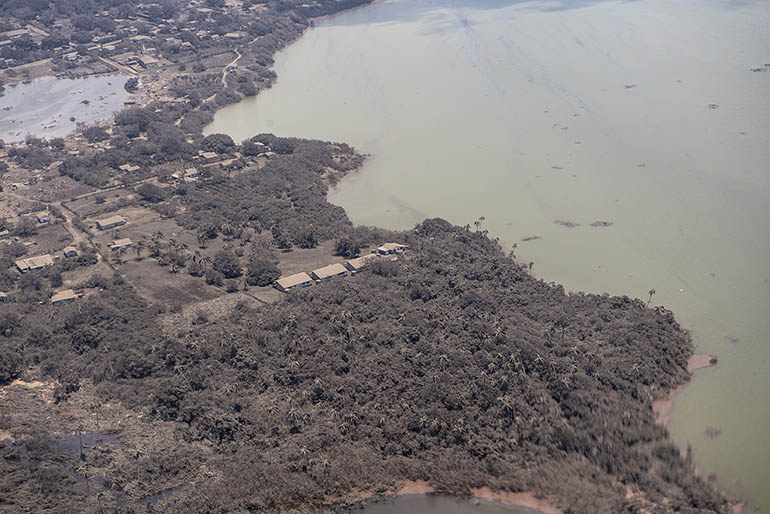 Stability and support operations
Space-based assets are used to support the security and stability of other nations as well. This includes enabling effective use of New Zealand resources and enhancing the security of our people and the regional partners we support. Multiple government agencies, including New Zealand Police and Customs, have used space systems to assist a range of countries.
As part of a multi-agency effort, the New Zealand Defence Force (NZDF) supported evacuation of New Zealanders, their families and other visa holders from Afghanistan in 2021. On operations such as this, the NZDF uses space-based capabilities, such as satellite communication and global navigation satellite systems, to enhance safety, efficiency and mission effectiveness.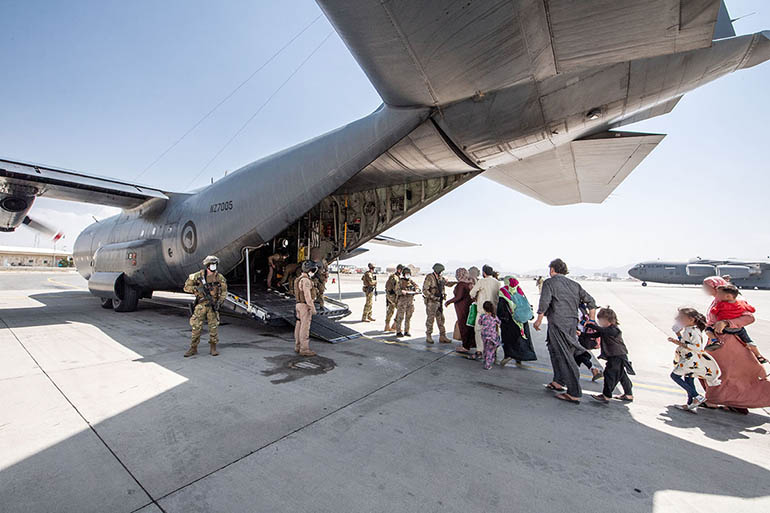 But while we use space to protect our national interests, space also creates additional risks to our national security and economic interests that we need to continue to manage. For example, a company or country with access to space may use our space capabilities, such as ground infrastructure, for a purpose other than what they have stated, and that may enable activities that are not in New Zealand's interests.
The feedback we receive from this consultation will help us ensure we have the right balance between growing New Zealand's space sector and protection of our national interests and national security.
Manage the broad range of security risks in space to protect New Zealand's space industry
As the importance of the space industry to New Zealand grows, along with the role that we play internationally, the attractiveness of our space sector as a target for disruption grows. This could take the form of:
Remote interference with space systems: The reliance on space-based systems means we are vulnerable to the risk of interference with satellites and supporting infrastructure. Interference with signals from satellites or the supporting ground-based infrastructure can have broad ranging negative impacts. For example, cyber attacks on space networks and jamming of navigation systems are also an increasing problem globally.
Physical interference with space systems: The greater access and use of space by both state and non-state actors increases the risks to satellites from collisions and orbital debris. Technology is also being developed which can interfere with, disable or destroy the critical space infrastructure New Zealand relies upon.
We need to continue to have good awareness and robust processes in place to proactively mitigate the risk of this kind of targeted disruption. One way we do this is through our regulatory approach, but as our space sector grows in importance, the risk to individual businesses also grows.
Collaborating with international space partners to pursue New Zealand's national security and economic interests
Nearly all of the space systems and assets we rely upon are designed, manufactured, launched, and controlled overseas. As space is a shared domain, risks to space assets have the potential to affect more than one country.
New Zealand collaborates internationally to promote our values on the responsible and sustainable uses of space, including through defence and security partnerships. Space assets, such as remote sensing satellites, that are launched from New Zealand can also support international partners and their national security.
Defence space cooperation
New Zealand has been part of the Wideband Global SATCOM (WGS) since 2012. This communications system is a multinational secure means of military communication.
Our defence agencies promote New Zealand's defence and security interests through Combined Space Operations (CSpO), a military space initiative consisting of New Zealand, Australia, Canada, France, Germany, the United Kingdom, and the United States. The CSpO Vision 2031 outlines a collective aim to ensure our national security space operations promote a secure, stable, safe, peaceful, and operationally sustainable space domain.
Space assets and the Ukraine War
The invasion of Ukraine on 24 February 2022 illustrated the benefits and risks of space assets in a conflict. For example, we have seen in this conflict:
The use of commercial satellite imagery to provide evidence of the buildup of troops and troop movements once the invasion began
Space-based internet services like Starlink allowing people in Ukraine to have access to the internet despite the invasion and damage to infrastructure on the ground
Space assets being targeted, like the 'cyber event' targeting Viasat, an internet service provider
The jamming or 'spoofing' of Global Navigation Satellite Systems (GNSS) leading to the rerouting of aircraft and, in some cases, the need to change destinations due to the inability to perform a safe landing procedure.
These impacts were not limited to Ukraine. They were also felt by the region surrounding the Baltic Sea and neighbouring states, eastern Finland, the Black Sea, and the eastern Mediterranean area, including Cyprus, Turkey, Lebanon, Syria, Israel, and northern Iraq.