Rangatahi – helping our young people thrive in the workforce
Rangatahi (young people aged 15-24) are paving the way for non-traditional ways of working, are instrumental in driving necessary change in our workforce, and keep our economy and vibrant community thriving. Our region's rangatahi bring innovation, social awareness, adaptability, new sets of skills, and entrepreneurship to the workforce.
On this page
Our overall working-age population (15-64) in Nelson Tasman will probably decline significantly over the next 20 years. Therefore, we need to ensure all our rangatahi have access to enjoy a range of employment, education, and training opportunities, while taking pride in living, learning, and working in our region. We have industries actively employing our young people, but 9.9% of young people are in the 'NEET' category (not in employment, education, or training). This is significantly higher than our unemployment rate of 3.2%.
Nelson Tasman's overall NCEA achievement rates are roughly in line with the national average, but achievement rates for Māori are substantially lower. This has long-lasting effects on wages, adult employment, and quality of life and outcomes.
Household Labour Force Survey- December 2021(external link) — Stats.govt.nz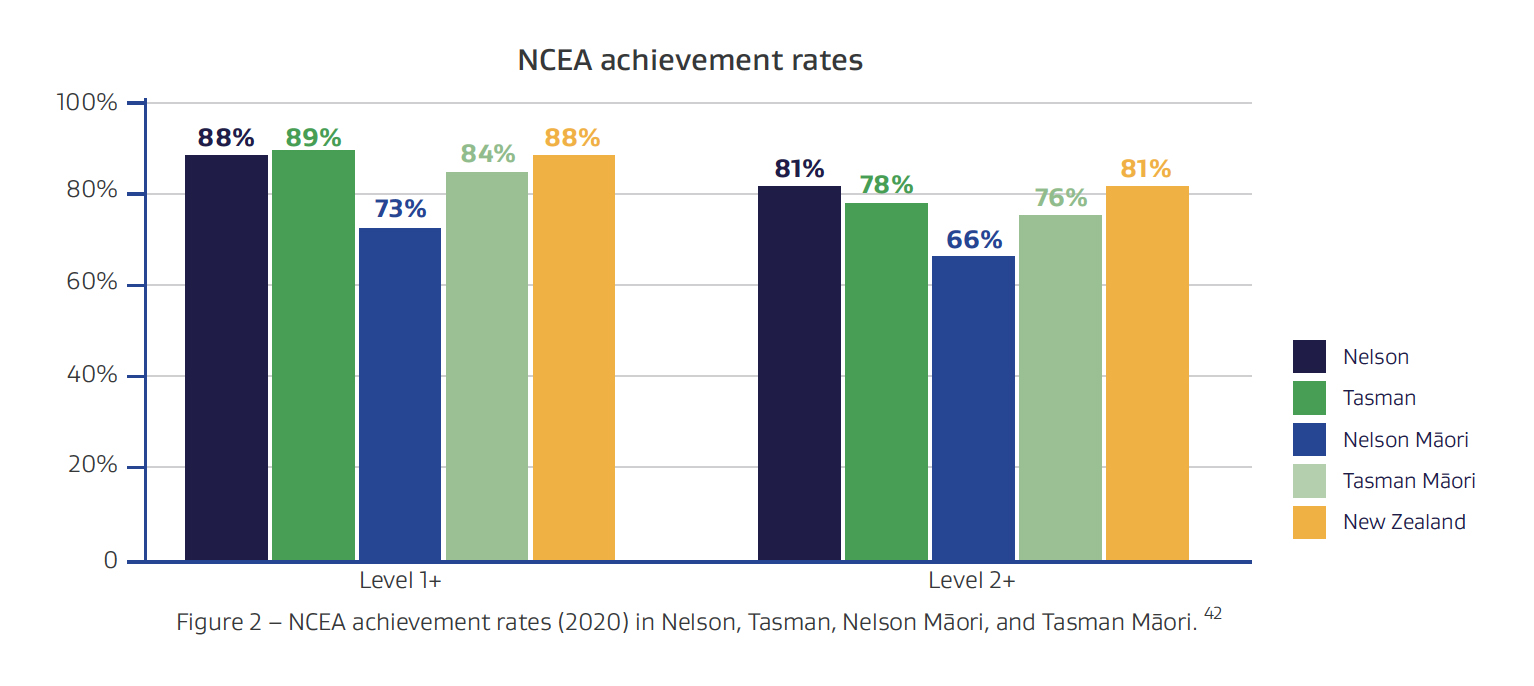 Text description of graph
We surveyed local rangatahi to learn more about the challenges and opportunities they face, and worked with the Nelson Tasman Youth Workers Collective Network and local careers advisors.
Challenges and opportunities
Our rangatahi are becoming more ethnically diverse, and they think and act differently from our older workers. They can provide new perspectives to our region's businesses and economy. The Te Tauihu Māori Business Network has significant anecdotal evidence of the entrepreneurial nature of rangatahi and the opportunities that provides for our region.
Our youth employment action plan: Setting our young people on a strong pathway to fulfilling working lives [PDF, 725 KB]
But many of our school-leavers leave our region for further education, employment, and life experiences, and many don't return. More than a quarter of our survey respondents said that our region didn't appeal to them because it lacked study options and had no university base. They want to move on to bigger and better things (NT RSLG RWP Youth Survey, unpublished, January 2022). This highlights the need to ensure the industries within our region understand the career goals and aspirations of our rangatahi, and provide career opportunities that align with them.
We need to improve local opportunities to encourage our young people to stay or return home – for example, partnering with tertiary education providers to support work-based learning and resource-sharing. We also need to encourage our employers to see the potential of our rangatahi in our future workforce, and how they can benefit our businesses.
Regional actions and national recommendations
The Government's Youth Employment Action Plan (YEAP) released in August 2019 has also informed our regional actions and national recommendations.
Our goal is for:
rangatahi to better understand our industries, the roles within those industries, and the opportunities in our region
employers and businesses to be supported to better understand our rangatahi aspirations and to think differently about the value rangatahi add to our region's workforce.
The following actions and recommendations support the aspirations of our rangatahi and their role in the workforce. They'll ensure rangatahi are better able to access education, training, and employment opportunities, so our region has the workforce it needs in the future.
Regional actions we will take in Nelson Tasman
In 2022/23 the RSLG will develop and deliver a plan to actively engage with rangatahi, to hear and understand their education, training, and employment needs.
We will:
use our regular RSLG reporting and other mechanisms, such as the Local Insight Report, to ensure that rangatahi needs are identified and heard by the leading agencies that can initiate action and drive positive change, in addition to seeking to specifically hear from Māori and Pasifika youth in our region
work alongside and support regional youth-based organisations, such as the Nelson Tasman Youth Workers Collective, to collate better data on our rangatahi
work to identify the increasing number of rangatahi who sit outside traditional education, training, and employment models
work with the Te Tauihu Māori Business Network to understand how the RSLG can assist in supporting entrepreneurship
co-ordinate and strengthen connections between our region's secondary schools, tertiary education providers, Workforce Development Councils, and employers, to increase understanding of roles and opportunities
keep informing industry and employers of the potential our rangatahi have and how to support their entry into the paid workforce, including sharing best-practice examples of:

connections between schools and industries that inform young people about career opportunities, and facilitate the pathway from school to employment
industries that have taken action to communicate career and training opportunities.

explore a 'job-phasing' pilot, where rangatahi are progressively phased into paid employment. This is in response to rangatahi being overwhelmed when they go straight into a 40-hour working week, and other work-readiness issues
support and facilitate the development of a working group with our region's construction sector, local recruitment agencies, and MSD to develop and source funding for on-the-job mentoring programmes, using older workers as mentors.
Our recommendations for national consideration
We support action 10 of the 2019 Youth Employment Action Plan, which aims to increase the uptake of driver licence testing and training among rangatahi, to overcome employment barriers and create more equitable employment opportunities. We note that this was also supported in Budget 2022.
We recommend continuing and increasing the national funding of the Ministry of Education / Ministry of Social Development 'Education to Employment' (E2E) programme, to enable more E2E roles in the Nelson Tasman region.
We recommend the Regional Public Service Commissioners work to support central agencies to improve their youth data and reporting – for example, consistent data sets across agencies.
We ask that central and local government improve iwi/Māori data to ensure there is an evidence base for interventions to inform planning and to identify gaps in providing services.