Ngā rāngai me ngā rōpū tōmua ā-iwi kua tohua i ngā maheretanga ki tua – Flagged sectors and demographic groups for our next plans
We will work with iwi/Māori, to gain a better understanding of inequities in our local Māori workforce. This will include understanding inequities in vocational aspirations, access to training and employment in our region, and ways to address those inequities.
On this page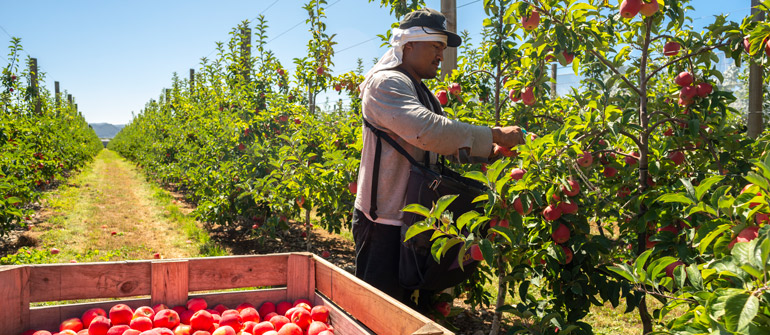 In addition, we have flagged 4 sectors and 2 demographic groups below that contribute significantly to Nelson Tasman's economy, community, and workforce, which we will also be focusing on in the future.
The 4 sectors are:
primary industry – horticulture, forestry
visitor sector – tourism and hospitality
health care and social assistance
Māori business and entrepreneurs.
The 2 demographic groups are:
disabled people
migrants, former refugees, and ethnic communities.
We've flagged these sectors and demographic groups to acknowledge their important role in our region. We intend to work with them to identify future opportunities and challenges in workforce needs and areas for improvement.
We'll do more work to better understand their workforce challenges, and what the RSLG could do to address them. We'll look at these sectors and demographic groups in more detail in future RWPs.
Flagged sectors
This first RWP looks at the construction and aquaculture sectors. Future RWPs will look in detail at additional primary industry sectors – specifically horticulture, and forestry and associated wood-product manufacturing. We will also look at the workforce needs of the visitor sector (tourism, including destination management and hospitality); Māori business and entrepreneurship; and health care and social assistance.
Primary industry: horticulture and forestry (with associated wood manufacturing)
The primary industry provides the most jobs in our region. Our region has the highest employment for ocean food production in New Zealand, and our employment in horticulture is 7%, compared to 2.5% nationally.
In the last 10 years the primary industry has expanded significantly and will continue to grow. Horticulture, forestry, and the wider ocean economy (aquaculture and fishing) industries have been resilient through the COVID-19 pandemic. They are well aligned to meet future global demand for food and fibre products that can be produced sustainably.
Horticulture
Our horticulture industry is our largest exporting industry (Nelson Tasman exports – Prepared for NRDA by Infometrics, October 2021). Our region's favourable climate makes it New Zealand's second-highest producer of apples and pears, and third-highest producer of kiwifruit and berries. We also produce speciality crops such as olive oil and craft beers that are processed into high-value food and beverage products.
The horticulture industry partners with other industries through the value chain, such as packaging, labelling, nurseries, and machinery and equipment maintenance. Infrastructure projects are another example of inter-relationships and collaboration between sectors. Projects such as the Waimea Dam, which aims to support the horticulture sector in the Waimea Basin, highlight the need to ensure a strong construction and infrastructure sector.
Forestry and associated wood-product manufacturing
The Nelson Tasman region is a leader in our ability to add value to the forestry sector. Our region has a competitive advantage in forestry and logging, sawmilling, and forestry support services. This is because the forestry workforce in our region is almost triple the size compared to the rest of New Zealand, and our wood-product manufacturing industry is our third-largest exporting industry.
We have New Zealand's highest concentration of specialist processing and wood-product manufacturing, particularly in laminated and structural wood products. We also have the highest employment in this specialist manufacturing sector (Nelson Tasman Economic Briefing prepared for the NRDA by Benje Patterson, People and Places, March 2022, unpublished).
Overall, the industry is describing an increasing demand for new and higher levels of skill, resulting from increased mechanisation (Nelson Tasman Economic Briefing prepared for the NRDA by Benje Patterson, People and Places, March 2022, unpublished).
The visitor sector (tourism and hospitality)
Nelson Tasman has a high contribution from visitors compared to the New Zealand average. The accommodation, food, and beverage services account for 6.8% of regional employment, and tourism activities also provide high employment, such as sightseeing tours, water transport, visiting the creative sector (e.g., ceramics, art, and textiles), and our conservation parks, nature reserves, and other recreation areas.
While domestic visitor spend in Nelson Tasman has continued to grow during the pandemic, our region has suffered from lack of international visitor spend on tourism, recreation, and transport. Overall spending dropped 34% between 2020 and 2022 (Nelson Tasman Economic Briefing prepared for the NRDA by Benje Patterson, People and Places, March 2022, unpublished).
The Nelson Marlborough Institute of Technology (NMIT) has reviewed the tourism sector in terms of education, training, labour, and skills. Its report defines the sector's future graduate profiles and qualifications needed to support the sector's recovery plans. NMIT's next step is working with regional agencies and the RSLG to ensure they meet the needs of both students and industry (Review Report: Nelson Tasman Tourism Vocational Education and Training – Prepared by NMIT, unpublished).
There is also potential to align the seasonal work of the tourism sector with the seasonal work of other sectors, such as horticulture and conservation, particularly in the Tasman region. These sectors have the potential to share workers, which will not only benefit the sector but also ensure consistent employment for the workers.
Māori business and entrepreneurship
Māori business and entrepreneurship is a key component of Nelson Tasman's business landscape. High numbers of Māori-owned businesses and self-employed Māori generate workforce opportunities for our region.
Local capital is invested by the eight iwi of Te Tauihu, which enhances the region's economic, cultural, and environmental wellbeing.
We can learn from Māori models of business, including fostering:
innovation
a strong intergenerational focus
a commitment to working locally
being environmentally sustainable.
Our region's Māori population is increasing, and the median age of our Māori is getting younger. Creating career pathways and training in key sectors will be of significant value in improving outcomes and opportunities for Māori, as well as including a younger skilled demographic in our ageing workforce. This will benefit our region's workforce in the future.
As noted at the beginning of this section, we will be working with iwi to gain a better understanding of the Māori workforce's needs, identifying inequities and how to address them.
Health care and social assistance
Nelson Tasman's ageing population creates workforce challenges and also business opportunities for the health care and social assistance sectors. The healthcare workforce (both regulated and unregulated workers) is ageing, and the demand for health and social services for our ageing population is increasing. With 21% of our population aged 65+, and a further 15% within 10 years of reaching that age, the workforce challenges facing our health care and social assistance sector are likely to grow. COVID-19 has highlighted our national reliance on internationally qualified nurses and lower-paid migrant carers.
The health care and social assistance sector is the third-highest employer in our region and is particularly significant for our ageing population. Health and social support for older people is increasingly moving out of hospitals and community facilities into home-based support. We not only need more workers, but we also need to retain the workers we have, supporting them to remain in the sector and continue to grow their skills. We will be looking to work closely with the reshaped health sector and associated social services, to look in detail at the challenges and opportunities for regional workforce planning.
NZNO Strategy for nursing 2018 – 2023(external link) — New Zealand Nurses Organisation
Flagged demographic groups
This RWP looks at rangatahi and older workers. Future RWPs will look at other demographic groups at greater risk of poor employment outcomes, specifically disabled people and the demographic group of former refugees, recent migrants, and ethnic communities.
Disabled people
Nationally, disabled people are more than twice as likely to be unemployed. Young disabled people are more than four times as likely not to be in employment, education, or training than their non-disabled peers. Disabled people are a particular focus for national support through an Employment Action Plan.
Working Matters 2020(external link) — Ministry of Social Development
Disabled people report difficulty with finding and keeping jobs, especially with safety concerns about COVID-19. They also report significant barriers to employment, such as poor educational outcomes, making it more difficult to get qualifications. Physical access to many workplaces is poor, despite legislative change aiming to improve this. Employers can also be reluctant to 'shape' roles to mitigate barriers – for example, lowering shelves so a person in a wheelchair can access files.
Businesses benefit from creating inclusive workplaces that help attract and retain disabled people, as well as people with acquired health conditions and changing needs. The untapped talent of disabled people can help to meet increasing demands on the workforce.
Former refugees, recent migrants, and ethnic communities
Former refugees, recent migrants, and ethnic communities face systemic barriers to access and success in the labour market. Employers do not always make the most of their skills, knowledge, and experience. This leads to lack of access to skill development and vocational training, and difficulty finding and sustaining employment. Nelson Tasman has a long history of migration, and welcoming people from many regions and countries.
"Today we welcome migrants from all corners of the world with their own stories and cultural identities who have chosen to call Te Tauihu home, making it a much richer and more globally connected place" – Te Tauihu Intergenerational Strategy
The Nelson and Tasman councils have officially been added to Immigration New Zealand's (INZ) Welcoming Communities programme. INZ provides 3 years of seed money to employ a Welcoming Communities coordinator, who works to make our region even more welcoming and inclusive for immigrants. Recognising overseas qualifications, understanding the pipeline of skills, supporting skills and job matching, and encouraging employers' cultural awareness ensure that this population group can participate in our workforce in a way that supports our regional economy and enriches our community.
Nelson-Tasman launches Welcoming Communities programme(external link) — Our Nelson
Former Refugees, Recent Migrants and Ethnic Communities Employment Action Plan(external link) — Ministry for Ethnic Communities