Te Pā Harakeke
The Regional Skills Leadership Groups identify and support better ways of meeting future skills and workforce needs in our rohe and cities.
On this page
They are part of a joined-up approach to labour market planning which will see our workforce, education and immigration systems working together to better meet the differing skills needs across the country. They are a key part of the Reform of Vocational Education (RoVE). The Te Pā Harakeke below demonstrates an eco-system view of Vocational Education and shows how the RSLGs link into the wider RoVE network.
Hutia te rito o te harakeke Kei hea te kōmako e kō? Kī mai ki ahau
He aha te mea nui?
He aha te mea nui o te ao? Māku e kī atu
He tangata! He tangata! He tangata!

Pull out the shoot of the flax bush Where will the bellbird sing?
Say to me;
What is the greatest thing?
What is the greatest thing in this world?
I will say
The people! The people! The people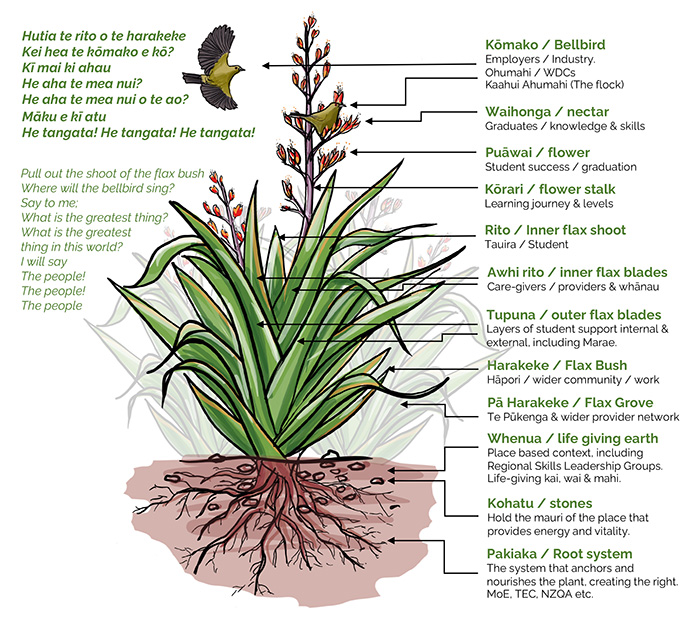 Text description of image
Pā Harakeke describes a village of Harakeke plants, a habitat or living eco-system. Within each Harakeke plant itself, within an individual fan, the names relate to the consecutive shoots being the rito inner shoot of new growth, protected within the shelter of the awhi rito or parents, then tupuna grandparents and so on. Within a vocational educational context you might look at tauira / students as the Rito, within the care and shelter of the provider and whānau as the awhi rito, with each fan representing a programme and Kōrari representing a learning pathway.
The Puāwai the flower, represents the flowering of the tauira - the pinnacle moment of their success.
The Kōmako or Korimako (bellbird) represents the employers, and the flock the wider industry, coming to feed on the waihonga, the nectar, the knowledge and skills our graduates hold to nourish their employer and industry.
Whenua, means both land and placenta, representing the life-giving properties of our land and location. Whenua is also the basis of whakapapa and connects us to place, our whānau, marae, hapū, iwi and community whose needs also guide the system through the RSLGs. The Pakiaka, the shoots or roots of the Harakeke source the nutrients to feed the plant and anchor it, providing stability. This is the entire educations system and funding. Kohatu, or stones in the soil hold the mauri, the life-force that energises and enlivens the system. How we look after the whole system is guided by Tikanga, actions aligned with principles of care and protection as kaitiaki of the system.