He Mahere Tiaki Kaimahi – Better Work Action Plan
The first phase of the Tourism ITP is focused on enabling Better Work for the tourism industry.
On this page
Why Better Work?
To make any transformational shifts in the tourism system, we must look at the foundation of the system – people. Investment in those who work in tourism is fundamental to the achievement of other transformational shifts.
While COVID-19 has exacerbated challenges for the tourism workforce, the reality is that these challenges have been longstanding. The disruption of COVID-19 and broader changes in the labour market presents a unique opportunity for us to take stock and ask what we want for the tourism workforce of the future and what changes need to occur.
The draft Better Work Action Plan
The Better Work ITP Leadership Group has met 5 times over an 8-month period to produce the draft Better Work Action Plan.
Learn more about the Better Work ITP Leadership Group
The draft Action Plan outlines the current state of the tourism workforce, where the Leadership Group wants to see the tourism workforce go, and the reasons for 'Better Work' being chosen as the first phase of the Tourism ITP.
There are 8 Tirohanga Hou (actions) proposed by the Leadership Group to help address these problems and harness the opportunities identified through this paper. The Te Reo Māori phrase Tirohanga Hou translates to a new outlook, a new way of thinking and doing things.
The 8 Tirohanga Hou are as follow:
A Tourism and Hospitality Accord, which would set voluntary employment standards for businesses and drive transparency and awareness of workplace practices and standards.
Promoting a purpose-driven intergenerational mindset for business models, to drive better outcomes for the businesses and employees.
Enabling better work through innovation and technology, by fostering innovation and technology adoption in tourism.
Building cultural competency within the workforce to better represent Aotearoa New Zealand's rich culture.
Embracing the peaks and troughs of tourism demand, so instead of peaks and troughs being a barrier to attract and retain employees, they become a valuable and attractive element of recruitment and retention strategies.
A fit for purpose education and training system, to equip the tourism workforce to deliver on our regenerative tourism vision.
Better tools and resources for business owners and operators, equipping business owners and operators to deliver a positive employee experience.
A public campaign to showcase better work in the industry, challenging perceptions of a career in tourism.
The graphic below summarises the draft Better Work Action Plan in greater detail.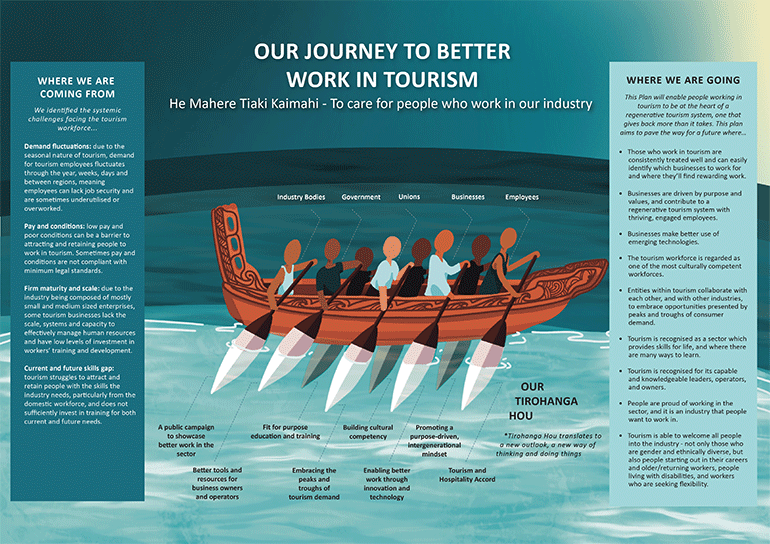 Text description of image
Final Better Work Action Plan
Public consultation on the draft Better Work Action Plan occurred from 10 August to 14 September 2022. Feedback from consultation is currently being considered and will inform the final Better Work Action Plan, with public release anticipated to be early 2023.
Last updated: 10 November 2022