Devoted to combating human trafficking
Published: 08 March 2023
This International Women's Day, Rebecca Kingi from Immigration New Zealand shares her empowering story of working with the Trafficking in Persons team.
On this page
In the past, Aotearoa New Zealand has been considered too isolated to be a serious destination of human trafficking, but the reality is we are not immune.
Globally there is ongoing risk of trafficking in persons (TIP) activity including because of impacts from climate change, the COVID-19 pandemic and global conflict. New Zealand is not immune to this risk, especially in the context of our borders reopening. Since 2015, over 50 victims have been identified and there have been 4 prosecutions for trafficking. Based on global trends, the actual number of victims is likely to be significantly higher and we are seeing an increasing number of cases with trafficking indicators.
MBIE has a Trafficking in Persons (TIP) team in the Verification and Compliance (V&C) branch of Immigration New Zealand (INZ). The team works closely with other parts of INZ, MBIE and wider government, as well as with non-government groups and international counterparts, to improve New Zealand's efforts to prevent and respond to this crime, and ensure victims are protected.
"Women need to have central and leadership roles."
"I consider it a privilege that I get to assist in combatting trafficking in persons activity within New Zealand," says Rebecca Kingi, one of 3 Senior Advisors - Trafficking in Persons within the team. "Combatting trafficking in persons is a marathon not a sprint, and the challenges that have arisen post pandemic mean that ongoing effort is required from all involved.
"I spent years prior to my current role working with victims and survivors of trafficking, where I witnessed the challenges faced by my former clients as well as their incredible resilience. That cemented my commitment and dedication to this area of work, and I really believe you can be simultaneously passionate and professional," says Rebecca.
"Women are 3 times more likely to suffer explicit or extreme violence compared to boys and men, so I think women need to have central and leadership roles in the anti-trafficking sector if we are going to be effective at combatting this crime. I aim to be a woman that adds significant value, driven by principle and not for personal gain, and who firmly holds the door open to allow other women to work in and thrive in this space. I am grateful to all those who have exemplified the same for me along my journey."
Acting locally, thinking globally
So what is New Zealand doing to combat trafficking? In March 2021, the New Zealand Government launched a new Plan of Action against Forced Labour, People Trafficking and Slavery which sets out its approach to combat trafficking over a 5-year period.
"Part of our team's role includes coordinating, monitoring and evaluating New Zealand's implementation of the Plan of Action," says Rebecca. "My role also involves providing subject matter expertise and capacity building across Government agencies, such as providing specialist training to frontline officials and leading projects to support New Zealand's trafficking in persons activities domestically and internationally."
Rebecca also represented New Zealand last year at the Conference of the Parties to the United Nations Convention against Transnational Organized Crime (COP), as well as the COP Working Groups on Trafficking in Persons and Smuggling of Migrants. This was part of the TIP team's engagement with the United Nations Office on Drugs and Crime (UNODC), among other stakeholders.
"As we learn from the past and Pae Kahurangi – Build Our Future in partnership with INZ investigators, we are looking at ways New Zealand can develop its enforcement response to trafficking activity, including reviewing historic TIP cases to see where there is opportunity for improvements. We are constantly learning so we can constantly evolve," says Rebecca.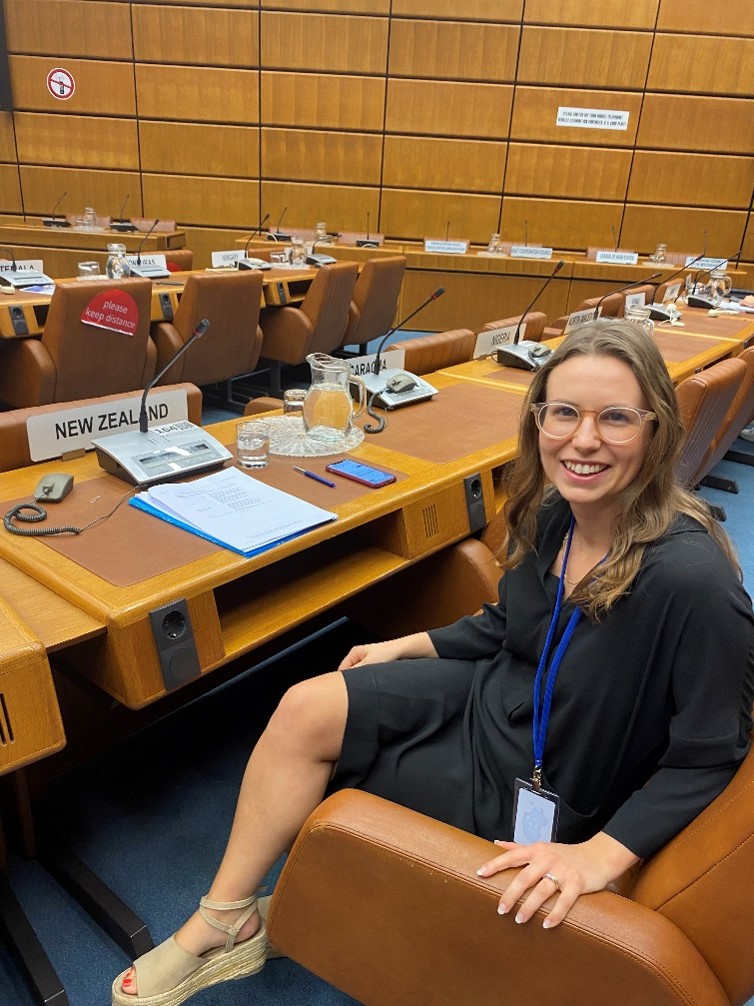 https://www.mbie.govt.nz/about/news/devoted-to-combating-human-trafficking/
Please note: This content will change over time and can go out of date.