NZ Battery Project
This climate change initiative is investigating the ability of pumped hydro, and alternative technologies, to address New Zealand's dry year electricity problem.
On this page
The dry year problem
New Zealand's 'dry year problem' is when our existing hydro-power catchments don't receive enough rainfall or snowmelt and the level of the storage lakes runs low. When this occurs some form of back-up is needed, and this is currently provided by fossil fuel generation.
As we transition away from fossil fuels and increasingly rely on hydro, wind and solar, the dry year problem may expand to become a dry, calm and cloudy problem.
'Dry years' usually last for a few months, and it's not possible to predict when one might occur, or how long it may last. They are more likely to occur in the colder months when inflows to hydro lakes are lower due to rain being bound up as ice and snow. This is at the same time as when there is increased electricity demand for heating homes and other buildings.
Dry years are also very hard to predict. Historically they have occurred around twice per decade. In recent years, we have experienced dry years in 1992, 2001, 2003, and 2008. So a dry year solution would likely be used more frequently than twice a decade.
Based on 89 years of hydro inflow records, the NZ Battery Project estimates there can be an energy deficit of between 3 and 5 TWh in the worst dry years. This is about 10% of our current annual energy needs.
Climate change is likely driving changes in water inflow patterns in our hydro lakes and may also affect 'normal' winter demand for electricity. However, these changes don't materially alter the 3–5 TWh energy gap that is currently being met by fossil fuelled generation.
Finding a solution
The NZ Battery Project has been set up to explore ways to solve the dry year problem in New Zealand without using fossil fuels and support a pathway to 100% renewable electricity generation.
The name, 'NZ Battery', refers to the manner in which the intended solution may provide stored energy for New Zealand's electricity system, similar to the way a battery stores energy until it's needed.
The NZ Battery Project is a 3-phase, multi-year project.
Phase 1
Phase 1 (December 2020 to December 2022) focused on evaluating the viability of pumped hydro schemes of various sizes at Lake Onslow, and identified one further location in the North Island that has the right geographical features suitable for a smaller pumped hydro scheme.
Phase 1 also identified the 3 most promising alternative approaches that individually, could provide a partial dry year solution.
Phase 1 activities included:
analysis into the nature of New Zealand's dry year problem – and how it could change in the future
technical investigations into different technological options to address the dry year problem and their applicability to New Zealand
investigations into the environmental impacts and other impacts of different options, with a focus on pumped hydro at Lake Onslow
research into the electricity market integration and power system implications of long-term, large-scale storage
exploration of consenting pathways, with a detailed focused on pumped hydro at Lake Onslow
early engagement with iwi and other key stakeholders
securing land access for environmental, cultural and geotechnical investigations for the Lake Onslow option
a geotechnical work programme in the Lake Onslow area
nationwide scan of other possible suitable locations for a pumped hydro scheme
analysis of the three most promising alternative technologies: hydrogen, biomass and flexible geothermal energy.
In January 2023, Ministers reviewed the findings from Phase 1 and the indicative business case. They agreed to continue investigations on both the Lake Onslow option and the 'portfolio approach' that looks at combining smaller alternative solutions. A smaller Upper Moawhango pumped hydro option remains in the pre-feasibility stage while early discussions with iwi are ongoing.
A detailed business case will also be developed in the first half of Phase 2, and is expected to be completed in mid-to-late-2024. Following the detailed business case, a final investment decision will be developed on the preferred option or options. The final investment decision work is currently expected to take about two years.
Phase 3 is estimated to start around 2027-2028. If approved by Cabinet Ministers, this phase will, be the construction or implementation of the selected option, or options.
---
Indicative project timeline
This timeline is indicative only and will be updated as the project progresses and key decision points further refine its focus.
Phase 1 – feasibility study
Scope and decision-points
Investigation and evaluation of long-term, large-scale renewable energy storage options, including pumped hydro and a range of other dry year storage solutions. The project will explore in detail the feasibility of pumped hydro at Lake Onslow, including geotechnical investigations.
Cost: approximately $30 million
Progress report – Project overview and key preliminary findings to date.
May 2022
Update and decision-point – Early analysis and update on feasibility studies underway. Decisions on focus areas for the remainder of Phase 1.
Late June 2022
Feasibility decisions – Technical, commercial and environmental feasibility studies of the Lake Onslow option compared to feasibility studies of other options, and indicative business case. Decisions to follow on which option or options should be further investigated in Phase 2.
February 2023
Phase 2 – Detailed business case, final investment decision
Decision-points
Progress report – Update on all options. Decisions required to begin work on detailed business case
Estimated timeframe: approximately July 2023.
Detailed business case – pending approval, prepare more detailed designs and analysis, and undertake work to further inform the potential operating models of the preferred option or options and their impact on the market.
Estimated timeframe: by late 2024, depending on option or options selected
Estimated cost: Up to $69 million
Final investment decision – pending approval following the detailed business case, undertaking further refinement of design, cost, scheduling and finalisation of the procurement/delivery approach for implementation.
Estimated cost: dependent on the options chosen and the scope of preparatory work
Phase 3 – Implementation
D

ecision-points
Implementation of preferred option or options.
Estimated cost: Unknown until dry year solution or solutions selected
Estimated timeframe: From 2027/2028
Pumped hydro storage
In its 2019 'Accelerated Electrification' report, the Interim Climate Change Committee (ICCC) recommended further investigating pumped hydro as a possible solution to the dry year problem.
The ICCC, as well as others, identified Lake Onslow as a possible site for a pumped hydro scheme. For this reason, the NZ Battery Project's investigations into this option are more advanced than the alternative solutions.
Pumped hydro schemes are used internationally as a way of storing a large amount of energy when power is plentiful and prices are low, to use at a later time when power is scarce and prices are high. As such, they are a renewable alternative to the flexibility provided by fossil fuel generation.
Pumped hydro can generate to provide additional energy from stored water in the upper reservoir when there is high electricity demand and/or low levels of renewable generation. Conversely, when there is low electricity demand and/or high levels of renewable generation, water can be pumped up hill for storage and later use.
How pumped hydro storage works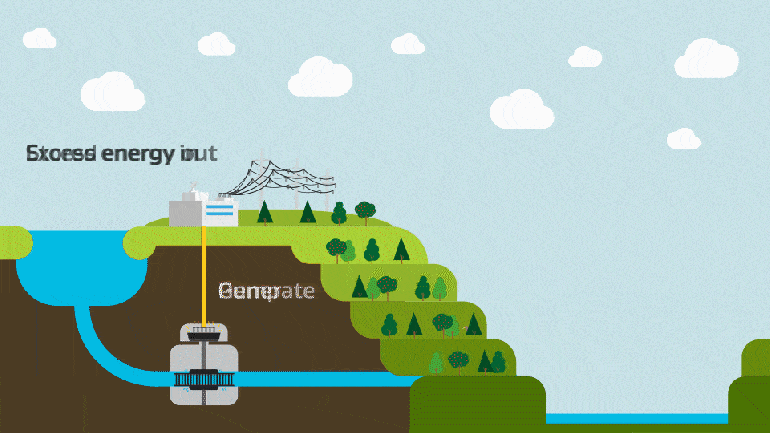 Where is pumped hydro storage used?
Pumped hydro storage is used throughout the world as a stored energy option for hydroelectricity with large schemes in the US, China and Japan. Scotland has 2 pumped hydro storage hydroelectric power stations. Australia is currently building a large pumped hydro storage project, Snowy 2.0, and is also pursuing smaller schemes.
Alternatives to pumped hydro
In Phase 1, a long-list of alternative approaches was generated with the support of industry experts.
Expert engineers were commissioned to identify the options with the most potential to provide large-scale, long-term energy storage. Three technology types were identified: flexible geothermal, hydrogen electrolysis (including as a source of interruptible demand) and bioenergy. More information about these technology types are in the link below.
Possible alternative approaches to the dry year problem
Concept designs were developed to help understand these technologies' capabilities, costs and risks. Further work was also undertaken to better understand the potential scale of each of these alternatives, and their complexity, commercial readiness and operating performance.
None of these alternative technologies are likely to solve the dry year problem by themselves. However, they highlighted the potential of a 'portfolio approach' that combined possible technologies to address the dry year problem.
Phase 2 will undertake work to understand how to best use these alternative technologies within a 'portfolio approach'. This will include investigating key uncertainties and opportunities of a multi-solution approach and how it could be deployed.
Environmental considerations
A renewable electricity battery solution would significantly reduce New Zealand's reliance on coal and gas, and make major strides towards our climate change goals. However the environmental effects associated with each of the possible options needs to be considered in the course of this project.
MBIE has undertaken a comprehensive study of environmental and conservation values at Lake Onslow and its surrounding area, and how these might be affected by a pumped hydro scheme. This work began in Phase 1 and more comprehensive studies, including further field work, will be undertaken in Phase 2.
The hydrology and ecology at Lake Onslow was also assessed in Phase 1 to understand how these could change if a pumped hydro scheme was to be developed.
The potential environmental effects associated with other possible solutions will be considered as part of the feasibility studies when specific locations or concepts emerge.
How a 'battery' could operate
A dry year solution would need to integrate with the wholesale electricity market, and with the power system. The Project is investigating different potential operational models for large-scale storage, and their relative costs and benefits, as well as possible options for ownership and governance.
In Phase 1, the project team engaged with industry expertise to consider various options for operating models. The focus was to ensure there was at least one way in which a solution could operate successfully in, and with, the market. The Project also engaged with Transpower to ensure a pumped hydro scheme at Lake Onslow could be operated effectively within the power system.
The initial work from Phase 1 will be developed further during Phase 2. In Phase 2, the project team will engage with the electricity industry on options around governance and operation of a pumped hydro scheme and on the 'portfolio approach'. It's important that the battery solution creates maximum value for New Zealand without negatively impacting continuing market investment in renewable generation.
Technical Reference Group
A Technical Reference Group was established in 2021 to provide the NZ Battery Project team with independent expertise, sector knowledge and advice in Phase 1.
The project team is working through the technical support and governance structures for Phase 2, which may need changes to reflect the increase in complexity in the next phase of work.
Procurement
The NZ Battery Project adheres to the New Zealand government's procurement guidelines when commissioning work. This means work is procured from the relevant All-of-Government panel, when possible. Work that is out of the scope of these panels, such as the field geotechnical studies, are sourced from the open market.
The government's guidelines also allow for smaller pieces of work to be procured directly from a provider on the All-of-Government panels. Where relevant, we also seek advice from others such as mana whenua, and prioritise local services.
Key documents
Project management
Updates will be provided on this page as they become available.
If you have any questions please email the project team at: nzbattery@mbie.govt.nz
Last updated: 22 March 2023