NZ Battery Project
Cabinet has approved funding to investigate pumped hydro against other possible solutions to New Zealand's dry year electricity problem.
On this page
Finding a solution to our dry year problem
The 'dry year problem' is that New Zealand's existing hydro-power catchments sometimes don't receive enough rainfall or snowmelt and the level of the storage lakes runs low. When this occurs some form of back-up is needed, and this is currently provided by fossil fuel generation.
As we transition away from fossil fuels and increasingly rely on hydro, wind and solar, the dry year problem may expand to become a dry, calm and cloudy problem.
The NZ Battery project will provide comprehensive advice on the technical, environmental and commercial feasibility of pumped hydro and other potential energy storage projects.
The name 'NZ Battery' refers to the manner in which the intended solution may provide stored energy for the New Zealand electricity system, similar to the way a battery stores energy until it's needed.
The project's first phase will evaluate the viability of pumped hydro schemes of various sizes at Lake Onslow, as well as at other possible locations around the country. The project will also consider these solutions against alternative methods to determine the best possible option, or options, to resolve New Zealand's dry year problem. The NZ Battery Project will also help achieve the Government's target of 100% renewable electricity generation by 2030 and support decarbonising the wider energy system.
In its 'Accelerated Electrification' report, the Interim Climate Change Committee (ICCC) recommended further investigating pumped hydro as a possible solution to the dry year problem. The NZ Battery Project will identify and investigate all options, and following rigorous assessment, will develop a feasibility study for the preferred option or options.
Read the electricity report:
Accelerated electrification: Evidence, analysis and recommendations [PDF, 1.5MB](external link)
Phase 1 of the NZ Battery Project will likely include:
Initial assessment of the Lake Onslow option and other potential projects
Feasibility-level project development and design
Developing plans for consenting and assessing implications on the electricity network
Investigating environmental effects and options for the project to generate net ecological gains
Analysing commercial feasibility and designing procurement methodology
Early engagement with iwi and other key stakeholders
Securing land access for environmental and geotechnical investigation and potential project use
The feasibility studies will inform a decision on whether to proceed to a next phase. This would involve detailed engineering design and preliminary works of a chosen solution, to provide firmer knowledge of costs and capabilities and inform a Cabinet decision whether to proceed to construction.
The final phase of the project would, if approved, be the construction of the selected option, or options.
Technical Reference Group
A Technical Reference Group has been established to provide the NZ Battery Project team with independent expertise, sector knowledge and advice as it investigates all options under Phase 1.
Pumped hydro storage
The Lake Onslow option and other smaller-scale pumped hydro options are being investigated as part of the NZ Battery Project.
Pumped hydro schemes are used internationally as a way of storing a large amount of energy for a long period, which can be used to generate electricity during a dry year. As such, they are a renewable alternative to the flexibility provided by fossil fuel generation.
Pumped hydro can generate to provide additional energy from stored water in the upper reservoir when there is high electricity demand and/or low levels of renewable generation. Conversely, when there is low electricity demand and/or high levels of renewable generation, water can be pumped up hill for storage and later use.
How pumped hydro storage works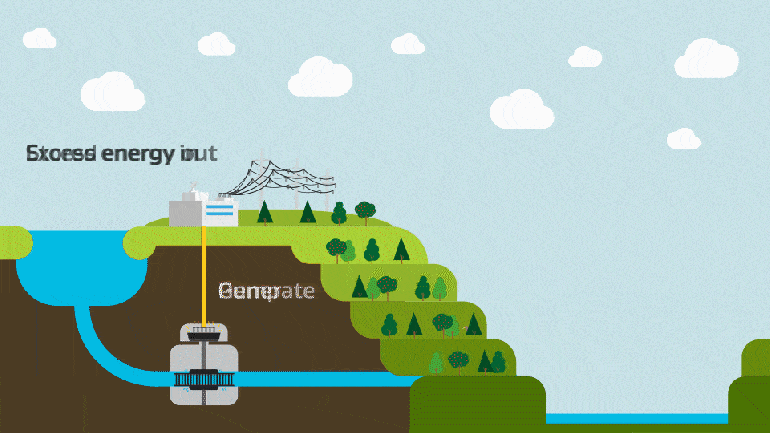 Where is pumped hydro storage used?
Pumped hydro storage is used throughout the world as a stored energy option for hydroelectricity with large schemes in the US, China and Japan. Scotland has 2 pumped hydro storage hydroelectric power stations. Australia is currently building a large pumped hydro storage project, Snowy 2.0, and is also pursuing smaller schemes..
Find out more on the Snowy 2.0 website.
Snowy 2.0(external link) — Snowy Hydro
Pumped hydro at Lake Onslow is one option that will be investigated.
Read more about the Lake Onslow option
Identifying and assessing other options
Non-hydro options are also being explored as possible ways to resolve the dry year problem in a 100% renewable electricity system.
Five broad alternative technologies have been identified as having the technical potential to help manage dry year risk.
Environmental considerations
A renewable energy battery solution would significantly reduce New Zealand's reliance on coal and gas, and make major strides towards our climate change goals. However the environmental effects associated with each of the possible options needs to be considered in the course of this project.
To date, the Department of Conservation (DOC) has been commissioned to undertake a comprehensive study of environmental and conservation values at Lake Onslow and its surrounding area, and how these might be affected by a pumped hydro scheme. This will be achieved by a mix of reviewing existing resource information and detailed field work. DOC is expected to provide initial findings to MBIE by the end of the year.
Further work is scheduled to assess the hydrology and ecology at Lake Onslow, and how these could change if a pumped hydro scheme was to be developed.
The potential environmental effects associated with other possible pumped hydro sites and other technologies or solutions will be considered as and when specific locations or concepts emerge.
Indicative project timeline
This timeline is indicative only and will be updated as the project progresses and key decision points further refine its focus.
Phase
Scope and decision-points
Estimated cost
Estimated timeframe
Phase 1 – feasibility study
Investigation and evaluation of long-term, large-scale renewable energy storage options, including pumped hydro and a range of other dry year storage solutions. The project will explore in detail the feasibility of pumped hydro at Lake Onslow, including geotechnical investigations.
Up to $30 million
In-principle feasibility decisions
In-principle decisions about which option or combination of options to take through for further investigation as part of a detailed business case based on desktop analysis and initial geotechnical investigations for the Lake Onslow option.
May 2022
Final feasibility decisions
Final feasibility decisions about which option or combination of options to take through for further investigation as part of a detailed business case based on engineering and environmental analysis, and detailed geotechnical investigations at Lake Onslow.
December 2022
Phase 2 – Detailed business case (dependent on earlier decisions)
Final investment decisions
Detailed investigation into the construction, funding and/or implementation of the preferred option or options.
Up to $70 million
To start from early 2023 (timing dependent on options)
Phase 3 – Implementation (dependent on earlier decisions)
Implementation of preferred option or options
Unknown until dry year solution or solutions selected
Dependent on Phase 2
Procurement
The NZ Battery Project adheres to the New Zealand government's procurement guidelines when commissioning work. This means work is procured from the relevant All-Of-Government panel, when possible. Work that is out of the scope of these panels, such as the field geotechnical studies, are sourced from the open market.
The government's guidelines also allow for smaller pieces of work to be procured directly from a provider on the All-Of-Government panels. Where relevant, we also seek advice from others such as mana whenua, and prioritise local services.
Key documents
Project management
Updates will be provided on this page as they become available.
If you have any questions please email the project team at: nzbattery@mbie.govt.nz
Last updated: 05 November 2021