Otago – our RSLG sub-regions and rūnaka marae
The Otago region can be roughly divided into the 3 distinct sub-regions that the RSLG uses in our mahi; Dunedin, Coastal Otago encompassing Waitaki and the Clutha District and Inland Otago, encompassing Central Otago and Queenstown-Lakes Districts. This enables us to better capture the diversity of Otago's sub-regions.
On this page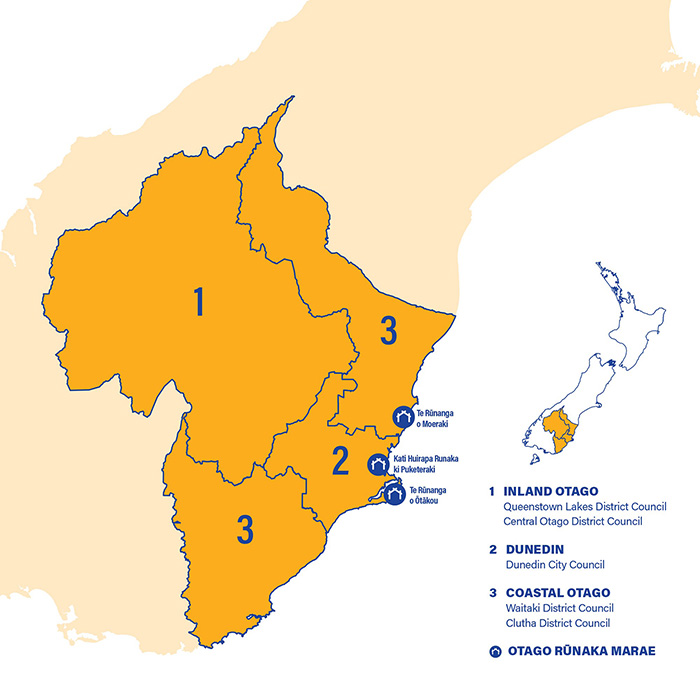 Text description of map
Illustration showing the lower half of the South Island of New Zealand. Focus is on the Otago region which has been divided into 3 sub-regions. The location of 3 Otago Rūnaka Marae are also indicated on the map using a blue circle icon.
Sub-region 1
Inland Otago encompasses: Queenstown Lakes District Council, Central Otago District Council.
Sub-region 2
Dunedin: Dunedin District Council
Sub-region 3
Coastal Otago encompasses: Waitaki District Council, Clutha District Council
Otago Rūnaka Marae
Te Rūnanga o Moeraki
Kati Huirapa Runaka ki Puketeraki
Te Rūnanga o Ōtākou