Why the TDLG are focusing on these select near-term initiatives
On this page
Establishing the data needs of Māori tourism businesses and communities (recommendations 6b)
The Tourism Data Leadership Group (TDLG) Terms of Reference (TOR) outline the need to ensure that the core principles of Te Tiriti o Waitangi are incorporated into the Group's decisions and actions. In order to ensure involvement in decision making (among other Te Tiriti principles) Māori and tourism will form a pou of the TDLG's work going forward.
While not deliberate, such a focus on Māori is consistent with the Government Data Investment Plan 2022, iwi-Māori data needs and aspirations is one of the 6 pillars/dimensions.
Government Data Investment Plan 2022 [PDF, 735 KB](external link) — data.govt.nz
In some instances, there may be opportunities to connect into whole of government priorities enabling economies of scale and efficiencies.
Uncovering the needs and gaps in the data system for Māori are necessary first steps to inform the TDLG's priorities in this space in the future.
Investigating domestic tourism measures (recommendation 2a, and potentially 3a
–

regional indicators)

A Domestic Travel Survey has been identified as a gap/need in:

It's anticipated the data from this, and other non-survey sources will support among other things the:

Data is also expected to contribute towards the TDLG's future work around Māori and tourism (for example, providing insights into domestic use and satisfaction with Māori experiences), as well as regenerative tourism (for example, self-reported well-being gains of domestic visitors).
Supporting the implementation of a Community Sentiment Survey (recommendation 2c, and likely 3a
–

regional indicators)

Within the sector there are current inefficiencies with 2 survey tools in use:
Angus and Associates – Views on Tourism — a proprietary product. A number of Regional Tourism Organisations (RTOs) purchase regional data. The tool provides international comparators, but to date it has not covered the breadth of social, community, environmental, Māori and cultural measures needed.
Kantar – Community Sentiment Survey [PDF, 3.4 MB]

(external link)

— commissioned by Tourism New Zealand,

Tourism Industry Aotearoa

and the Department of Conservation (DOC). This includes a range of social, community, environmental, Māori and cultural measures, but does not provide data for all regions.
Recently Tourism New Zealand and partners asked the TDLG to provide guidance on a preferred approach going forward.
Tourism Industry Transformation Plan (ITP) publications highlight the need for this data:
A Community Sentiment Survey tool will support:
The data from such a survey (for example, providing insight into community perceptions of the positive and negative effects of tourism across the range of well-beings) will support the wider sector goal of regenerative tourism (another priority for the TDLG).
Progressing regenerative tourism data needs (links to recommendations 4a to 4d)
One of the most significant initiatives underway in the tourism sector is the Industry Transformation Plan (ITP). A partnership between the tourism industry, Māori, unions, workers, and government to transform tourism in Aotearoa to a more regenerative model.
Regenerative tourism ensures that tourism gives back more to people and places than it takes. Tourism must add more than only economic value, it must actively enrich our communities and help protect and restore our environment:
Transitioning to a regenerative tourism model
Regenerative tourism is a focus of the ITP's:
It will also feature strongly in the TDLG's future work.
While the ITP Environment workstream is still active, it will be both timely and beneficial for the ITP and TDLG workstreams to come together to identify the data needs of the sector, enabling the development of a holistic data framework, the identification of data sources (both old and new), and ultimately sustainable implementation and investment.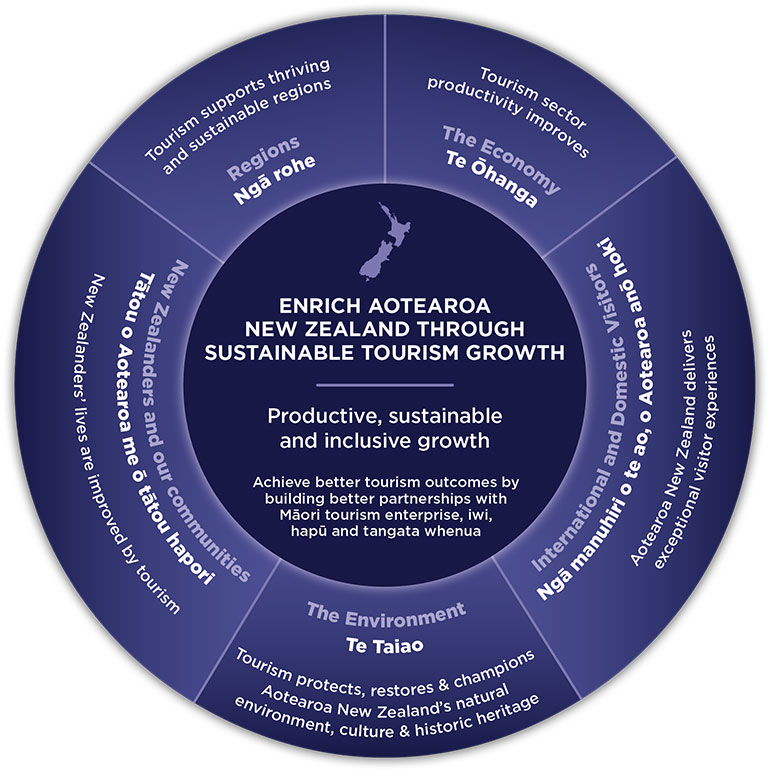 Text description: Enrich Aotearoa New Zealand through sustainable tourism growth 
Last updated: 13 September 2023