2018 Tourism Data Domain Plan
The Tourism Data Domain Plan sets out the main priorities for tourism statistics, based on agreement by industry and government stakeholders.
On this page
2018 plan
The 2018 Tourism Data Domain Plan provides the strategy for addressing the main priorities for tourism statistics over the next 5 to 8 years.
The plan was developed by the Sector Trends team in the Evidence and Insights branch of the Ministry of Business, Innovation and Employment (MBIE), under the direction of a Project Steering Group that included MBIE, Stats NZ and Tourism Industry Aotearoa.
While the previous plan (2011) took a government-only, 'official statistics' approach, the 2018 plan uses a broader approach, including elements of industry focus.
2018 Tourism Data Domain Plan [PDF, 1.2 MB]
Stakeholder consultation
A Project Advisory Group — comprising representatives from various industry stakeholders and key government agencies — provided post-workshop feedback and comment on the draft domain plan, including input on questions and gaps. Project Advisory Group voting determined the topic priorities, and the list and rankings of the initiatives.
Extensive stakeholder engagement included central and local government agencies, the industry (including operators), representative organisations, consultants, researchers and academics. Stakeholders identified 5 important topic areas, gaps in statistics coverage, and initiatives. The outcome of the domain plan process was a prioritised initiative list.
The infographic below shows the 29 initiatives grouped under the 5 topic areas — Value of tourism, Sustainability of tourism, Tourism businesses and workforce, Tourism behaviours and characteristics, and Data usability and capability.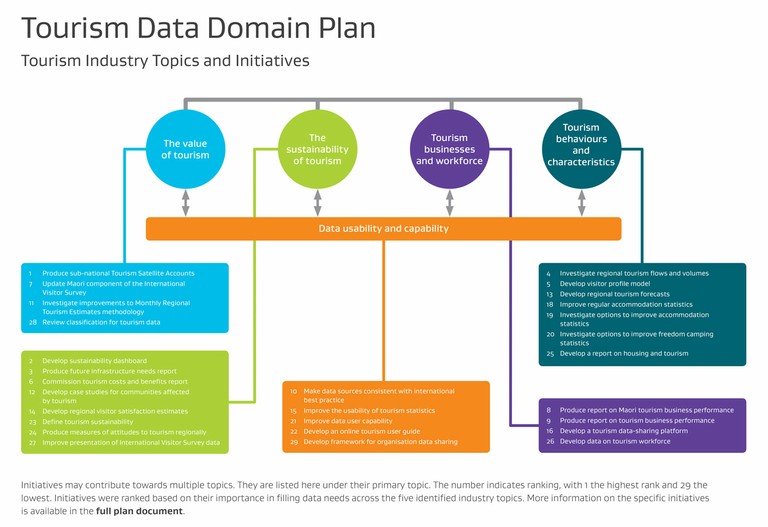 You can also download the infographic as a PDF:
Tourism Data Domain Plan infographic [PDF, 36 KB]
New governance structure
Following the completion of the 2018 Tourism Data Domain Plan, governance arrangements will be put in place to agree on the sequencing of work and how it may be funded. We also intend to produce an annual report with updates on our progress.
In this section
The first Tourism Data Domain Plan was completed in 2011 by the then Ministry of Economic Development.
In 2015, Stats NZ carried out a review of our suite of tourism statistics. Read more about the review's focus and findings.