New Zealand National Contact Point for responsible business conduct - OECD guidelines for multi-national enterprises
The Organisation for Economic Co-operation and Development (OECD) produces voluntary guidelines and recommendations on responsible, sustainable multi-national business conduct.
On this page
The guidelines
The OECD guidelines for Multinational Enterprises on responsible business conduct (the guidelines) are recommendations from governments to companies about conduct across 9 themes:
disclosure
human rights
employment and industrial relations
environment
combating bribery and other forms of corruption
consumer interests
science, technology and innovation
competition
taxation.
OECD guidelines for Multinational Enterprises on responsible business conduct(external link) — OECD
Companies are encouraged to perform risk-based due diligence to identify, prevent, mitigate, and account for how they address actual and potential adverse impacts on these areas covered by the guidelines.
The standards of behaviour and good practice are additional to the laws of the countries where a business operates, however they are not legally enforceable and don't override or substitute local laws.
All OECD members are committed to promote the guidelines within their jurisdictions.
Why they are important
The OECD guidelines are the most comprehensive government backed standard on responsible business conduct (RBC). RBC builds trust and confidence in businesses and markets, which encourages investment and contributes to economic growth. The guidelines set out the expectation that the private sector grow their business responsibly by integrating the management of risks to the environment, people and society. They encourage the positive contributions businesses can make by promoting human rights, following sustainable practices and boosting social development around the world.
The guidelines are unique because they cover all major areas of business ethics including information disclosure, human rights, employment and labour, environment, anti-corruption, and consumer interests. The guidelines also encompass science and technology, competition, and taxation which are not as fully covered by other international standards.
For more information about RBC and why the guidelines are important see:
MNE guidelines, RBC matters [PDF, 5.2MB](external link) — OECD
Who should use them
The guidelines have been designed for multinational enterprises such as a New Zealand company that also operates overseas, or a foreign company operating in New Zealand. The guidelines can also be used to guide domestic businesses activity, particularly those that are part of international supply chains.
Watch the video:
Responsible business conduct, the new normal for a sustainable future(external link) — YouTube
2023 guideline updates
The guidelines were updated in 2023. 3 webinars providing guidance on the updates have been released by the OECD.
What's new in the OECD guidelines and why does it matter?(external link) — YouTube
---
A public webinar held by the OECD setting out what's new in the guidelines and why the changes matter. The webinar features stakeholders and policymakers who engage in a forward-looking conversation on implementation and next steps for bringing the new guidelines to life.
Recoding our understanding of RBC in Science, Tech and Innovation: What's new in the OECD MNE guidelines?(external link) — YouTube
---
The updated OECD guidelines for Multinational Enterprises on responsible business conduct have been adopted, with big changes in the chapter on Science, Technology and Innovation and new clarity for companies on their responsibilities. This webinar digs deeper into what these changes mean, how our understanding of the issues has evolved, and to look at how governments, companies and the OECD are already taking steps to put these new expectations into practice.
Scaling up credible business action on climate: What's new in the OECD MNE guidelines?(external link) — YouTube
---
In June 2023, the OECD updated the guidelines for Multinational Enterprises on responsible business conduct, making them the first internationally agreed standard for how businesses should address climate change, biodiversity loss and pollution. Watch this webinar to find out what it means in practice, how it relates to net zero targets, the implications for conducting environmental due diligence and more. This webinar unpacks the new provisions of the guidelines' Environment Chapter and what they mean for businesses and ultimately for people and planet.
National Contact Point
The Ministry of Business, Innovation and Employment (MBIE) is Aotearoa New Zealand's National Contact Point (NCP) for the guidelines. The role of the National Contact Point is to promote the guidelines and due diligence guidance, as well as ensuring policy cohesion and managing complaints of alleged breaches of the guidelines. Complaints are known as specific instances.
A liaison group of representatives from government agencies and non-government organisations support the National Contact Point and meets twice a year.
The group helps promote and raise awareness of the guidelines through its members' networks. It may also act as a source of advice and assistance in handling of inquiries or complaints made under the guidelines.
Meet the National Contact Points for responsible business conduct (NCPs)(external link) — YouTube
Complaints (specific instances)
Although the guidelines are voluntary, they provide a process to raise complaints about an enterprise's activity and behaviour.
Complaints can be made to the NCP about either:
a foreign or NZ Multinational Enterprise operating in NZ
a NZ Multinational Enterprise operating overseas, including in a country that is not an adherent to the guidelines.
The New Zealand National Contact Point will examine the Complaint and may facilitate mediation to resolve it in line with the Rules of Procedure.
This process is non-judicial and National Contact Points cannot compel parties to participate or impose sanctions. Where parties do not participate, the National Contact Point may make a statement on whether the Complaint is substantiated.
Making a complaint
Anyone affected by a multinational enterprise's activity who has sufficient knowledge about the alleged breach of the guidelines can make a complaint. Complaints can be made by an individual, an employee or their trade union, iwi, hapu, community or an NGO.
Complaints can be submitted to the New Zealand National Contact Point by completing the complaint submission form and emailing it to the address below.
The complaint (specific instances) process
When the New Zealand National Contact Point receives a complaint, it triggers the specific instance process.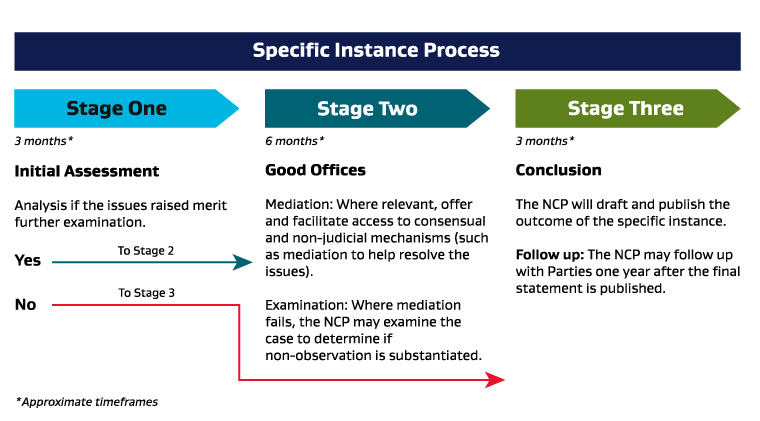 Text description of flowchart
New Zealand's annual reports to the OECD
Last updated: 27 November 2023