COVID-19 Response Recognition Award
The Government has established the COVID-19 Response Recognition Award to recognise individuals and organisations who contributed to Aotearoa New Zealand's frontline workforce COVID-19 response.
On this page
There are 2 types of awards: Individual and Organisation. The Individual Award will come in the form of a lapel pin in a display box and personalised certificate and will be distributed from February 2023 by NZ Post (New Zealand addresses only). The Organisation Award is a digital certificate with the name of the organisation sent by email.
If you worked at MBIE Managed Isolation and Quarantine (MIQ) or Immigration New Zealand (INZ) or were an MIQ partner, check whether you meet the award criteria below and register through the link to receive your award.
Criteria
Individual Award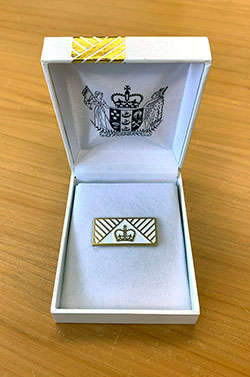 The MIQ criteria:
To be eligible for the COVID-19 Response Individual Award through MIQ, you need to have worked for MIQ or as part of the MIQ frontline workforce for at least one month (in total) and active in a role:
during the National State of Emergency (25 March to 13 May 2020), OR
demonstrated increased personal risk and sacrifice which often impacted on your normal life, OR ​
as a direct employee within MIQ's frontline workforce (e.g., hotels, security, transport), or MBIE's MIQ group OR ​
supported MIQ as an embedded MBIE Business Partner or MBIE employee.
The INZ criteria:
To be eligible for the COVID-19 Response Recognition Award through INZ, you need to have been employed by MBIE for at least one month (in total) and active in a role during the qualifying period 26 March 2020 to 27 February 2022 and either:
Working at the Auckland or Christchurch airports border during qualifying period, AND/OR
In role(s) that required working in an INZ office during level 3 or 4 lockdowns
Contractors, part-time and full-time staff who meet above criteria are equally eligible for the award.
Please do not register if you worked on MIQ through employment with District Health Boards, Aviation Security Service, New Zealand Police, or New Zealand Defence Force. You may be eligible to receive the award, however, those agencies will set up a separate distribution mechanism. Contact the agency you were employed with through the COVID response for further information.
Organisation Award
To be eligible for the Organisation Award, your organisation needs to have supported MIQ during the COVID-19 response, this can be through one or more of the following:
actively part of the MIQ eco-system for 1 month (30 days aggregated), OR

a contracted supplier to providing services for MIQ, OR

an Iwi partner, OR

a community group providing support to people staying in MIQ facilities.
Last updated: 23 December 2022