New social enterprise helping to democratise space
Emeline Paat-Dahlstrom and Eric Dahlstrom have been working in the space industry for over three decades. As part of a team of passionate space technologists and educators, they have helped create a social enterprise called SpaceBase, focused on space education, entrepreneurship and collaboration.
On this page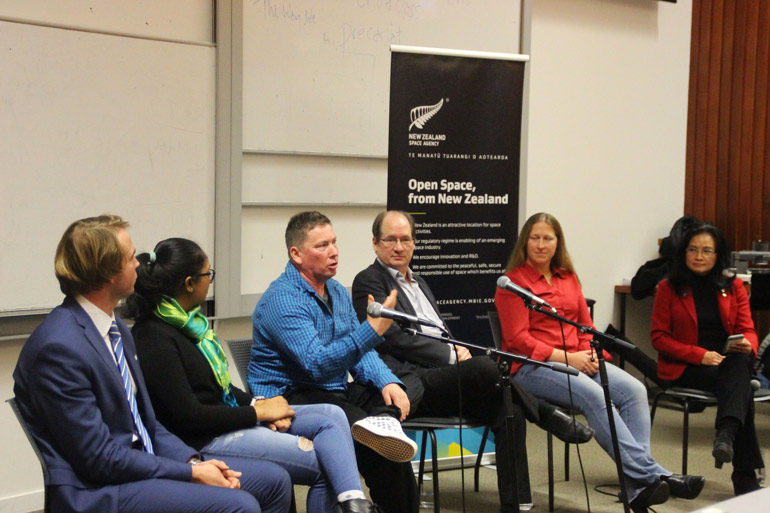 In 2017, the couple moved from the US to New Zealand as part of the Edmund Hillary Fellowship programme. Their mission: to democratise access to space in order to solve local and global problems. They believe there are global opportunities to participate in the space economy by leveraging disruptive technologies like AI, robotics, computing and additive manufacturing. And they believe that more countries, not just the wealthy ones, should be able to share in the opportunities these technologies offer.
"We live in a world today with tremendous opportunities," says Ms Paat-Dahlstrom.
Regardless of what the world is facing now — pandemic, social unrest, extreme environments due to climate change — the space industry continues to grow, due in large part to the importance of space in solving global problems.
New Zealand's own space renaissance
Some predictions estimate a global space industry of up to USD 3 trillion by 2040, 10 times the size of the current USD 350 billion*. The couple point out that while that's exciting news the industry is developing unevenly with over 70% of budgets and investments concentrated in only a few countries of the world.
They believe that New Zealand is in the beginning of its own space renaissance. With Rocket Lab leading the new small launch space industry, along with the New Zealand Space Agency's progressive policies and regulation, New Zealand has earned global recognition for one of the best examples of a new space ecosystem that the world could emulate.
They want to use what we learn in New Zealand as a blueprint for how space ecosystems are co-created globally. Through their SpaceBase initiative the couple are focusing on educating and advising different regions throughout New Zealand on how to collaborate, as each local area understands and leverages their own strengths and capabilities.
Fostering Kiwi ingenuity
So far SpaceBase has achieved an impressive track record through its education and outreach, entrepreneurial activities, content development and funding for space industry projects.
In 2019 it created the New Zealand Space Directory used in the economic study which identified that space contributes an annual $1.7 billion to the NZ economy.
In conjunction with the New Zealand Space Agency and other partners, it ran two nationwide space challenges that included the first aerospace virtual incubator. Experts from across the country came together to train enthusiasts in satellite data analysis, design thinking, rapid prototyping, and pitch coaching.
It fostered Kiwi ingenuity in order to solve real problems. (The company Seequent that took part in the New Zealand Aerospace Challenge in 2019, found a way to monitor water pollution across all New Zealand lakes using satellite data.)
And it has helped initiate space community groups and promote space opportunities through over 100 presentations and workshops across the country.
In New Zealand we have started to see the positive results of introducing our space educational programmes, changing assumptions in industry and academia, incorporating space strategies in local government and helping create new space entrepreneurs.
Driving local initiatives
2021 sees SpaceBase planning more national and regional competitions, creating customised courses and workshops, and strengthening its consulting services through international partnerships.
SpaceBase was recently appointed the International Space University's ambassador for the Asia-Pacific region. It is determined to play a crucial role in driving local initiatives further through the educational toolkits it has developed.
"We will continue to focus on economic development agencies, adjacent industry leaders, entrepreneurs, and space activists to catalyse their own space industries and communities using our proven methodologies and consulting services."
For up-to-date news on the space industry in New Zealand, join the SpaceBaseNZ Facebook group.
SpaceBaseNZ Facebook group(external link)
Learn from space entrepreneurs and scientists on how they got involved in the space industry in New Zealand and beyond by listening to the SpaceBase Podcast.
SpaceBase podcast on google podcasts(external link)
If you are interested in catalysing a space ecosystem in your local region, take the SpaceBase online assessment tool at the SpaceBase Thinkific site.
SpaceBase Thinkific site(external link)
SpaceBase provides customised training and consulting services that can help individuals and organisations assess, validate and catalyse a space industry in their organisation, city or region.
SpaceBase website(external link)
Reference *https://www.cnbc.com/2017/10/31/the-space-industry-will-be-worth-nearly-3-trillion-in-30-years-bank-of-america-predicts.html(external link)