Petroleum and minerals regulatory system
This page describes the petroleum and minerals regulatory system, its objectives and our qualitative assessment of it. It also lists the main statutes and changes to regulation either planned or in progress.
On this page
System description and objectives
The petroleum and minerals regulatory system sets out the framework for managing the Crown minerals estate, and leading development and regulation of New Zealand's petroleum and minerals resources. Under the Crown Minerals Act 1991 (CMA), the regime promotes prospecting for, exploration for, and mining of Crown owned minerals (including petroleum) for the benefit of New Zealand.
Crown-owned minerals include petroleum, gold, silver and uranium, and minerals on or under Crown land. In some cases the Crown also has rights to certain minerals in some private land. There are also some cases of private mineral ownership on or under Crown land.
The objectives of the system are to:
efficiently allocate rights to prospect for, explore for, and mine Crown owned minerals
effectively manage and regulate the exercise of those rights
ensure activities in respect of those rights are carried out in accordance with industry practice
ensure a fair financial return to the Crown for its minerals.
This system excludes the regulation of energy markets and competition. The system overlaps with the health and safety regulatory regime.
The Minerals and Petroleum Resource Strategy for Aotearoa New Zealand: 2019-2029 (the Strategy) was released in November 2019. The release of the Strategy followed early engagement with industry, Treaty partners, and key stakeholders as well as a period of public consultation. The Strategy articulates the Government's ten-year vision for the minerals and petroleum sector in New Zealand and supports the transition to a low emissions future and a productive, sustainable and inclusive economy.
The development and publishing of the Strategy has been used to inform a review of the Crown Minerals Act 1991. The review of the legislation is to ensure it is fit for purpose to meet the needs of all New Zealanders. A discussion document for public consultation will be released in late 2019.
Ministerial portfolio and key statutes
Regulatory agencies and their roles
Agency
Role
MBIE
We are the steward of the petroleum and minerals regulatory system. We are also responsible for permitting (allocation, compliance and administration), both on and offshore.
Department of Conservation
Administers access to conservation land for mining activities that require an access arrangement approved either:

by the Minister of Conservation, or
jointly by the Ministers of Conservation and Energy and Resources – this is required for tier 1 permits (ie for petroleum and high-value minerals).

Territorial authorities and regional councils
Regional and local environmental regulators which, through planning documents and resource consenting, set localised rules around where mining activities can occur and conditions or requirements that need to be met in establishing, operating and decommissioning or rehabilitating mining operations.
Land Information New Zealand
Responsible for access arrangements for Crown land it administers.
Environmental Protection Authority
Environmental regulator of the Exclusive Economic Zone and Continental Shelf which, through planning documents and marine consents, controls mining activities outside of the 12 nautical mile territorial sea limit.
WorkSafe NZ
Responsible for overseeing health and safety of mining activities
Maritime NZ
Manages and responds to any significant offshore oil spills
Collaboration and information-sharing between regulatory agencies
MBIE meets often with other regulatory agencies on an ad hoc basis.
In some circumstances, regular meetings also occur. For example, a quarterly petroleum regulators forum is held between MBIE, the EPA, and the Taranaki Regional Council.
Regulated parties and main stakeholders
The permitting/regulatory system only applies to the mining of Crown owned minerals. Anyone mining Crown owned minerals is required to obtain an appropriate permit (or licence under legislation that predates the Crown Minerals Act 1991). Mining of privately-owned minerals does not require a permit or licence.
Iwi are our Treaty partners, and key stakeholders in this system include:
industry (including key industry bodies Straterra and PEPANZ)
land owners who provide access for mining activities, and
NGOs or other parties with an interest in mining and its associated effects.
Processes for engagement with regulated parties and stakeholders
There are specific iwi consultation requirements in the CMA. In addition, the Crown has entered into a number of engagement protocols with iwi for policy development around petroleum and minerals.
MBIE regularly meets with permit holders, and engages with stakeholders through a variety of channels. MBIE also makes itself available to speak to any interested party, and participates in the 'one window'(external link) initiative on the West Coast to make it easy for stakeholders to meet face to face.
In addition, MBIE has launched a quarterly regulatory newsletter that is sent to all active permit holders, applicants for permits, active permit administrators, royalty administrators, geotechnical contacts and fee administrators.
The purpose of the newsletter is to communicate regulatory information and let permit holders know about MBIE's regulatory priorities and work programmes.
System's fitness for purpose
Effectiveness
System performing well against criteria
Overall, the system is delivering on its intended outcomes, although there is some room for improvement in relation to gathering knowledge on system performance.
Recently, performance indicators have been put in place to monitor processing time of minerals permits, for which there is a historical backlog.
We are currently undertaking a Regulatory System Assessment of petroleum and minerals, which will provide more information on the performance of the system. The assessment includes consultation with a wide range of stakeholders.
Efficiency
System performing well against criteria
In general, regulators and parties regulated find the petroleum and minerals system relatively easy to use and comply with. The system provides predictability to parties. Difficulties and uncertainties often arise in relation to land access and consenting approvals, which fall outside MBIE's regulatory responsibilities. We work closely with other agencies to facilitate these processes and minimise costs for users as far as possible.
Resilience
System has significant issues against criteria
The basic resilience challenge for this system comes from the pronounced business cycles for petroleum and minerals. Our regulatory system assessment is considering whether there are changes to the system which will improve its resilience in the face of intense commodity cycles.
Fairness and accountability
System performing well against criteria
The system delivers fair, transparent and impartial decision-making. Information about the system is available mainly through the New Zealand Petroleum and Minerals (NZP&M) website. This includes guidance and detailed information about the permitting process and other regulatory requirements permit applicants may need to go through. We engage with stakeholders on a regular basis, which helps identify how well the system is performing.
We also publish quarterly minerals approval performance reports, which provide transparency on permitting process time frames.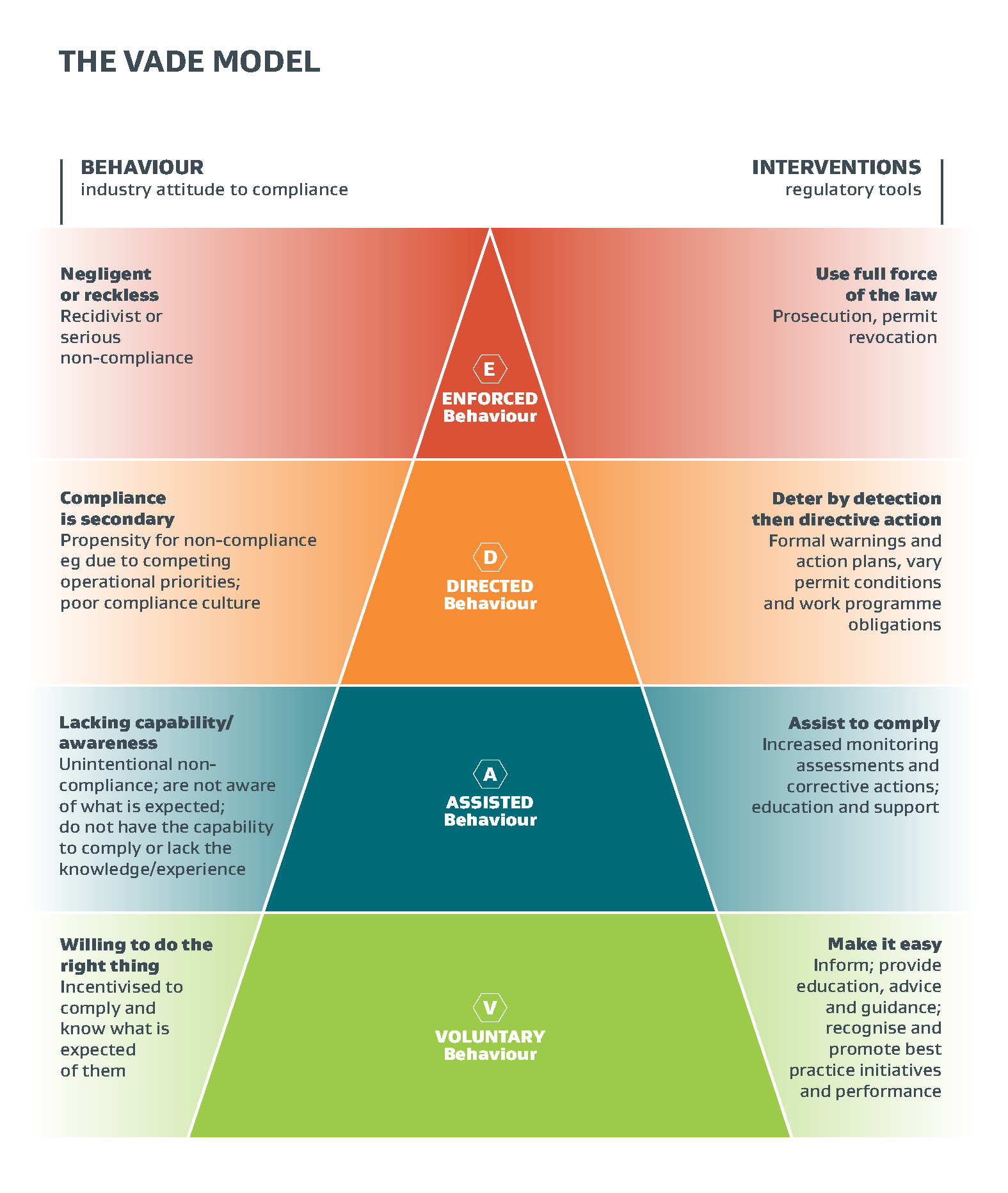 Image description of the Vade model
MBIE is working to roll out this operating model and we have a number of work programmes underway to develop tools and information that will help to simplify the framework for permit holders, particularly minerals permit holders. This means that permit holders will more clearly understand what they can expect from the MBIE as a regulator, and what MBIE expects from them in return.