The Waikato regional story
The Waikato RSLG area is a strategically significant land area between the fastest-growing metropolitan centres in New Zealand and at the heart of the golden triangle, the economic zone encompassing Auckland, Hamilton and Tauranga. This area generates over 50% of New Zealand gross domestic product (GDP) and is home to over 50% of NZ's population.


On this page
Waikato 2070: Waikato District Council Growth & Economic Development Strategy [PDF 46.9MB](external link)
The Waikato is rich in Māori history, the home of Kīngitanga and with ties to many iwi. Tangata Whenua holds a significant physical and cultural relationship with the Waikato region. The authors of this report acknowledge Tangata Whenua as kaitiaki within the Waikato region.
In March 2021, the Waikato region had a resident population of just over 461,000 with 211,499 filled jobs; 45,000 of which were occupied by Māori (Infometrics Ltd. (2022, April 6). Waikato RSLG area - Regional economic summary. Infometrics Ltd. Data from the 2018 census indicates that more than 22,000 people of Pacific descent call the Waikato region home.
Contribution to GDP by broad sector 2021 Waikato Region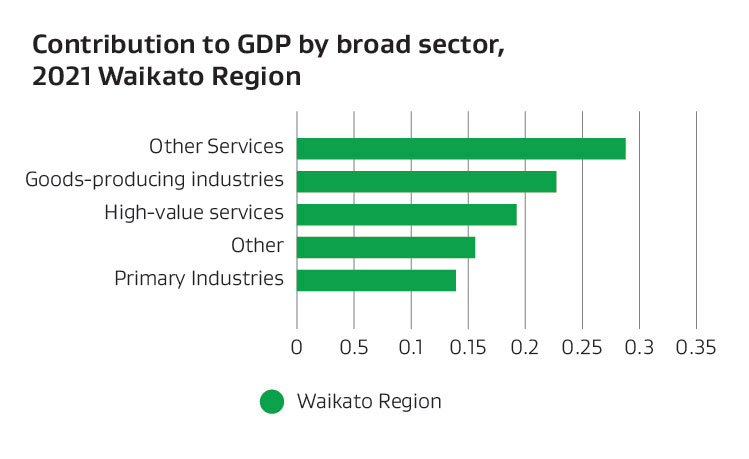 GDP growth in the Waikato Region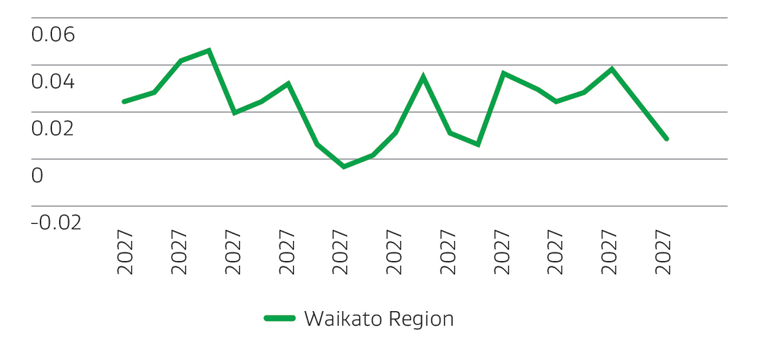 The Waikato has a higher concentration of some industries when compared to the national economy. The infographic indicates that the region is significantly more concentrated in primary industries (dairy cattle farming alone accounts for 6.2% of the regional economy but only 2% of the national economy). The region also has a concentration of economic activity in manufacturing which makes up 9.2% of regional GDP.
Despite these obvious concentrations the Waikato region's economy is still more diversified than the national economy with a Herfindahl-Hirschman index (HHI) of 21.5 (national index is 48.1). An HHI measure closer to 0 indicates a greater diversity of industries and reveals a more varied set of employment opportunities for the region's communities.
Waikato RSLG area - Regional economic profile(external link) — Infometrics Ltd.
One of the positive outcomes of having a diversified economy is that it can weather economic shocks better than highly concentrated economies.
It is important to acknowledge that while the Waikato region as a whole has a relatively well diversified economy, there are stronger concentrations of particular industries at sub-regional level (e.g., dairy farming in the Ōtorohanga District, mining in Hauraki and Thames Coromandel). In general, the region's smaller districts play to their endowments of natural resources, but this can leave them exposed to fluctuations in commodity prices.
One of the challenges is that the region needs to attract and retain people to the region to help meet its labour demands as it is unlikely that the region will ever have sufficient local tertiary provision to meet all its workforce needs.
The Group noted labour mobility as a factor across the Waikato, with workers living in one district and commuting to work in another. It's quite common in locations like Kinleith in the South Waikato, and the many dairy factories across the region, to have staff that live 50 to 100 kilometres away from their place of work.
Industries which created the most jobs, 2011 - 2021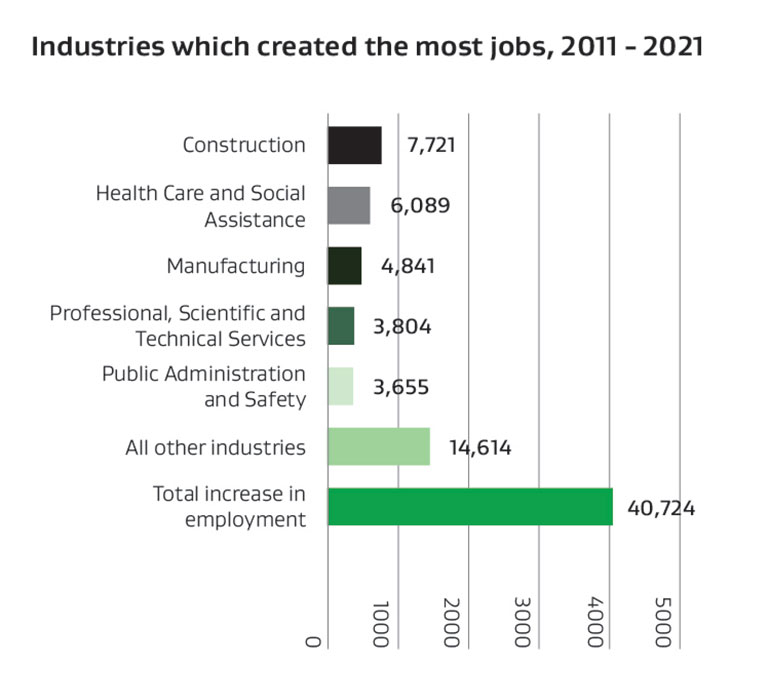 Waikato is known for its green pastures and food production, supported by manufacturing (12% of filled jobs). In recent years, the region has seen significant population growth that has, in turn, led to growth in the construction sector workforce (19% of total job growth), and the health care and social assistance workforce (15% of total job growth).
These industries, and many more in the region's economy, are finding it increasingly difficult to recruit and retain staff. Employers reported increasing workforce pressure, with competition both intra-regionally and from neighbouring metropolitan areas (Tāmaki Makaurau and Tauranga) driving up wage and condition expectations.
A review of the sub-industries that created the most jobs in the 10-year period from 2011 to 2021 shows that the highest growth rate was experienced in the Cafes, Restaurant and Takeaway Food Services industry (more than 2,902 jobs). However, COVID-19 has significantly affected this sector over the past 2 years. Waikato can retrain and retain its hospitality workers to resolve some of our labour supply issues, but a nimble, integrated support and training model will be needed for the region to make the most of this opportunity.
Waikato RSLG area - Regional economic profile(external link) — Infometrics Ltd. (Accessed 2022, April 6)
The Group acknowledge that many people start their working life in the services industry, often in tourism, retail and hospitality sectors. These entry-level roles provide valuable soft-skills and help workers build work ethic and base skills that they will take into their future careers.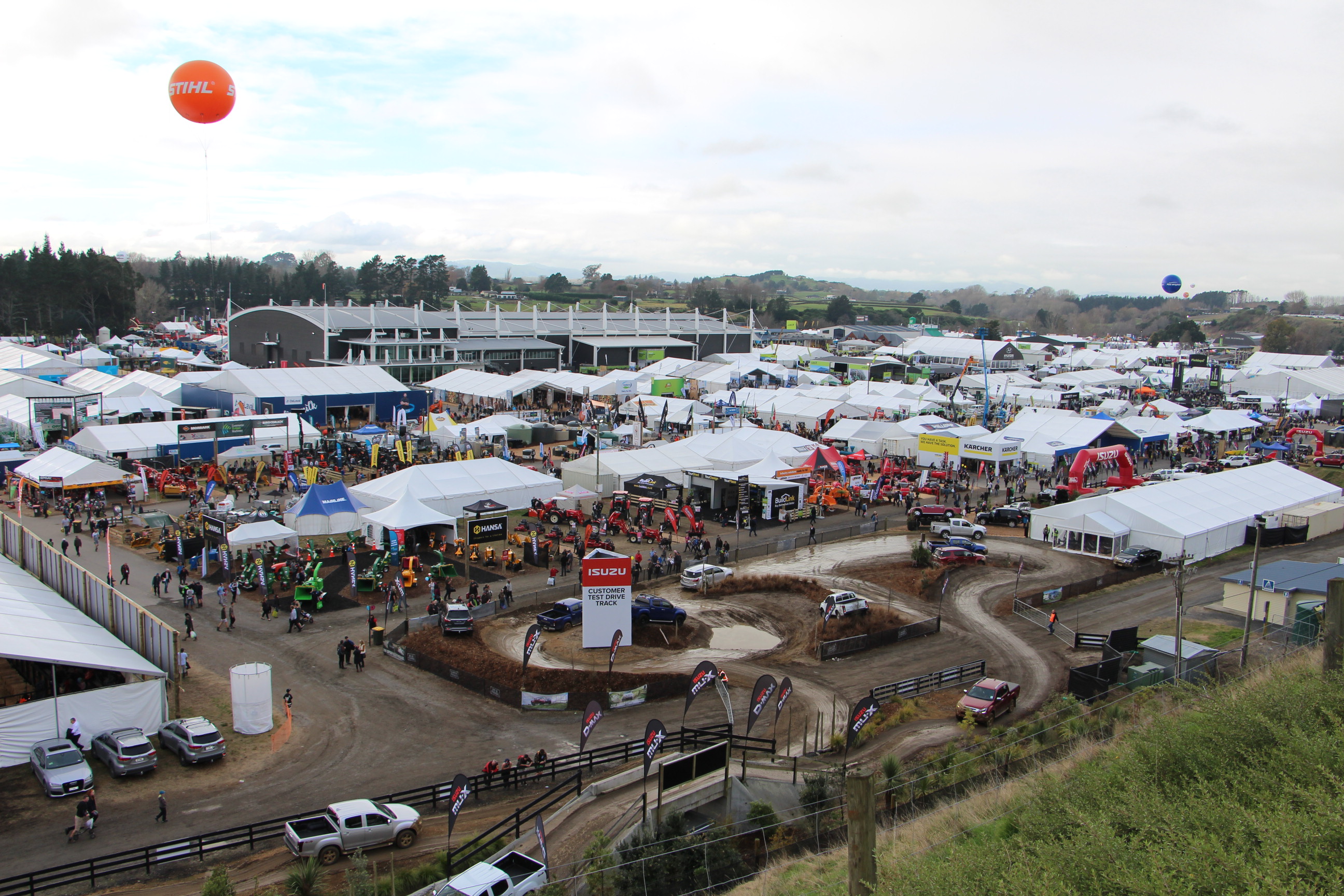 Future Workforce
Waikato's future workforce will be shaped by current global megatrends, including urbanisation, climate change and resource scarcity, shifts in global economic power, demographic and social change, and technological breakthroughs.
The nature of skills needed now and in the future is rapidly changing and the supply of those skills via the Vocational Education & Training (VET) system is yet to fully reflect those needs. Uptake of Industry 4.0 processes in industries such as manufacturing will continue to influence this and intensify the pressure.
The region's demographic profile is changing. The 2018 census indicated that 64% of the Māori population in Waikato was less than 35 years old In the future, Māori will make up an increasing proportion of the working population. Creating more positive learning and training outcomes (and social capital) for Māori will be essential if businesses are to match labour needs with local talent. Waikato also needs its businesses to build their cultural competency levels to ensure they can attract, support and retain a more diverse workforce.
Waikato Region(external link) — Statistics NZ
Urbanisation will continue to drive urban construction across the rohe, with a projected 51,000 houses needed in the region by 2043, according to the Waikato Housing Initiative. However, concern about the scarcity of timber and other materials, and a push for 'greening' the industry suggests that the nature of building will change, and different skills may be required.
Waikato Housing Initiative(external link) — The Waikato Plan
Climate change is having a material impact on those businesses and communities dependent on water and other natural resources. More extreme weather events may require a shift in how Waikato grows and produces its food with a continued push for science and technology driven innovations. In 2019, Waikato had the highest level of emissions of any regions in New Zealand and was experiencing the largest annual increase in emissions. While this reflects the critical role the Waikato region plays in New Zealand's power generation, freight, and food industries, it also highlights the significant disruption the regional economy is likely to face to decarbonise.
The changing global landscape will result in the closure of some previously stable markets and the creation of new ones. This is likely to result in the region's businesses needing to access or carry skills able to pivot into new markets where different languages and cultures exist.
The scale and pace of technology breakthroughs are creating new productivity gains and operating models for those investing in technological advances.