Health workforce case study– Kerikeri Retirement Village
For Cavalli, that pathway is likely to lead to studying medicine at university. "I think the work I'm doing at the moment, helping the team of carers in the Aged Care facility at The Village, will be a really good start to that. Yep – a really good beginning."
On this page
"Helping people is what I'm all about"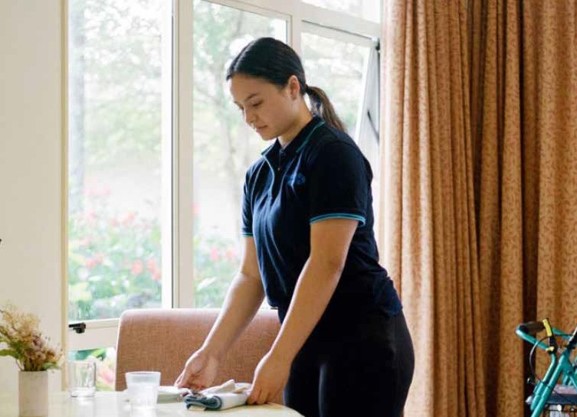 The Kerikeri High School student doesn't consider what she does at the Village as 'tough' work. She helps in the late afternoons and early evenings, setting meal trays and delivering trays of food to some of the residents in their rooms, sorting out laundry and other light duties. When Cavalli started she was buddied up with someone experienced who explained, step by step, what her role entailed.
Basically, I'm here to make life easier for the Health Care Assistants and nursing staff, so they can focus on the hands-on care the residents need."
She says one of the important things you need to work in care "is to actually care".
"It's important to be able to tend to and bond with the residents – they need someone like that." Being a good listener is also important. "I really enjoy listening to their stories and hearing about experiences – they've all had such interesting lives and done such cool things. I've never done anything like that!" For Cavalli, her work in care is as much about job satisfaction as it is about the people she looks after.
I truly get as much out of it as they do.
And for Cavalli, her experience as a Care Support Assistant has confirmed she wants to work in hauora health and is planning on studying medicine. She considers her part time job at Kerikeri Retirement Village an excellent first step in her pathway into health.
We want to acknowledge Hilary Sumpter for opening this new pathway for taitamariki in Kerikeri.