Our story | He kōrero mō mātau
On this page
Then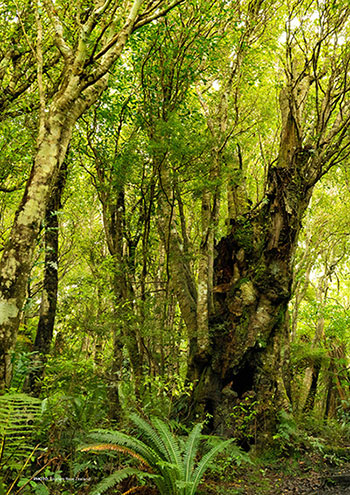 Māori trace their arrival in Murihiku to the chiefs Rākaihautū and Tamatea. Rākaihautū, an ancestor of the Waitaha people, was a commander of the Uruao waka. Tamatea's waka, the Tākitimu, was wrecked near Te Waewae Bay - the Tākitimu Mountains are considered to be the upturned hull of the waka. The early tribe of Waitaha was assimilated into Kāti Māmoe, newcomers from the north, through warfare and then intermarriage. In the early 1800s the Kāi Tahu tribe gradually incorporated Kāti Māmoe.
Story: Southland region(external link) - Te Ara - The Encyclopedia of New Zealand
Murihiku Māori were largely hunter-gatherers, moving between the interior and the coast, with permanent settlements on the coast at Waikawa, Awarua (Bluff) and Aparima (Riverton), and on Ruapuke Island. From late winter into summer, groups moving inland would fish the rivers. Forest birds such as kākā, kākāpō, kererū, takahē and weka were hunted in the Autumn. Hunters caught eels in the rivers and took tītī (mutton birds) from the islands off Rakiura. Year round, the sea provided most food.
European sealers first arrived in the late 1790s, followed by whalers, and from the early 1800s the coastline was a scene of extended contact between Māori and Europeans. By the 1830s, Kāi Tahu had built a thriving industry supplying whaling vessels, looking after whalers and settlers in need, and had begun to integrate with the settlers. In 1836, Tūhawaiki, nephew of Te Whakataupuka, repelled a war expedition led by Te Pūoho, a Kāti Mutunga chief and ally of Te Rauparaha. They intercepted Te Pūoho at Tuturau (near Mataura), killing him and taking many prisoners. Tūhawaiki was now the most powerful chief in the south, signing Te Tiriti o Waitangi (the Treaty of Waitangi) in June 1840.
In 1852 Walter Mantell, one of the early European explorers of the area, bought the Murihiku block (more or less today's Southland) for the Crown from local Kāi Tahu and Kāti Māmoe. Part of the agreement was that schools and hospitals would be provided alongside each Kāi Tahu village; this promise was not fulfilled. The boundaries of the land sold were also not made sufficiently clear, with Kāi Tahu always maintaining Fiordland was not intended to be included in this purchase.
Southland Region(external link) - Wikipedia
European settlement proceeded apace, with the largely Scottish immigrants establishing a thriving primary production-based economy.
Today, the mana of Kāi Tahu, whose takiwā now encompasses the entire Murihiku region, is upheld by the four papatipu rūnaka in Southland Murihiku: Te Rūnaka o Awarua; Te Rūnaka o Wāihopai; Oraka-Aparima Rūnaka; and Hokonui Rūnanga. The Southland Murihiku Regional Skills Leadership Group is proud to be building links to rūnaka in our region, as we work to develop skills and workforce capacity together.
Now
Today, Southland Murihiku has a population of approximately 102,700, 2% of the national population. Invercargill is the region's principal and most populous centre, comprising 55% of the population, with the remaining 32% living in Southland District and 13% in Gore District. In 2021, the mean income was $58,500, below the national average of $65,900. Average current house values were less than half of the national average, with the average weekly rent of $300 significantly less than the national average of $470. There were just under 55,000 filled jobs, with unemployment in Southland Murihiku sitting at 3.5%, less than the national rate of 4.7% (Infometrics, 2022).
For the year ended March 2020, regional GDP per capita was $65,700, slightly above the national average of $64,100.
Which industries contributed to your region's GDP?(external link) - Stats NZ
Southland Murihiku comprises 2% of New Zealand's GDP as a whole - a growth of 2% over the last 10 years (compared to the national growth rate of 3%). The Southland Murihiku economy is powered by small and medium enterprises, with 97% of businesses having fewer than 20 employees, and an average size of 4 filled jobs compared with 4.5 nationally (Infometrics, 2022).
Southland Murihiku's economy is dominated by the primary sector (primarily dairy and sheep farming) and manufacturing. In 2021, these two industries made up 37% of the region's GDP, making the regional economy susceptible to fluctuations in commodity prices. The primary sector has the largest employee count and percentage of jobs for the region, contributing over 22% of Southland Murihiku's GDP. Manufacturing is the region's second largest industry by employee count, job count and GDP contribution.
Regional Skills Leadership Group – Environmental Scan Highlights 2021 [PDF, 3.3 MB]
NZAS Tīwai Point is an important contributor to Southland Murihiku's manufacturing outputs.
Southland Murihiku's high reliance on the primary and manufacturing sectors flows through to other enabling sectors such as transport, wholesale trade and professional services. Tourism is a small but important contributor to Southland Murihiku's economy and has been hit hard by the COVID-19 pandemic. Domestic tourism has helped to plug the tourism deficit during the pandemic but it has only been a partial offset for the pre-COVID international visitor spending. Whilst there is expected to be a general increase in visitor numbers once the borders reopen, international tourism in the region faces serious headwinds in recovery, with only partial recovery expected by 2025.
The Southland Murihiku construction sector was strong pre-COVID, and should continue to hold up relatively well, particularly with the receipt of shovel-ready project funding from central government. Central government has thus far announced $67m of funding for six projects in Southland Murihiku, which with co-funding, are worth a combined total of $327m.
Southland Region post-COVID scenario analysis [PDF, 304kB](external link) - Great South
Many other sectors have been affected by the pandemic in terms of disrupted supply chains, fluctuating demand for goods, population displacement and rising cost of living.
Future
The outlook for Southland Murihiku's economy over the next five years is steady. After a pandemic-related decline in 2021, employment in the region is forecast to grow slowly over the next five years.
A major challenge for the region is the potential closure of the New Zealand Aluminium Smelter (NZAS) at Tīwai Point – a key contributor to regional employment and productivity. However, with every challenge comes new opportunities. A Just Transition Work Plan has been launched for the region as it navigates the possible closure of the smelter. The plan includes three themes that will underpin Southland Murihiku's transition:
Creating new industries and employment
Transitioning workers and skills
Long-term planning
Minimising worker disruption while maximising the opportunities for people to move into decent new jobs will be essential to the effectiveness of the plan. Creating pathways into new jobs through an effective training and education system, and ensuring workers remain connected to the workforce, are crucial to delivering a just transition for our people.
This first iteration of our Regional Workforce Plan (RWP) will consider the future of our region, focusing on the needs of our initial five Pou – the region's food and fibre, manufacturing and engineering, tourism and hospitality, and health care and social assistance sectors. Our initial demographic focus, and fifth Pou, is the needs of rakatahi (youth) in our region. It is important to note that our Pou will evolve over time and we will look to include other key sectors and demographics during the life of the RWP. Our focus will evolve and change as our region, and therefore our plan, evolves and matures. At the core of this plan is guidance to inform investment decisions to help address our labour market issues, whilst harnessing the opportunities in the region over the next 15 years.
Southlanders are rightly proud of their region, their lifestyle, and their ability to welcome new people. Having a thriving labour market will transform the lives of all people living in Southland Murihiku and help embed and sustain our position as a key contributor to domestic GDP – a position woven into the backbone of New Zealand's economy, both now and in the future.