Te rāngai waina | Wine
On this page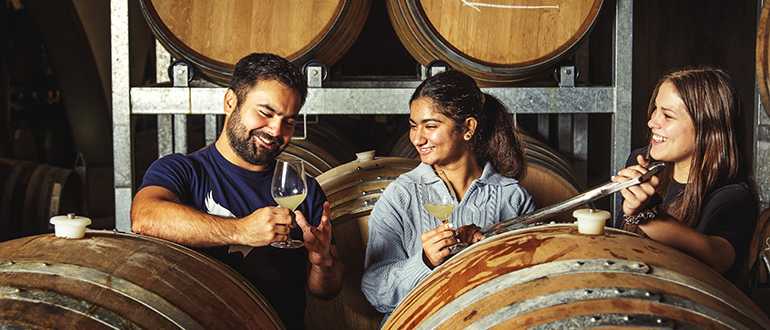 The wine sector is the largest industry in Marlborough and produces around 80% of NZ's exported wines. It is also a large employing sector which accounts (both directly and indirectly) for one in five jobs in the region and contributes to about 20% of Marlborough's GDP. Wine's contribution to the Marlborough economy has grown by 300% since 2000 and continues to grow.
Skills gaps and labour shortages occur as the wine industry's rapid growth outpaces labour supply. With the projected growth the sector needs to ensure that it can both build the capability of the permanent workforce and meet seasonal labour demands. This is across all parts of the sector including bottling, transport and professional services.
Challenges and opportunities
The sector is large with many career opportunities including in many supporting sectors
There is a lot of research occurring locally at Bragatto Research Institute and Plant and Food Research
Underpinning expert manufacturing/engineering sector particularly in equipment and machinery
Technology will play an important role in the sector e.g. move to autonomous vehicles. This will bring new skill requirements.
There is an opportunity to engage with the Agritech Industry Transformation Plan as well as Expert Manufacturing Industry Transformation Plan
Marlborough Winegrowers are committed to developing a regional workforce plan
There is the potential to develop local education offerings through NMIT and Primary ITO
Need to build the capability of the permanent workforce to support the industry's future sustainability and success
Need to address seasonal challenges around labour by looking at all solutions (locals, innovation and migrant labour)
There is large seasonal demand for workers and heavy reliance on temporary and transient labour
Projected growth in plantings will lead to increased seasonal demand and permanent workforce
Difficulty with recruiting staff means some office jobs are moved out of the region
Growers require innovation in mechanisation and an efficient and experienced workforce to maintain the economic benefit for Marlborough.
Cross cutting challenges
Perceptions of industry
Connections between industry and schools
Need to develop career pathways
Lack of residential and short-term accommodation for seasonal workforce.
Immediate actions
Support Wine Marlborough to develop a workforce plan for the Marlborough wine industry in collaboration with Muka Tangata.
Progress to date
Engaged with the wine sector, NMIT and government to explore solutions to address labour shortages. This included short courses and industry open days.
Currently developing a regional workforce plan.