Ahumairangi | Aviation
On this page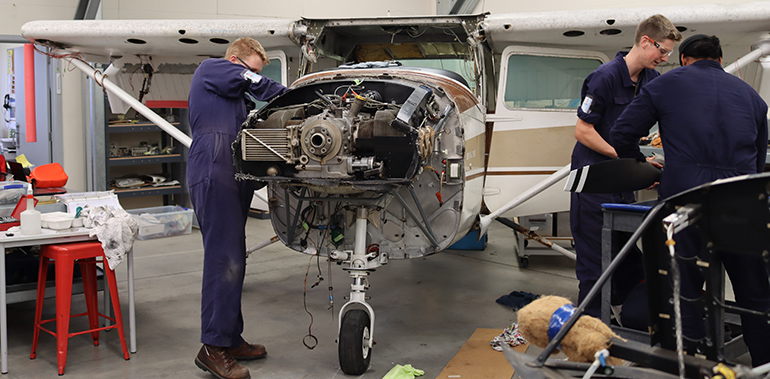 Marlborough has a long and rich aviation history, from the first crossing of the Cook Strait in 1920 to the 2021 first electric aircraft flight across water. There are two distinct hubs. At Omaka we have the Omaka Aviation Centre, aerodrome and aviation related business. We also have a hub around Woodbourne Airbase with the Defence Force (NZDF), airport, NMIT training, Airbus and the airlines.
Aviation is a unique part of the Marlborough story, and we've heard that people are attracted to live in Marlborough because of this.
There is a skilled and strong workforce which supports our planes, with Airbus providing highly skilled and specialist support to both the air force and Air NZ.
Challenges and opportunities
The sector provides high skilled roles in the region and attracts people to the region
The Omaka Aviation Heritage Centre and the Classic Fighters Omaka Air show are large tourism attractions for the region
NMIT's aviation engineering training is the only public training nationally. Maintenance engineers are an identified skills shortage
NZDF's fleet upgrade will mean the new, larger planes will unlikely be able to land at the Marlborough airport given the current runway size. This will impact the current aircraft maintenance and engineering workforce who are specialised in servicing these planes and will require upskilling
There is a move to low emission planes. Sounds Air has indicated that it will start flying electric passenger flights by 2026. Air New Zealand and Airbus have also launched a zero-emission aircraft project that focuses on the use of hydrogen planes.
As companies start to transition to low emission aircrafts, this will bring with it new requirements for skills across a variety of roles
There are constraints on how the land around Woodbourne is used. The majority of the land at Woodbourne is owned by the Crown and leased by different parties, including the Marlborough Airport and Airbus. Consent from the Crown is required before any building work takes place.
The aviation engineering course is run on the air force base. This limits the type of students that can enrol due to security requirements, precluding international students or anyone with criminal convictions.
Cross cutting challenges
Connections with schools
Local knowledge of the career and training opportunities
Career pathways.
Immediate action
Support formation of a group to discuss the development of an aviation workforce plan
Progress to date
Sector meeting as part of stakeholder workshops.
No regional workforce plan.
Key regional facts
Filled jobs
500-1000
GDP
Unknown
Skills
High skilled
Local training
NMIT aviation engineering
Pilot licence training – Marlborough Aero Club
Migrant labour
Unknown
Demographics
Unknown
Future growth
Change in skills required – new planes and also changing engines
Relevant plans
N/A