Our organisation
MBIE is a large ministry with an ambitious and rewarding purpose – to Grow New Zealand for All. Everything we do at MBIE is about growing our economy and improving the lives and living standards of New Zealanders.
On this page
As a large agency with eight different business groups, we are committed to working towards delivering an integrated approach to both regulation and service delivery that leverages our size and scope.
MBIE's size, scale and reach means we are well positioned to meet challenges to New Zealand's wellbeing and growth. This has served us well over the last year, and remains critical going forward.
We are able to make the most of our scope and scale to deliver on significant government priorities with agility and pace.
Our role
We are leaders, advisors, investors and regulators. We are one of the lead economic agencies and advise on business, sector and regional development. We invest in provincial growth, science and technology, digital communications and new and innovative research. We regulate to protect consumers, workers, businesses and those who arrive on our shores.
We believe that success is built on partnership. We embrace opportunities to collaborate with other government agencies, recognising the spirit of service to the community we share as public servants. We also appreciate the support we receive from a wide range of organisations and individuals outside of government.
We work in partnership with 26 Crown entities providing oversight and support.
Crown entities we partner with
We work across the breadth of government – from early identification of issues, policy development, regulation, service delivery, and dispute resolution, through to monitoring.
We take our stewardship responsibilities seriously and always provide free and frank advice to government.
We are the functional lead for the government's property and procurement function. We help government agencies deliver better public services for better value.
Our statutory and operating framework
During the 2019/20 financial year MBIE was the lead agency in supporting 13 portfolios, and the appropriations we administered in 2019/20 covered 18 portfolios as detailed below. MBIE's ownership minister, the Minister for Economic Development, is accountable to Parliament to ensure we carry out our functions properly and efficiently. MBIE's Chief Executive is accountable for the leadership and overall performance of the organisation.
MBIE's Votes and Portfolios – 2019/20
Vote
Portfolio

Business, Science and Innovation

Broadcasting, Communications and Digital Media

Commerce and Consumer Affairs

Economic Development

Energy and Resources

Infrastructure

Māori Development

Regional Economic Development

Research, Science and Innovation

Small Business

State Services

Tourism

Building and Construction

Building and Construction

Greater Christchurch Regeneration

Housing

Labour Market

ACC

Employment

Immigration

Workplace Relations and Safety
Senior Leadership Team (SLT)
MBIE's SLT ensures we focus our efforts and resources in the right areas at the right time. It also works to establish systems and processes so MBIE can perform effectively.
| Person | Role |
| --- | --- |
| Carolyn Tremain | Chief Executive |
| Chris Bunny | Deputy Chief Executive Building, Resources & Markets |
| Suzanne Stew | Deputy Chief Executive Market Services |
| Greg Patchell | Deputy Chief Executive Immigration |
| Paul Stocks | Deputy Chief Executive Labour, Science & Enterprise |
| Robert Pigou | Head of the Provincial Development Unit |
| Megan Main | Deputy Chief Executive Ngā Pou o Te Taumaru |
| Joanne Hughes | Deputy Chief Executive Strategic Policy & Programmes |
| Stewart McRobie | Chief Financial Officer |
| Oliver Valins | Head of the Chief Executive's Office |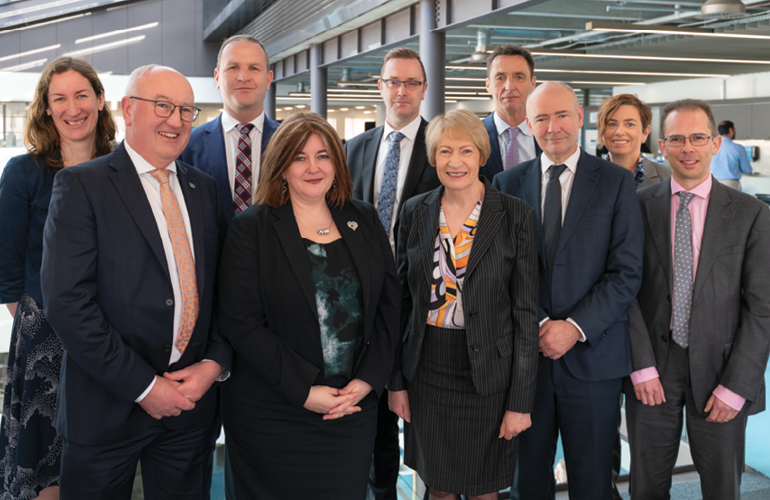 Mana Whakaruruhau – MBIE's governance system
During 2019/20, MBIE's governance structure included a number of subcommittees and advisory boards designed to support the SLT to strategically govern MBIE and to make effective and informed decisions. During 2019/20 our internal governance boards were as follows:
Finance sub-committee
Risk and Advisory committee
Investment Board
Regulatory Governance Board
Policy and procedures sub-committee
Wellbeing, health, safety and security committee.
MBIE's SLT approved a new governance structure in June 2020, effective from 1 July 2020. The new structure provides the architecture through which we will deliver our Organisational Strategy, Te Ara Amiorangi. It provides a place for us to:
determine what the Government and New Zealanders need from us
seek assurance that MBIE is on track to deliver our outcomes
provide kaitiakitanga, or stewardship, of MBIE.
Managing risk
Managing risk is an integral part of our business. It helps us to clarify goals and objectives, identify what might stand in the way of their achievement, and to take appropriate actions to mitigate those risks. We are committed to developing and embedding risk management into our culture, governance, business planning and decision-making processes.
Our Risk Management Policy and Framework collectively express the way we manage risk at MBIE. The Risk and Advisory Committee provides independent, objective advice on our Risk Management Framework and insight on risks and how MBIE is responding to these.
Managing risk is the responsibility of everyone at MBIE, and our people are supported in this by our Enterprise Risk and Compliance team. Our Internal Assurance team provides independent assurance to our Chief Executive and the Risk and Advisory Committee that our risks are being managed effectively. They reviewed a number of areas this year and provided real time assurance to our SLT during the COVID-19 lockdown. The role of the Enterprise Risk and Compliance and Internal Assurance during the COVID-19 lockdown was evident in the support they provided to the SLT both in identifying and managing risks.
Our culture
At MBIE, our way of working and our behaviour is guided by our values, which help create an inclusive culture.
Work continues on embedding our values which provide us with a common language that guides our way of working together. They define how our people will behave towards each other, our customers, the partners we work with, and how we work to serve the people of New Zealand.

Our values are:
Māia – Bold and Brave: We are curious and strive to be innovative, challenge the status quo and explore new ideas.
Pae Kahurangi – Build Our Future: We learn from the past to shape the future and listen to lead the way.
Mahi Tahi – Better Together: We will work more collaboratively, sharing our knowledge, treating each other with respect and connecting with others in the public sector and with our communities.
Pono me te Tika – Own It: We will take responsibility for our decisions and actions and be accountable to ourselves and to the public we serve.

Spirit of service: Alongside our values, MBIE's culture embraces a spirit of service. Spirit of service is about respecting the experience of others, delivering our services to grow New Zealand for all and working together (Mahi Tahi) with other public sector agencies to achieve shared outcomes that make the biggest difference for New Zealanders.
Our people
Our people are our greatest strength. With over 5,000 people as part of our whānau, we want to make sure MBIE is a great place to work. Our organisational priorities ensure we keep our people safe and well, make them feel a valued part of the team, and nurture their spirit of service. We are committed to developing people and skills.
We are committed to having a positive health, safety and wellbeing culture backed by sound practices, policies and procedures. We want everyone to enjoy work and go home safely every day. Our Ora strategy and work programme addresses mental and physical health issues, including bullying and harassment, fatigue, drugs and alcohol misuse, and stress and health monitoring, along with a particular focus on the management of critical risks. Our Te Puna Ora hub provides a range of supporting materials and access to help.
At MBIE we believe an inclusive environment recognises, values and respects the differences of our people, allowing everyone to be the best they can be. We strive to reflect, embrace and nurture the communities we serve and want to provide an environment for our people to be their unique selves, celebrate their differences and leverage diversity.
Further information on our Inclusion and Diversity (I&D) and Wellbeing, Health and Safety (WHS) programmes is provided on the following pages.
Wellbeing, Health and Safety (WHS)
Our Career and Pay Progression (CAPP) framework was jointly developed with the Public Service Association and launched in October 2019. CAPP includes a steps-based pay framework that focuses on lifting competency and capability in our workforce. In line with Government expectations, the framework aims to deliver across four key pay outcomes:
closing the gap between highest and lowest earners
ensuring rates of pay are included in collective agreements
moving away from performance-related pay and towards a focus on lifting competency and capability
providing a good foundation to support MBIE's gender pay action plan.
Inclusion and diversity (I&D)
We want MBIE to be a safe and inclusive place to work where people have a strong sense of belonging, are comfortable bringing their whole selves to work, feel safe to raise concerns around non-inclusive behaviour, and are supported in their opportunities for growth.
We have refreshed our I&D strategy, and our programme of work is focused on three work programmes – People, Environment and Policies – to lay strong foundations and build an organisation that reflects, embraces and nurtures the communities we serve.
We continue to encourage our employee-led networks to create opportunities for our people to engage, learn and play a role in creating an inclusive and diverse workplace. Our networks include:
Ngāi Kahukura, Rainbow Network
Women in Leadership
Te Aumangea, Mental Health Network.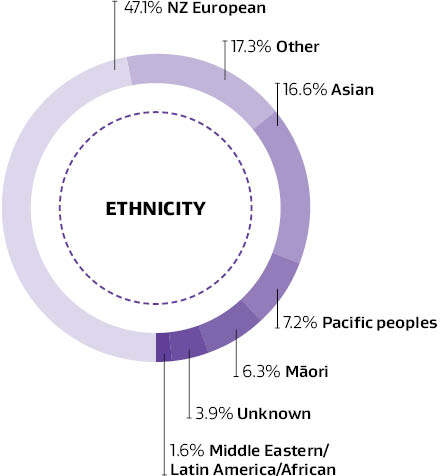 Note: Based on permanent and fixed-term employees as at 30 June 2020. The data excludes employees on leave without pay and parental leave, casual employees and locally engaged staff based offshore.
Text version of information about MBIE staff ethnicity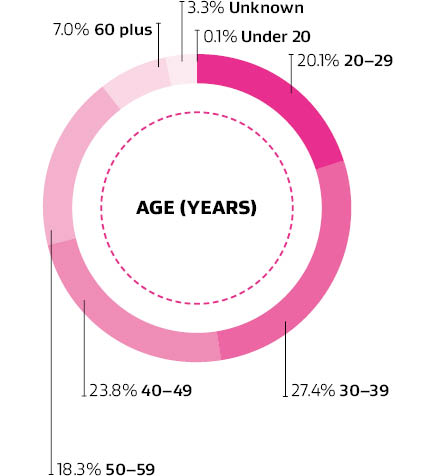 Note: Based on permanent and fixed-term employees as at 30 June 2020. The data excludes employees on leave without pay and parental leave, casual employees and locally engaged staff based offshore.
Text version of information about MBIE staff age
Our Gender Pay Action Plan was finalised in May 2020 and we are working towards closing the gender pay gap in same and like-for-like roles by December 2020. MBIE's overall gender pay gap has been steadily reducing from 20.2 per cent in June 2016 to 15.6 per cent in June 2019. As at 30 June 2020, the overall gender pay gap stood at 13.8 per cent. Women make up 61.5 per cent of our employees.
We are committed to the Panel Pledge. Last year, MBIE's Chief Executive, Carolyn Tremain, signed the Panel Pledge, pledging to actively consider diverse voices when asked to participate on panels or at any speaking engagements.
Our refreshed I&D strategy and structured work programme builds a more inclusive culture which is driven by our values and has a bicultural lens. This follows last year's I&D survey results. Our work programme is strongly focused on addressing the five Papa Pounamu priority commitments to:
address bias and discrimination
strengthen cultural competency
build inclusive leadership
develop relationships that are responsive to diversity
support and engage with employee-led networks.
We have run several People Experience Hubs to understand the experience of our different population groups and identify actions we can take to remove barriers to inclusion.
We are working towards having more accessible and timely information related to I&D on Te Taura (our intranet).
We are developing an MBIE I&D learning programme and internal communications campaign to raise awareness and strengthen cultural competency with Reflect, Embrace and Nurture serving as our guiding principles. Mana Āki is a foundation-level intercultural competence learning programme, developed by MBIE, New Zealand Police and the Department of Internal Affairs with the Open Polytechnic. It was piloted in 2019 and received international recognition at the OECD's High-Level Policy Forum on Migration and Integration in Paris in January 2020. The programme is being rolled out across MBIE in the second half of 2020 and will be made freely available to the wider public sector. In addition, we have been delivering inclusive leadership sessions at the New People Leader Orientations over the last year.

Our employee-led networks (Rainbow, Mental Health and Women in Leadership) are all sponsored by a senior leader. The networks help our people to connect, create opportunities for our people to engage and learn about topics relating to their network, and allow people to advocate for the needs of their network members.
We are committed to the Accessibility Charter and continue to work towards making sure all our information intended for the public is accessible and that everyone can interact with our services in a way that meets their individual needs. MBIE responded to the changes in the New Zealand Government Web Accessibility Standards through training and education of staff working in the digital channels areas, and our policy and service design guidance makes explicit reference to I&D in co-design with our business groups. In terms of our workforce, our commitment to the Charter is part of our I&D strategy. MBIE is committed to reasonably accommodating the needs of people with disabilities and supporting their health and wellbeing; this is underpinned by our WHS policy and standards.
Wellbeing, health and safety
Ora – our Wellbeing Strategy – aims to improve the overall wellbeing and health of our people at MBIE. Balanced and healthy individuals combine to create healthy teams, which lead to healthy organisations that are more productive. Good health in all aspects is central to our overall wellbeing.
Improving the wellbeing of New Zealanders begins with improving the overall wellbeing of our people. Creating a safe, inclusive workplace at MBIE where our people are supported to be the best they can be aligns to our people-centred approach to shaping our culture. This, underpinned with MBIE's values, will help us to deliver on our purpose, to Grow New Zealand for All.
MBIE has made good progress in the last year to raise awareness, increase understanding, provide better support and develop new tools to drive better outcomes from a WHS perspective. Our goal is to lift the bar to new levels.
In 2019, MBIE achieved Secondary Level accreditation as a member of the ACC Employers Programme. We continually look for ways to improve with the aim of achieving Tertiary Level.
Over the last year, MBIE has conducted critical risk reviews around the country. We actively monitor critical risks by collating information from training records, incident reports, smart tools such as iAuditor and GetHomeSafe, and the National Communications Centre. Monthly reports are prepared for all branches of MBIE that have front-facing or field workers, outlining the number and trends of critical risk work activities undertaken. We have also begun tracking causal factors via the Zambion incident reporting tool for all incidents involving critical risk. This will help us identify underlying causes and will ultimately provide vital information regarding the implementation of useful controls.
Over the last year, MBIE carried out the following work towards managing critical risks:
Driving: This is viewed as MBIE's biggest critical risk. Our efforts have been centred on developing a better understanding of the causal factors behind driving accidents and near misses so we can continue to put appropriate protocols and programmes in place.
Violence and aggression towards our people: A comprehensive training programme has been established for MBIE people in roles that potentially expose them to threats of violence and aggression. We have started to include specific reporting mechanisms of abusive and threatening telecommunications, such as those that occur in our service centres, with a view to identifying any trends in this risk profile.
Our response to COVID-19 has driven a range of controls being introduced to support our people. This has included strict daily health check protocols for our border teams, including appropriate use of personal protective equipment and people self- isolating if they show any signs of illness or pose any risk of spreading the virus.
Work is also underway to strengthen controls around psychological harm. Regular information has been provided to people regarding the effects of psychological harm and how to minimise and respond to it.

Our workers engage in WHS through a variety of roles and ways. A network of over 280 WHS worker representatives and over 80 WHS manager representatives are trained and supported to champion WHS issues across the country, in addition to trained first aiders and floor wardens. All MBIE people have access to a WHS representative at their site. Site subcommittees meet monthly.
There are three work group subcommittees comprised of representatives from our field, front-facing and office workers. Three WHS representatives from each of these work group subcommittees attend the quarterly meeting of the Health, Safety and Security Steering Committee. The Health, Safety and Security Governance Committee provides strategic direction to the Steering Committee.
Our Te Puna Ora intranet pages provide a wealth of useful practical information for staff on how to manage their wellbeing and where to go for help.
The following incidents, grouped by type, were reported:
| Type | 2019/20 | 2018/19 |
| --- | --- | --- |
| Incident reports related to our critical risks | 240 | 224 |
| Events resulting in injury | 154 | 179 |
| Events with no injury or superficial injuries | 46 | 55 |
| Work-related Accident Compensation Corporation (ACC) claims | 71 | 68 |
| Incidents requiring notification to WorkSafe New Zealand under the Health and Safety at Work Act 2015 | – | – |
| Early report pain or discomfort reports | 705 | 457 |
| Near miss | 283 | 285 |
Grow New Zealand – Hīkina Whakatutuki
What success looks like.
Economic performance: productive and sustainable use of resources across New Zealand.
Participation: people are confident to participate in fair and thriving markets.


Prosperous and adaptable people, sectors, and regions
People are skilled and engaged in safe and fulfilling work
Informed consumers and businesses interacting with confidence
Value is sustainably derived from the natural environment
A dynamic business environment fostering innovation and international connections
Crown entities we partner with
We work in partnership with 26 Crown entities providing oversight and support.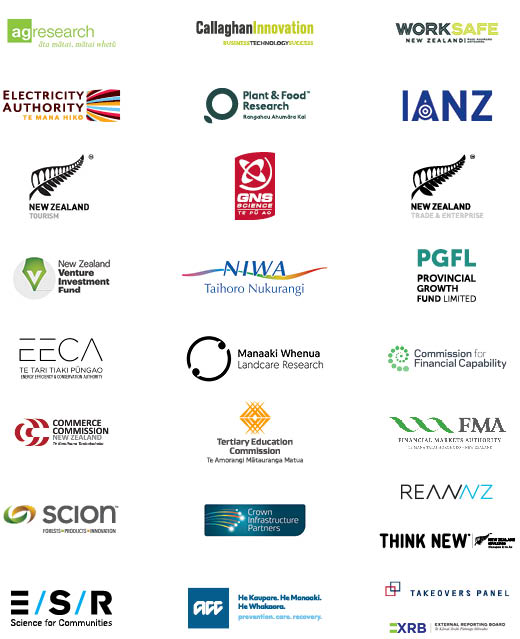 Text version of Crown entities we partner with
Last updated: 27 July 2021