Awarua's "Dishmaster" explains the importance of satellite ground stations
Robin McNeill, Space Operations Manager at Southland's Awarua Satellite Ground Station (SGS) heads Great South's space programme. He was born between the launch of Sputnik and Gagarin's first space flight and believes that starting life between these momentous events meant he was always going to take an interest in space.
On this page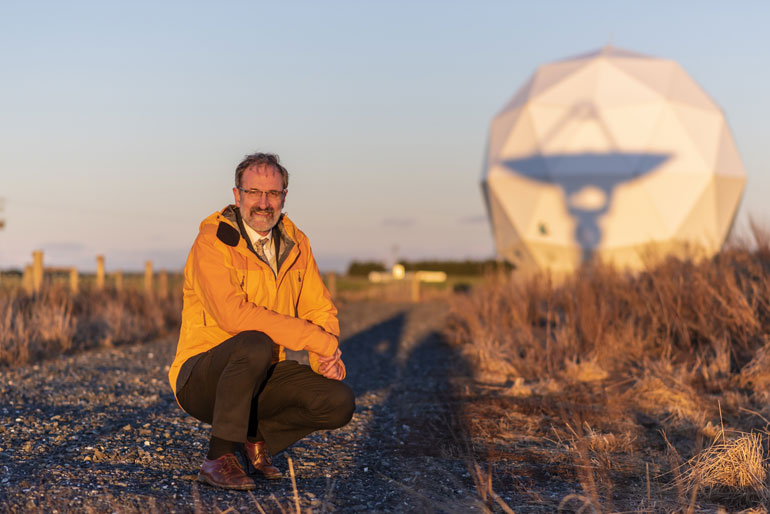 A pretty cool job
Mr McNeill was particularly fascinated with the first photographs of Earth taken from the Apollo moon missions. Like the Apollo astronauts he was struck by how fragile the Earth looked and realised that space was often more about the Earth than space itself.
Mr McNeill's background is in telecommunications and, amongst other things, he has helped build satellite ground stations from Antarctica to Tokelau. Now, many years on, he has built himself "a pretty cool job" — primarily as the "Dishmaster" at Awarua Satellite Ground Station (SGS), located between Invercargill and Bluff.
The perfect location
Awarua is the perfect location when it comes to establishing a satellite ground station. It's as far south as you can usefully get, and it's very flat, underpopulated and without radio interference.
Built in 2008 with the French Space Agency for the European Space Agency's ATV campaigns, Awarua SGS now hosts facilities supporting satellite missions and launch campaigns for international space agencies and 'all the big players in the small-sat world', including Rocket Lab, New Zealand's very own commercial launch provider on the Mahia Peninsula.
Supported by a team of professionals
Space operations engineers need to know the health of their satellites and be able to make any necessary on-board adjustments. Scientists and data users need to download data collected by sensors in the spacecraft. This is where satellite ground stations come in; at strategic locations around the world, ground station antennas provide the necessary communications with spacecraft.
"Without ground stations nothing else works," says Mr McNeill.
Ground stations may not be the sexy part of space, but they're critically important. If something goes wrong, we can be the first to know and it's often up to us to come up with solutions.
Getting ground stations built is not a straightforward process. At Awarua SGS professional engineers, skilled technicians, riggers and IT specialists provide the specialist engineering support that's needed, along with builders, and local crane and plant operators.
Demand for services is growing
"We're about to build a ground station near Whangarei to host yet more antennas," says Mr McNeill. "The site's latitude makes it capable of supporting Lunar Gateway, NASA's proposed home base for missions to the moon's surface, as well as extending our reach into the Pacific."
Mr McNeill says that Great South is working up the value chain. Their new 3.7 metre antenna has just been officially opened and, working with the University of Auckland, his team will provide the space operations for the university's upcoming APSS-1 satellite. A multi-mission operations centre in Invercargill is being established to assist with this exciting new venture and also a much larger project that is still under wraps.
Great South is also home for two post-graduate students from the University of Canterbury's rocketry group, which means that Great South sometimes supports launch campaigns from its own back yard.
"School and community outreach has always been a rewarding part of our work. Exciting students about space is always a lot of fun and you can learn a lot from the students."
Last updated: 19 October 2020