Future state 5: Navigating our future
The visitor economy is underpinned by the data, technology and science needed to enable transformation.
On this page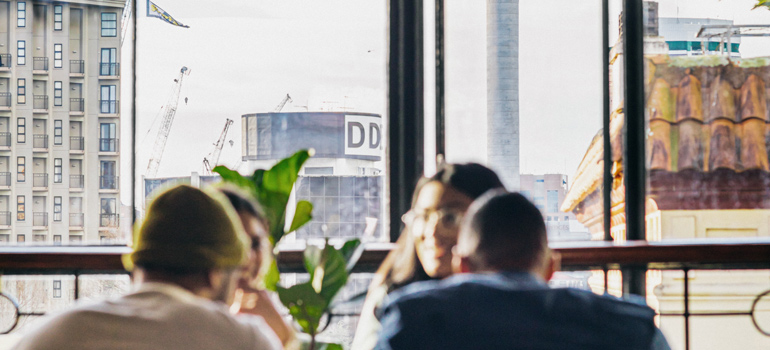 Research, data and technology are critical enablers of an optimised networked system. Data allows us to identify and respond to issues quickly; monitor and maximise performance outcomes within the framework of the 4 wellbeings, and enhance the visitor experience. It is critical both locally for destination management and planning; and centrally for decisions relating to funding, marketing, policy development and planning.
Data must be a public good asset as well as being useful for commercial enterprise, which generates a private benefit. Taking a researchbased and science-led approach improves engagement and efficiency, and adds credibility to decision-making and investment.
We must collaborate with other related sectors to leverage their knowledge and investments. Innovation must not only support new product development in the sector; it must also support all aspects of the 4 wellbeings and help find solutions to achieve zero emissions, address negative environmental impacts, and improve the efficiency and productivity of the system.
Future state 5 - Recommendations
As well as the government implementing the recommendations that were established through The Tourism Information and Data hui (2019), to enable this desired Future State, we recommend:
5.1 Information – Ensure the Government invests in data collection to properly understand the use of public infrastructure and assets
There is a compelling public interest in having accurate information and understanding about visitor behaviours, and their use of public infrastructure and assets. This information should be shared in an open and collaborative manner so that it can be used for the betterment of the visitor economy; for example, by addressing issues of congestion, driver behaviour, and climate change impacts. Ways of gathering this data should include using new technologies, a national app and/or nodal monitoring.
5.2 Data framework – Develop a system-wide shared data framework led by government
The creation of an interoperable open-access framework is needed to enable broad use of data within and across the visitor industry system. This could include a centralised data warehouse which can be accessed and used by all actors in the visitor economy system. This type of open-access data framework might, for example, be used to develop an understanding of the full value of visitor activities. This data framework should be co-governed by government and industry and be accessible to all, and because of its public-good nature, should be funded by government.
5.3 Innovation – Create an investment fund to drive science-based innovation
The development of a framework and investment fund is needed to drive innovation that supports efficiency and science-driven decision-making. This framework and fund could work in a similar way to Callaghan Innovation and enable access to research grants; research and development tax credits; and innovation funding to address issues such as emissions reduction and research including sustainable aviation fuels, local Aotearoa New Zealand carbon offset schemes, and new visitor industry product development.
5.4 Research – Include tourism within the Government's national statement of science investment
The right conditions and environment need to be provided to ensure Aotearoa New Zealand's academic talent can deliver science and research services to the local visitor industry. This would enable better decision-making and allow tourism research to be integrated with scientific work to develop other local industry sectors. As a first step, a tourism research road map should be created to identify a set of clear research priorities and opportunities.