Healthy communities
With its growing population, there is increasing demand for health services across the Waikato region. COVID-19 has illustrated the need and opportunity to recruit, retain and up-skill the health workforce, starting at the local and community levels.
On this page
More workers are needed at all levels, and over the last 2 years, the region has struggled with border closures, due to a high reliance on migrant labour, especially among Registered Nurses and GPs. With a high female skewed workforce (79% of the sector workforce is female versus 46% for the overall Waikato workforce), and a high level of migrant workers (in 2018, 25.4% of the sector workforce were not born in NZ) there are opportunities to introduce new workers into the Health and Care sector (Infometrics Ltd. (2022). Waikato RSLG Area - Health Workforce Report. Informetrics Ltd).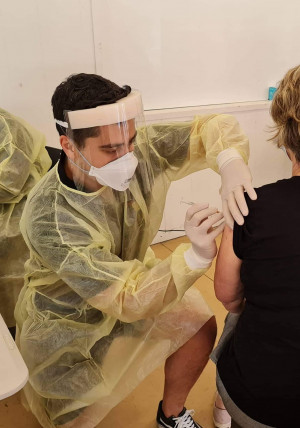 COVID-19 stimulated innovation in the development of an unregulated health workforce who helped increase capacity, through offering vaccinations and testing. There is community support for further local innovation, and Hauraki Public Health Organisation will be one of 9 local health pilots nationally.
Health Reform - Govt ensures local say in health services(external link) — Beehive.govt.nz
Health care and social assistance is second largest employing industry across the Waikato, representing 23,500 jobs (11.1% of total jobs), and strengthening this workforce is crucial to supporting and maintaining health and wellbeing across the region. Māori health providers across the region have voiced that they would like the health reforms to include a focus on wellbeing and decent work for the health workforce. This would require adequate staffing, and could be supported by coaching, aimed at preventing worker burn-out.
The Waikato RSLG will explore these challenges and opportunities further and plans to engage with the health sector for the 2023 Regional Workforce Plan update. Regional stakeholders have suggested potential future focus areas including:
Addressing the lack of rural GPs and nurses.
Creating ongoing training and career opportunities for unregulated healthcare workers through micro-credential development.
Increasing the mental health training and service delivery across the Waikato.
Working with primary health care organisations to identify capacity building opportunities that support trainee staff in securing and maximising their work placement programme.
Consider gender and broader sector appeal factors to work in partnership with sector leads to encourage more young people to enter the Health and Care sector.
Consider a pilot programme using the Medical Academy model developed by Te Puna Ora o Mataatua; that provides employment pathways and professional development for over 150 people a year into jobs across the Health and Medical sector.