Our region – Powerhouse of Aotearoa New Zealand
Tāmaki Makaurau is the Māori name for the Auckland rohe, meaning 'Tāmaki desired by many', which stretches across Auckland isthmus, around Waitematā and the Manukau harbours, the Waitākere and Hunua ranges to Kaipara Harbour.
On this page
Tāmaki Makaurau,
Tāmaki Herenga waka,
Tāmaki Herenga tāngata e

Tāmaki desired by the multitudes,
Tāmaki the gathering of many waka,
The gathering place of many people and cultures.
It is the region's natural resources and geography (including strategic vantage points, portage routes, and mahinga kai) which first attracted Māori.
Tāmaki Makaurau is Aotearoa New Zealand's most populous and culturally diverse region. It is home to over 120 different ethnic communities. This plan reflects the whenua, people, economy and business, and sets out a vision to promote an environment in which high-quality jobs can flourish.
The Auckland Plan 2050(external link) — Auckland City Council
The roots of Tāmaki Makaurau as a commercial and trading hub can be traced back to the time when Maui explored the Pacific, testing the boundaries of known reality to look for fertile land and waters to nurture future generations. For over 700 years following the Great Migration, Māori in this area cultivated and used the natural resources of the moana (the 3 harbours of Kaipara, Manukau and Waitematā), ngahere (forest) and whenua (land) to sustain whānau and trade.
The next migration was of European settlers, again attracted to the fertile land and harbours, many seeking better lives for themselves and their families. Local iwi and Māori prospered, recognising and seizing new business opportunities. In this golden age of the Māori economy, Māori dominated the trade landscape with their ships exporting across the Tasman, some financed by the first Māori-owned bank, Te Peeke o Aotearoa, established by King Tawhiao. After the signing of Te Tiriti o Waitangi (Te Tiriti), Auckland was established as the colonial capital on land purchased from Ngāti Whātua. Māori agriculture from across the region fed towns and was traded domestically and offshore. Māori were "landlords, farmers, graziers, seamen, ship owners and labourers".
Ahuwhenua – Māori land and agriculture(external link) — Te Ara Encyclopedia of New Zealand
Tāmaki Makaurau then became a military stronghold for the colonisers invading Māori land. Māori-controlled ports were blockaded leading to the collapse of Māori trade, and Māori were stripped of core assets and land, corroding their economic independence. Māori business went into rapid decline. Throughout the late 1800s, new legislation enabled the Crown to purchase and confiscate 1.2 million acres of Māori land across the region. Successive legislation systematically stripped Māori of their whenua, resources, freedoms, language and identity. The state removal of Māori resources meant Māori were structurally disadvantaged and increasingly destitute with declining economic, health, education, social and political status, autonomy and sustainability.
As their prosperity declined, Māori moved to cities in search of employment and opportunity. In the fifty years to 1986, the Māori population shifted from being 83% rural to 83% urban. This exodus exacerbated the loss of economic privilege, whenua, identity, language and tikanga. Few Māori went into higher education, which left most in low-skilled, low paid occupations. Limited levels of home ownership and restricted access to capital led to fewer Māori-owned businesses. Urban Māori became an exploitable and exploited resource.
People of Pacific ethnicities have a long history of settlement in Tāmaki Makaurau, with migration from across the Pacific taking place throughout the past 150 years. There have been 2 significant waves of Pacific migration to Tāmaki Makaurau. During the 1960s, young Pacific men answered the call to fill labour shortages in the agriculture and forestry sectors, and young women as domestic workers. In the early 1970s, a second wave from across the Pacific helped meet the acute labour shortage in the manufacturing industry. Later that same decade, the oil crisis and economic recession saw many targeted as overstayers. In 2021, the Government offered a formal apology for the Dawn Raids, describing the raids as discriminatory.
The dawn raids explained: What drove the Government to target Pasifika people(external link) — Stuff.co.nz
Government offers formal apology for Dawn Raids(external link) — Beehive.govt.nz
More recently, Tāmaki Makaurau region's Asian population has experienced rapid growth. In 1991, only 5% of residents identified with an Asian identity. By 2018, this proportion had increased to 28%.
The Tāmaki Makaurau region's land and harbours were attractive to those seeking better lives for themselves and their children. Many came initially for tertiary study, and then settled in the region afterwards. Asian people are over-represented among those with overseas secondary school qualifications and higher level of formal qualifications overall.
Tāmaki Makaurau remains a place desired by many. However, given the history of colonisation and the use of Pacific and other migrant groups as sources of low wage labour, structural inequities in the region's labour market have been created that the RSLG will address in the next iteration of the plan.
The Auckland Council's unitary region was created following a Royal Commission in 2010, and now includes a governing body and 21 elected local boards (see map). As Aotearoa New Zealand's only global city, and its development as a centre for trade, the region's economy has diversified.
The Auckland Plan 2050: Pacific Auckland(external link) — Auckland City Council
The Auckland Plan 2050: Auckland's Asian population(external link) — Auckland City Council
Local Government Arrangements in Auckland(external link) — Local Councils
Auckland Council wards boundaries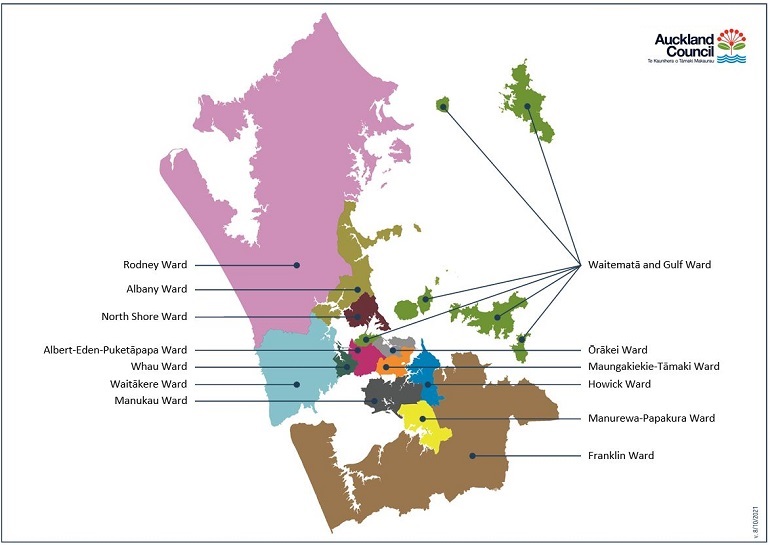 Text description of graphic
The economy and labour market now offers the scale, clustering and depth that creates commercial and industrial opportunities, and attracts highly specialised global talent and investment. This means further capitalising on Tāmaki Makaurau region's knowledge-intensive employment, which is by far the largest compared to any other region nationally, employing over 190,000 people. Tāmaki Makaurau's knowledge intensive workforce has a predominant role for creating economic activity towards employment in deep tech. For example, Rocket Lab and HelicoBio, represent the potential for a greater share of the nation's economic output and employment, as well as the source of future productivity growth for Tāmaki Makaurau and Aotearoa New Zealand.
The deep tech labs designing our future(external link) — The Spinoff
Knowledge intensive employment levels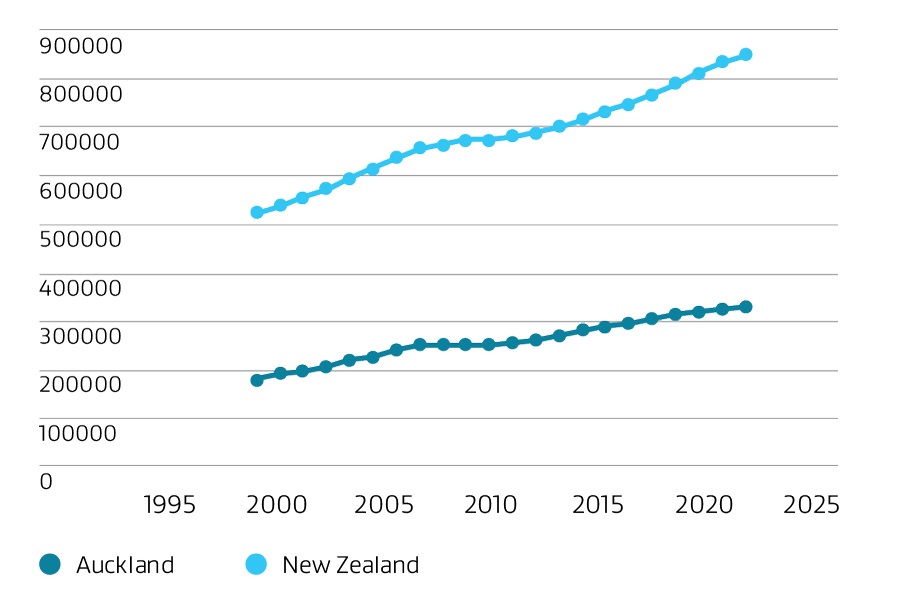 Text description of chart
The region's labour market remains extremely tight, with record low unemployment rates. As underutilisation continues to fall, there is a widespread labour market stretch. This is partly due to business expectations of considerably weaker net migration and limited availability of skilled workers, especially in the Health, Technology, Manufacturing and Construction sectors.
Statistics NZ projects that Tāmaki Makaurau will account for about half of Aotearoa New Zealand's population growth between 2018 and 2048, with a population increase of 648,000 from just over 1.7 million to just over 2.3 million, according to its medium projection. Tāmaki Makaurau's population is projected to reach 2 million in early 2030.
Auckland Stats NZ Population Estimates 2030(external link)
Tāmaki Makaurau region's scale means it can support higher education and nurture highly specialised businesses across a range of industries, such as healthcare and research. This education and employment offering could attract young people to the region from across Aotearoa New Zealand, and particularly the upper North Island, given its low unemployment and underutilisation averages. Even in times where employment growth has slowed, it has been due to low labour force growth, rather than a lack of demand.
At the same time, the cost of housing relative to income has seen an increase in working-age families leaving Tāmaki Makaurau for other regions. Tāmaki Makaurau continues to experience a range of workforce challenges, including the need to align education and skills planning and investment which reduces inequalities in earning and employment levels and skills shortages for businesses. The RSLG looks to tackle these gaps in education, skills and job outcomes such as high youth unemployment (both as a number and proportion of young people), large scale underemployment (especially of women), chronic low wages (especially for Māori, Pacific and ethnic workers), and large numbers of people with disabilities who remain 'locked out' of a labour market that cannot adapt to their needs.