Women
Women's employment has been disproportionately impacted by the pandemic. Women were already more likely to be underemployed, earn less per hour, and do more unpaid work before the pandemic.
On this page
Female-dominated industries are often lower-paid, and women are more likely to take breaks from the workforce to raise children. Altogether, this adds to a significant difference in earnings and wealth between women and men. The Ministry for Women estimates women earn nearly $900,000 less than men over a lifetime.
In 2019, the gender pay gap in Aotearoa New Zealand was 9.3%, widening to 9.5% in 2020. In Tāmaki Makaurau, men are, on average, paid more than women in each ethnic group, and Europeans are on average paid more than other ethnicities. Pacific women have the lowest average hourly earnings, but they had one of the largest increases in average salaries in 2020 at 7.4%; second only to Māori women (a 7.7% increase from 2019). Average hourly earnings in Tāmaki Makaurau by gender and ethnicity are represented graphically below for the 2019 year (Regional Skills Leadership Group analysis, using Statistics NZ datasets).
Gender pay gap is 9.5 percent(external link) — Ministry for Women
The long-term aim of this work is to improve women's resilience to future social and economic shocks and in turn, improve the resilience of families and communities. It is about removing the barriers that stop women from getting into and staying at work. Women and their families can be financially secure and have access to good employment and careers which suit their needs and their family's needs (Ministry of Women, 2020. Utilising women's skills).
The Women's Employment Action Plan (in development) will be inclusive of all women, with a focus on specific actions to support those who are marginalised in the labour market (wāhine Māori, Pacific women, ethnic women, disabled women, young women, older women, LGBTQIA+ and solo mothers).
Manatū Wāhine Ministry for Women(external link)
Parenthood and labour market outcomes(external link) — Manatū Wāhine Ministry for Women
Women's Employment Action Plan [PDF, 2.83 MB](external link) — Manatū Wāhine Ministry for Women
Average hourly earnings in Auckland by gender and ethnicity (NZD) Statistics New Zealand (2021)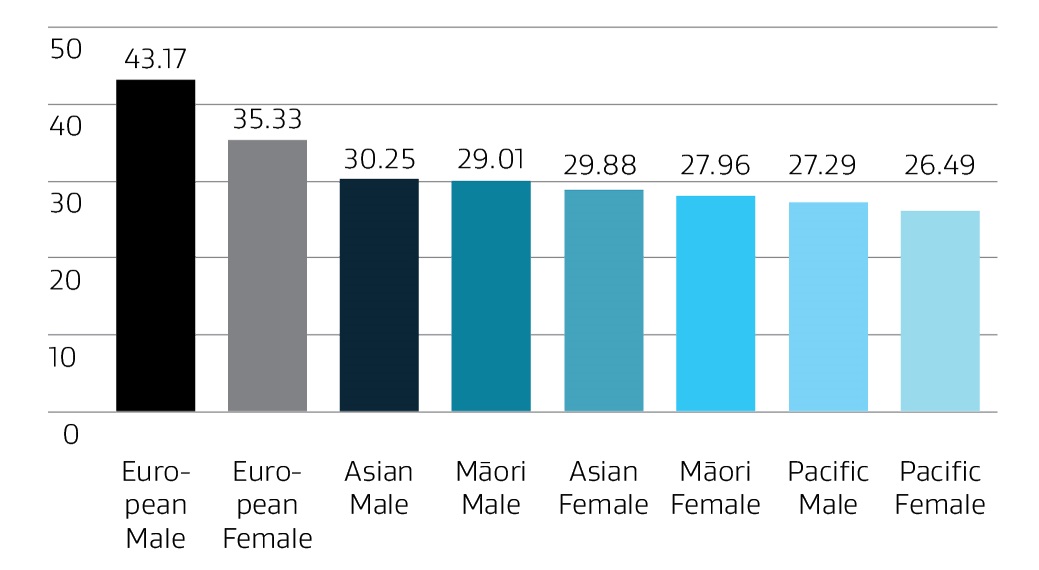 Text description of chart
Key labour market and workforce insights
Women in Tāmaki Makaurau have been most disproportionately affected by downturns in the labour market, and that is likely to be the case again with COVID-19's economic impacts. Aotearoa New Zealand's labour force is highly segregated by industry and gender, with women more likely to work in lower-paid jobs and perform unpaid and voluntary roles.
In 2018, the number of women in the Tāmaki Makaurau region approached 795,000, including 96,200 wāhine Māori and 131,200 Pasifika women. The number of women of working age is 703,000 and the split between full-time and part-time work is 271,700 and 94,400 respectively. Women mainly work in the Retail Trade & Accommodation, Healthcare and Social Assistance, and Professional, Scientific, Technical, Administrative and Support sectors. Much of the Retail Trade & Accommodation and Healthcare and Social Assistance employment is filled by Māori and Pasifika women (Regional Skills Leadership Group analysis, using Statistics NZ datasets).
Women are more likely to be engaged in part-time or casual employment. This means that they are more likely to be underutilised than men. This is especially true for younger and Māori women. Women also earn less than men and wage increases are slower.
The health sector is a primary focus for the RSLG. In Tāmaki Makaurau, most working women are employed in Healthcare and Social Assistance, which is predominantly a female-based sector made up of registered nurses and care assistants including aged or disabled people's carers. These people are paid at the lower end of the salary range for medical staff.
Existing inequalities, such as the gender pay gap and occupational segregation and issues in non-standard work and unpaid care, mean that women are more susceptible to economic hardship and less resilient to COVID-19's economic impacts.
1 in 3 employed women work part-time, and of those part-time working women, 1 in 5 is under-employed. Barriers to fully utilising women's skills include the need for flexible work, part-time work, and managing childcare demands.
Women aged between 20 and 25 years were found to have the lowest life and job satisfaction and no work-life balance out of all working-age groups, according to an Auckland University of Technology study of 1,500 Aotearoa New Zealanders in 2018.
Why young kiwi women are the unhappiest employees in the workforce(external link) — NZ Herald
Women in the workforce actions
The RSLG supports the call for gender pay gap transparency to ensure pay equity for women across the region, especially for Māori, Pacific and ethnic minorities in Tāmaki Makaurau.
The RSLG supports working jointly with education, welfare and immigration systems and industry and business interests to provide better pathways in Tāmaki Makaurau for equitable pay and labour market participation for women.
The RSLG will review the recommendations from the soon-to-be released Women's Employment Action Plan and incorporate these, where appropriate, into the ongoing work of the RSLG.
Utilising women's skills(external link) — Manatū Wāhine Ministry for Women
Women's Employment Action Plan [PDF, 2.83 MB](external link) — Manatū Wāhine Ministry for Women
795,000 Wāhine Māori

96,200 women working in 2019

131,200 Pasifika women