Our people
An overall desire of the RSLG is for Tāmaki Makaurau to remain as a place of opportunity and for it to play its part in increasing national prosperity.
On this page
Kia kotahi te tū kia kotahi te hoe

Stand as one and work together
The region represents 36% of the national labour market and supports 35% of national business units that benefit from the diversity and scale of the region's workforce.
Tāmaki Makaurau is one of the most culturally diverse cities globally with the fourth-highest foreign-born population of any region in the world. The 4 largest ethnic groups are European (53.5%), Asian (28.2%), Pacific (15.5%) and Māori (11.5%). It is also a very youthful region with the median ages of Māori and Pacific people being 25 and 35 years, respectively .
Discovering diversity [PDF 235 KB](external link) — Auckland University of Technology
He Karapa Raraunga: Ōhanga Māori i Tāmaki Makaurau Māori Economy [PDF 1.3 MB](external link)
Auckland share of of ethnic population compared to New Zealand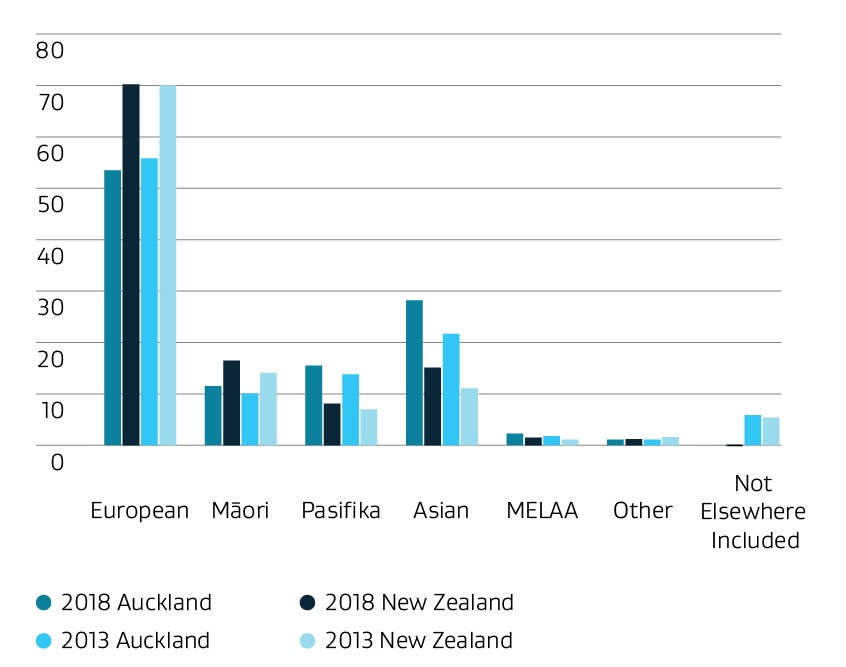 Text description of chart
Diversity is a core strength of the region's workforce. Open, inclusive and diverse cities are better for business and economic growth. This plan highlights the need to create opportunities for the region's diverse people, including Pacific peoples, former refugees and recent migrants, rangatahi, people with disabilities, the ageing workforce and women.
World Economic Forum (2018), Open, Inclusive and Diverse cities(external link) — World Ecomomic Forum
The Auckland Prosperity Index (2020) highlights that economic growth has not been shared equitably across the region. The COVID-19 pandemic and economic downturn has deepened inequality already caused by past structural economic changes and economic shocks. The Prosperity Index has also revealed significant sub-regional differences in employment and incomes.
Auckland Unlimited (2020) Growing Prosperity in Auckland(external link) — Auckland, New Zealand
Auckland Economic Impact Report(external link)
South and West Auckland households are typically less affluent than the rest of the region, despite the areas being home to a significant share of Tāmaki Makaurau region's industry and employment offering. These areas are characterised by lower formal educational attainment amongst young people. Many are Māori and Pacific youth, living in low-income households, and lower educational attainment in turn limits their access to acquiring good jobs. Good jobs as explained by the Aotearoa New Zealand Council of Trade Union are those jobs that are well paid, secure, safe, satisfying and offer work-life balance.
Submission of the New Zealand Council of Trade Unions Te Kauae Kaimahi to the Productivity Commission [PDF 390 KB](external link)
Not everyone in the region benefits from living within easy commute of large industrial and employment centres. Women, Māori, Pacific people and those with lower-level qualifications are more likely to be missing out on higher wages from workplace profits. Significant income disparity also exists across Tāmaki Makaurau, especially in the South and West of the city. For example, the income levels in Māngere and Ōtara-Papatoetoe are 22% lower than the region's average.
A tale of two cities(external link) — Stuff
The Group's approach to the Regional Workforce Plan emphasises the importance of championing participation, equity, attracting and retaining skills that support good jobs, and a promising future for all priority groups to ensure a strong workforce. This approach is critical for Tāmaki Makaurau region's workforce development and regional prosperity, economic wellbeing, and for a productive and thriving labour market for Aotearoa, where Tāmaki Makaurau provides the most significant regional workforce contribution.